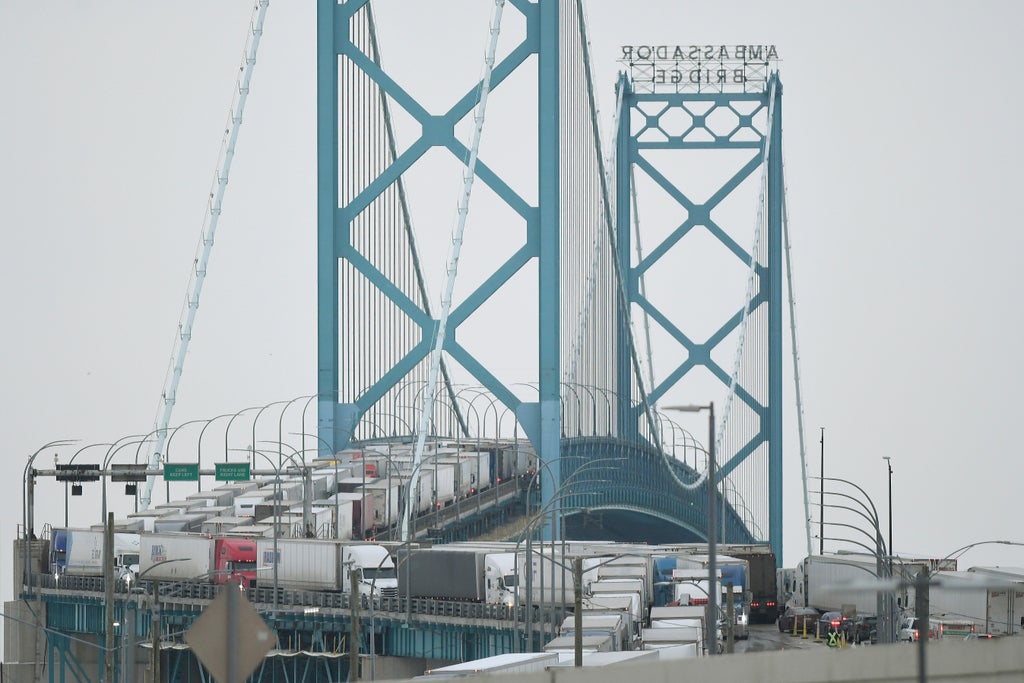 Canada truck protest continues as Biden pressures Trudeau to end blockade
A standoff ensued between police and protesters on Saturday night as authorities moved to end the trucker blockade at the Ambassador Bridge in Windsor, Ontario.
Many of the trucks were removed from the bridge but despite the police presence, some protesters on foot remained to continue the demonstration. The crossing into the US is still closed to traffic.
The move by authorities to begin disbanding the protesters gathered on the bridge comes after an Ontario judge said he would grant an injunction to end the blockade across the border that has disrupted US-Canada trade.
Superior Court Chief Justice Geoffrey Morawetz said he was "satisfied" with the arguments made by attorneys on behalf of local officials and representatives of the auto industry, with the injunction going into effect at 7pm ET Friday to allow protesters time to move.
The ruling came after Canadian Prime Minister Justin Trudeau reiterated his call to end blockade across the border, saying that "everything is on the table".
President Joe Biden had earlier urged Mr Trudeau to use federal powers to resolve the standoff as the demonstrations are reportedly resulting in estimated $1bn losses each day they drag on.
A state of emergency was also declared in Ontario, giving police power to impose fines of up to $100,000 and up to a year in jail for people blocking crucial infrastructure.
Meanwhile, Republican Senator Rand Paul has said he is "all for" US truckers forming their own convoy and blockading the Super Bowl in Los Angeles, or heading to Washington, DC.
1644735600
As night fell tense stand-off continued at Ambassador Bridge protest
A tense standoff at a US-Canadian border bridge eased somewhat on Saturday after Canadian police persuaded demonstrators to move the trucks they had used to barricade the busy international crossing. But protesters still blocked access as night approached, snarling traffic and trade between the two countries for a sixth day.
Since Monday, demonstrators upset with Covid-19 vaccine mandates and angry at Prime Minister Justin Trudeau have choked off access from the Canadian side of the Ambassador Bridge linking Detroit and Windsor, Ontario, to better thoroughfare for commerce.
Surrounded by dozens of officers, a man with "Mandate Freedom" and "Trump 2024" spray-painted on his vehicle left the bridge entrance early in the day as others began dismantling a small, tarp-covered encampment. A trucker honked his horn as he, too, drove off, to cheers and chants of "Freedom!"
But more protesters arrived to reinforce the crowd and congregated about two blocks away, waving flags and yelling. While there were no visible physical confrontations, the crowd still controlled the road to the bridge and traffic had not been summarized by late afternoon.
The demonstrations at the bridge, in downtown Ottawa and elsewhere have reverberated outside the country, with similarly inspired convoys in France, New Zealand and the Netherlands, and the US Department of Homeland Security warned that truck protests may be in the works in the United States .
Mr Trudeau has called the protesters a "fringe" of Canadian society.
Windsor police tweeted that no one had been arrested but urged people to stay away from the bridge: "We appreciate the cooperation of the demonstrators at this time and we will continue to focus on resolving the demonstration peacefully. Avoid area!"
Oliver O'Connell13 February 2022 07:00
1644733800
Police fire tear gas as convoy protesters defy ban in Paris
Police fired tear gas on the Champs Elysees in Paris on Saturday as "Freedom Convoy" protesters defied an order to stay away and descended on the capital to demonstrate against coronavirus restrictions.
Oliver O'Connell13 February 2022 06:30
1644732000
DHS 'surging staff' to prevent Super Bowl disruption by US 'freedom convoy'
The Department of Homeland Security is "surging staff" to protect Sunday's Super Bowl from an anticipated threat by the anti-vaccine mandate "freedom convoy" of truckers in the US.
Speaking on Friday, ahead of action by Canadian police to remove truckers blocking the Ambassador Bridge in Windsor, Ms Psaki said the DHS was taking "all necessary steps to ensure that the convoy does not disrupt lawful trade and transportation or interfere with federal government and law enforcement operations".
Oliver O'Connell13 February 2022 06:00
1644728346
Rand Paul says he's 'all for' American truckers blockading the Super Bowl
Republican Senator Rand Paul has called for American truckers to bring their own version of the 'freedom convoy' blockade to the Super Bowl and DC.
Asked about the potential for a US convoy of truckers to target LA and DC during an interview with The Daily Signal, the Republican said he was "all for it".
"I'm all for it. Civil disobedience, civil disobedience is a time-honored tradition in our country from slavery to civil rights to you name it. Peaceful protest, clog things up, make people think about the mandates," Mr Paul said.
Oliver O'Connell13 February 2022 04:59
1644724806
Police began removing bridge protesters on Saturday morning
Canadian police have moved in to remove truckers from a blockade at one the busiest border crossings to the US.
It comes a day after an Ontario court granted an injunction to bring the barricade, which has now entered its sixth day, at the Ambassador Bridge to an end.
Protesters remained overnight, despite fresh warnings to end the blockade, which has disrupted the flow of goods between the two countries and forced the auto industry on both sides to roll back production.
Oliver O'Connell13 February 2022 04:00
1644721206
ICYMI: Ontario court grants injunction to end bridge blockade
An Ontario court has granted an injunction to bring to an end to the blockade by truckers of the Ambassador Bridge crossing from the US into Canada.
Chief Justice Geoffrey Morawetz gave protesters until 7pm eastern time on Friday to clear the bridge, which has been shut down by truckers for five days and caused havoc at the US-Canada border.
Oliver O'Connell13 February 2022 03:00
1644717606
Former Trump official has been spotted at Ottawa's trucker convoy protest
A one-time science adviser to the Trump administration has been in Ottawa for several days participating in the trucker convoy Covid-19 vaccine mandate protests.
During his time in the Canadian capital, he has appeared on stage, at news conferences, alongside People's Party of Canada Leader Maxime Bernier, and has been tweeting about supplying fuel to protesting truckers.
Oliver O'Connell13 February 2022 02:00
1644714006
When will Canada's 'Freedom Convoy' protest end?
The "Freedom Convoy" of disgruntled long-haul truck drivers who crossed Canada to denounce tightening Covid-19 vaccine rules have now been present in the nation's capital, Ottawa, for almost two weeks – and their protest looks no closer to reaching its end.
Oliver O'Connell13 February 2022 01:00
1644710406
Protesters set for very cold night
Ottawa's public health agency has issued a frostbite warning until further notice.
The current temperature in the Canadian capital is -12C (10F) and is expected to dip to -23C (-9F).
Oliver O'Connell13 February 2022 00:00
1644706806
Royal Canadian Legion condemns barricade removal at National War Memorial
Royal Canadian Legion condemns barricade removal at National War Memorial.
A statement reads: "The National War Memorial is a site of collective remembrance and must be treated with utmost respect at all times. The removal of protective barricades and the reported inaction by those charged with safeguarding this memorial, is deeply disturbing. We must ensure this site is not further desecrated. Those who sacrificed for our freedoms deserve better."
Oliver O'Connell12 February 2022 23:00

www.independent.co.uk