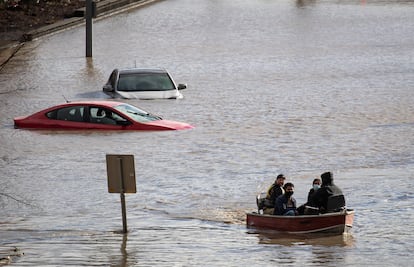 British Columbia was the Canadian province hardest hit by the so-called "heat dome" in early summer. Now it faces the impact of another meteorological phenomenon known as "atmospheric river": long bands of water vapor in height that cause abundant rainfall. Various areas of this province located on the Pacific coast have broken rainfall records – imposed decades ago – on Sunday and Monday. According to the Canadian Ministry of the Environment, in some towns the expected rainfall for the entire month of November fell in 24 or 48 hours. Thousands of homes received evacuation orders. The sky has given a truce, but the floods and mudslides continue.
This Monday, 275 people were rescued – the majority in military helicopters – from a stretch of road near the community of Agassiz. They had to spend one night in their vehicles. Five highways in the south of the province have been closed. This Tuesday, the Royal Canadian Mounted Police announced the first death from these events. It is about a woman who died near the town of Lillooet by a stream of mud. Searches continue at this point, as law enforcement believes there are other victims. The provincial authorities have asked the population to avoid all non-essential travel. Schools located in the Fraser Valley (comprising the cities of Abbostford, Chilliwack and Mission; just a few miles from the US border) remain under lock and key.
More than 20,000 homes continue without electricity this Tuesday and access to mobile telephony has been affected in different parts of the province. Many ferry services, suspended due to weather conditions, gradually resume their activities. About 7,000 residents of the city of Merritt were evacuated by the threat posed by the waters of the Coldwater River. In Princeton, 295 people also had to leave their homes, the same as in four Indian reservations. Those affected have found refuge in a network of shelters. A flood watch was issued Monday on Vancouver Island.
Mike Farnworth, provincial minister of Public Security, thanked at a press conference for the support of the different levels of government. "We will continue working together, taking care of each other and keeping ourselves safe," he said. For his part, Justin Trudeau, Canadian Prime Minister, addressed the inhabitants of British Columbia on Twitter. "We are going to provide them with the support they need to cope with and recover from these extreme floods and conditions," he wrote. Canada's Environment Ministry indicated that no precipitation is expected on Tuesday and Wednesday, but that the rain may return on Thursday. Even the snow could reach some areas of the province.
Follow all the international information at Facebook and Twitter, o en our weekly newsletter.
Join EL PAÍS now to follow all the news and read without limits
Subscribe here



elpais.com