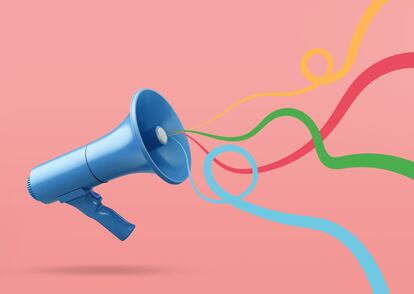 Norika's promise is to take its users "from the state they are in to the state they want to be in." This conversational agent developed by researchers Laura Aymerich and Iliana Ferrer, from Pompeu Fabra University, works like Siri or Alexa, but almost the other way around: the purpose of the dialogue with Norika is not for the assistant to do something for the user, but rather to be This is the one who does what is necessary to achieve your goals. "I was looking at how to integrate a personal development coach through an emerging technology," Aymerich explains.
It is useful for something? The investigators' evidence suggests that it is. Study participants reported an increase in factors such as personal growth initiative and life satisfaction, as well as a reduction in negative affect, which includes emotions such as nervousness, fear, disgust or guilt. "We found that in these three sessions the participants showed a significant improvement in their psychological well-being," summarizes the researcher.
After trying various platforms, Aymerich settled on the one that allowed the user and their advisor to communicate by speaking normally. "I did not want to do the typical chatbot with which you chat in writing, I was looking for a conversational agent with whom you can have a more natural conversation," he says.
What's the difference between reading a personal development book and following a program led by an assistant like Norika? For the researcher, the key is in the voice. "It is not the same for someone to ask you questions that confront your way of thinking or to process the information you see in a book. A conversational agent that can guide you through the process is much more powerful, "he explains. What Aymerich does recognize is that these systems are still a long way from the service that a human can offer.
Precisely to give more weight to the words spoken by the assistant, it was tried to make the design of the accompanying application extremely simple: an aquamarine circle on a white background. "We wanted the user to have no distraction, to focus solely on Norika's voice to reflect on her life." This non-corporeal nature also allows the listener to shape the entity that is speaking to him in his imagination.
The researcher then designed the program that the users would have to follow: three sessions of about fifteen minutes and distributed over three weeks in which Norika introduces herself, helps her pupils evaluate their lives and identify the areas they want to improve. guides in the search for personal and professional goals that bring them closer to that improvement and, in the last session, invites them to take stock of the results achieved.
As Aymerich explains, one of the strengths of such a system is that it creates an environment conducive to those people who do not feel comfortable sharing certain aspects of their lives with other people: "There are users who when interacting with a machine feel less judged and they open more. This makes the process much easier ".
Norika was created specifically for this study and is not freely available, but if it were to become a reality it would be one of the few applications to reach the market backed by some type of empirical study that demonstrates its effectiveness. "It is something very worrying. Users do not have to understand what a scientifically validated intervention is because it is not their area ", Aymerich reasons.
In this context, he explains, the existence of applications that proclaim, without any investigation, that they can contribute to improving the mental health of their users ends up harming those who do their homework. "In reality what you are doing is causing great frustration to someone who is trying to find a resource that is going to help them. If I try ten applications and none of them work for me, I will think that nothing can help me, when it is not ", the researcher emphasizes
How do you know who to trust? A good starting point is to go a bit beyond the app stores and search, for example, for the website of the platform in question. If the project has warranties to boast of, you may list them there. "In general, I would say that it is a good thing that emerging technologies are harnessed to aid psychological well-being."
Among the main challenges of a commercial version of Norika would be the responsibility to safeguard the privacy of its users. "We worked locally and we did not save anything, but if it were an application that we were to put on the market, privacy management and how the information shared by the user is processed would be a section to take into account", Aymerich admits.
You can follow EL PAÍS TECNOLOGÍA at Facebook Y Twitter or sign up here to receive our newsletter semanal.



elpais.com