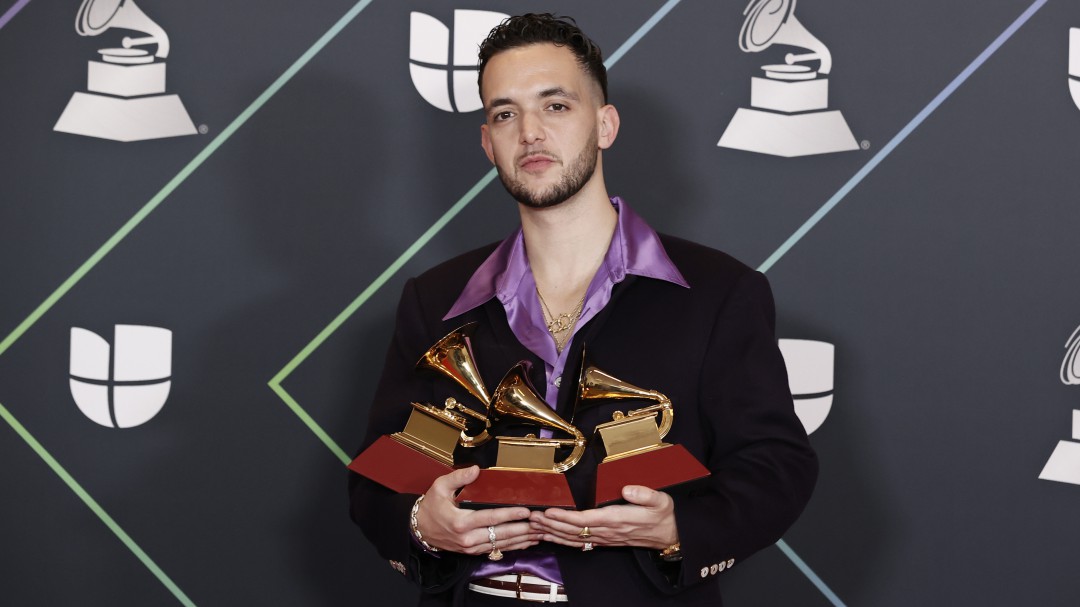 "Thanks to the Academy for giving a Latin Grammy to a Madrilenian." The artist C. Tangana has been one of the most prominent artists in a Latin Grammy with a clear Cuban accent. All this thanks to The Madrileño, an album that has allowed him to get three gramophones that establish him as one of the most relevant Latin artists on the current scene. Throughout the night, C. Tangana has won the statuette for best pop-rock song for Hong Kong, for best alternative song for I nominate and better recording engineering for his latest album.
But the main prize of the twenty-second edition of the gala, which has been held for another year at the MGM casino in Las Vegas, has been for the tandem formed by Gente De Zona, Descemer Bueno, Maykel Osorbo, El Funky and Beatriz Later. After becoming the anthem of the protests that took place last July in Cuba against the government, the Academy has decided to award the song Homeland and life as the best theme and as the best urban song of the year. A composition that, among other things, denounces both the political and economic situation that the country is going through: "This song belongs to the people. "
Check the list of winners of the Latin Grammy 2021
Among the great winners of the night are Camilo and Juan Luis Guerra, who have taken four golden gramophones throughout the gala. While the Colombian artist has been imposed in categories such as Best Pop Album best pop song, best urban performance and best tropical song, the Dominican singer-songwriter has taken the gramophones to Best Traditional Pop Vocal Album, Best Tropical Song, Best Long Form Music Video & Best Arrangement. See below the list of winners and winners of the night:
Song of the year
Homeland and life by Descemer Bueno, El Funky, Gente De Zona, Yadam González, Beatriz Luengo, Maykel Osorbo and Yotuel
Record of the year
Maybeby Caeta and Tom Veloso
Album of the year
Salswing!, by Rubén Blades and Roberto Delgado & Orquesta
Best Pop Vocal Album
My hands, Camilo
Best Pop Song
Rich life, by Camilo and producer Edgar Guerra.
Best Traditional Pop Vocal Album
Privé, Juan Luis Guerra
Best New Artist
Juliana Velasquez
Best Reggaeton Performance
Karol G for the song Bichota
Best Urban Fusion / Performance
Tattoo (Remix), Raw Alejandro y Camilo
Best Rap / Hip Hop Song
Booker T, Bad Bunny and Marco Daniel Borrero, composer: Bad Bunny.
Best rock song
Now 1, Vicentico
Best Pop / Rock Album
Origin, Juanes
Best Pop / Rock Song
Hong Kong, Alizzz, Andrés Calamaro, Jorge Drexler, Víctor Martínez and C. Tangana
Best Alternative Music Album
Cramp, Nathy Peluso
Best Urban Music Album
The last tour of the world, Bad Bunny
Best urban song
Homeland and life of Descemer Bueno, El Funky, Gente De Zona, Yadam González, Beatriz Luengo, Maykel Osorbo and Yotuel
Best Rock Album
The bright well of Vicentico
Best Alternative Song
Nominao, Alizzz, Jorge Drexler and C. Tangana
Best Tejano Music Album
Pa 'la pista y pa'l pisto, Vol 2 of El Plan
Best Salsa Album
Salsa Plus !, Rubén Blades and Roberto Delgado & Orquesta
Best merengue and / or bachata album
It's meringue. Any problem? by Sergio Vargas
Best Contemporary Tropical Album
Brazil 305, Gloria Estefan
Best Tropical Song
God wanted it that way, by Camilo, David Julca, Jonathan Julca, Yasmil Marrufo and Ricardo Montaner, it was composed by Ricardo Montaner and Juan Luis Guerra
Best singer-songwriter album
Seis, My Laferte
Best Ranchera / Mariachi Music Album
In my 80's, Vicente Fernández
Best Band Music Album
We have fun achieving the impossible, Grupo Firme
Best Northern Music Album
Grupo Palomo (Flying high) and Los Dos Carnales (Rancherón style)
Best Regional Mexican Song
Here below, Christian Nodal, René Humberto Lau and Edgar Barrera.
Best Cumbia / Vallenato Album
The follies of mine – Silvestre Dangond
Best Christian Album (in Spanish)
Ya me vi, Aroddy
Best Christian Album (in Portuguese)
Follow your heart, Anderson Freire
Best Latin Music Album for Children
Tu Rockcito filarmónico, Tu Rockcito and the Medellín Philharmonic Orchestra
Best Classical Music Album
Latin American Classics, Kristhyan Benitez; Jon Feidner, productor
Best arrangement
Hopefully it rains coffee (private version), Juan Luis Guerra
Best Recording Engineering for an Album
The Madrilenian: Orlando Aispuro Meneses, Daniel Alanís, Alizzz, Rafa Arcaute, Josdán Luis Cohimbra Acosta, Miguel de la Vega, Máximo Espinosa Rosell, Alex Ferrer, Luis Garcie, Billy Garedella, Patrick Liotard, Ed Maverick, Beto Mendonça, Jaime Navarro, Alberto Pérez , Nathan Phillips, Harto Rodríguez, Jason Staniulis and Federico Vindver, engineers; Delbert Bowers, Alex Ferrer, Jaycen Joshua, Nineteen85, Lewis Pickett, Alex Psaroudakis and Raül Refree, mix; Chris Athens, Mastering Engineer (C. Tangana)
Producer of the year
Edgar barrera
Best Short Version Music Video
An everlasting love, Marc Anthony
Better packaging design
Ana González, Art Director of the album Colleagues scored by Gilberto Santa Rosa.
Best Long Version Music Video
Between sea and palm trees, Juan Luis Guerra
Best Instrumental Album
Bachianinha – (Live At Rio Montreux Jazz Festival), Toquinho and Yamadu Costa
Best Folk Album
Ancestras by Petrona Martínez
Best Flamenco Music Album
A New Universe – Pepe De Lucía
Best Latin Jazz / Jazz Album
Voyager – Iván Melon Lewis
Best Contemporary Pop Album in the Portuguese Language
Color – Anavitatory
Best Rock or Alternative Music Album in the Portuguese Language
Pink album by The Color of Sound
Best Samba / Pagode Album
You Can Always Dream of Paulinho Da Viola
Best Brazilian Popular Music Album
Songs d'Além Mar by Zeca Baleiro
Best Sertaneja Music Album
Chitãozinho and Xororó Romance Time
Best Album of Portuguese-Language Roots Music
Arraiá Da Veveta – Ivete Sangalo
Best Portuguese Language Song
Color – Anavitatory
Best Contemporary Classical Work / Composition
Music From Cuba And Spain, Sierra: Sonata Para Guitarra



cadenaser.com
George Holan is chief editor at Plainsmen Post and has articles published in many notable publications in the last decade.