The bodies lie motionless on the floor of one of the Bruce Nauman exhibition rooms at the Punta della Dogana in Venice. It is accessed after passing through a seemingly empty room where the piano is playing. For Beginners, a 2010 work whose sound suddenly stops and then comes back to life, without warning. Playing with the expectation, that the sound is sutured to the space, Nauman produces a start. Error always lurks. We see it in those lying bodies, which do not look like beginners. Like sound, they stretch and shrink, sometimes standing up and sometimes sitting on the floor. They are apparently still for a time, immersed in that inner fiction that we only intuit.
A third body comes in when you least expect it. He wears jeans and a white T-shirt, just like the other two performers, Nauman's usual outfit from his first poses on camera. It leans on another wall that we soon see with an imprecise stain typical of use, of having passed through it over and over again. Finish the piece Untitled, three actions from 1969 recreated here to speak of the infinite space enclosed in the corners. To touch but, above all, to be touched, a space of mental openness where Nauman always travels back and forth, and where he thrills us.
That trace on the wall could well summarize the career of this artist who defines himself as a researcher. He always preferred to get away from the art world and since the seventies he settled on a ranch in New Mexico, where in addition to wondering what art is, he is dedicated to raising horses. Everything is there, in a man inventing ways to convey the emotion of being alive. He operates from the rear, from the stillness of his farm, to inhabit a "space of action" that is not really in space but in time. It is from this temporary experience through the body, defined as an event, that its spaces arise, which are marked by the aura of sustained action. It seems like a riddle and there is something of that in his work, presented here in a very complete way and with an impeccable assembly. The closing door that was not a closing door. A kind of closure that provides an extension of the suspense. That is the key to reading it together with the thoughts of Wittgenstein, a philosopher of language very important to him. He says: "The solution to the problem of life is revealed in the disappearance of this problem." Another dead-end corner in the hands of Nauman.
This apparently paradoxical "solution" to the search for a possible meaning runs through all of his work. In the exhibition he relies on the idea of ​​his Contrasted Studies, which gives title to the sample. That swinging hip movement. That rocking. There is everything. The artist reveals how the changing experiences of time, space, movement and language provide a basis for understanding our place in the world. Dropping into a corner, tuning a violin, going around a square or walking from one wall to another are nothing more than actions whose senses are hidden from the viewer. Nauman draws the viewer onto the trail of the question for the meaning of it all, a question that since the 20th century has become suspect. The absurdity of an apparently meaningless world promotes the artist's contradiction, a language that escapes the logic of our communication and that, in doing so, makes the true sense reappear. Short circuit here, although it does not matter. Nauman tries again. He walks through the workshop every day in search of a new language, a new image, a movement that is not in vain. "Fail again. Fail better, "said Beckett.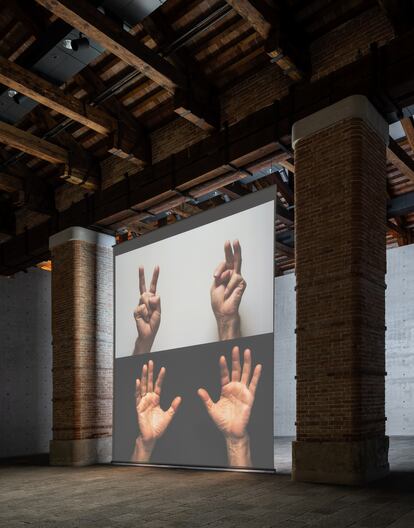 All that which goes on over and over again is the idea of ​​disappearance. The question is to know what disappears. Will one of his riders be unrideable from his ranch? Nauman was picky in the use of language, that's why he always insists. Since 2015, it has resumed its Walk with Contrapposto, 1968. He continues to do so with his arms behind his head, but now doing without the oppressive architecture. In Opposite Split (2017), which occupies the heart of this exhibition, exhibits a version taken in three dimensions that allows the viewer to contemplate the artist and his surroundings with relentless clarity. The image is disturbed by a cut in the center that separates the movement of the two halves of the body in time.
The contrapposto, which until the Baroque was an ideal of static beauty in the performing arts, suddenly becomes its opposite. It is not only the difficult gait of an older man that irritates here, increased by the noise of his boots touching the ground, but that broken body that at times borders on the failure of a long experiment. A big stumble, like someone who climbs some stairs in the dark and, when he thinks that there is another step and takes the step, it turns out that he had already reached the end and gives him a certain laugh. Or when you go down the stairs expecting to have to take another step, but the fact is that you have reached the end. As if you felt a start and some confusion. Like a voice without space, which materializes so much in its corridors and corridors, also masterfully exposed here. With that feeling he leaves this exhibition. There have been other retrospectives of Nauman in recent years, several of them really important, although this one in Venice reaches a message of clear consistency, surprising until today and that does not falter.
'Bruce Nauman: Contrapposto Studies'. Punta della Dogana. Venice. Until November 27, 2022.
You can follow BABELIA in Facebook Y Twitter, or sign up here to receive our weekly newsletter.
Sign in to continue reading
Just by having an account you can read this article, it's free
Thanks for reading EL PAÍS



elpais.com
George Holan is chief editor at Plainsmen Post and has articles published in many notable publications in the last decade.