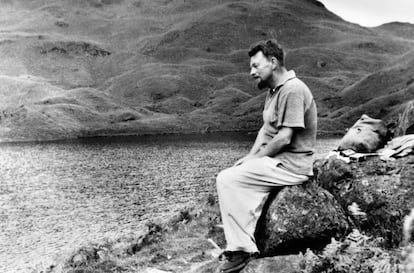 Lunch with L. He was a union leader and political activist of the radical left. Today he is the president of a large graphic cooperative and writes poems. We are talking about Robert Walser, that writer whose "tongue had gone crazy," as Walter Benjamin put it. Appropriately, fulfilling Benjamin's phrase as if it were destiny, Walser lived from 1929 until his death, in 1956, in Swiss madhouses.
I think L. is going to be interested and I will tell him another story. My friend Antonio spent four or five years writing the press releases of the SMATA, Córdoba, the union led by René Salamanca, a militant union member who disappeared on March 24, 1976. Days before he had challenged the coup in an act that had as a stage the field of a club. While Salamanca spoke, a tightrope walker walked on a rope several meters high.
My friend, who listens to this chapter of a rich story, also disappeared in those days, but was recognized as a prisoner and went into exile shortly after. In 1985, he returned to Argentina; published a novel and worked in journalism. At that time we saw each other a lot, especially to discuss, with equal enthusiasm, politics and literature.
One day he came up with the following resolution, inspired by Lunar Caustic, by Malcolm Lowry, who had persuaded us that madness was an aesthetic path: "I am going to put myself in a mental hospital because I want to write a book." With conservative good sense, I told him: "If you put yourself in the hospital, it is because, in some way, you are crazy." Anyway, he got a doctor to admit him to a shrink in Cordoba. He was there for a few weeks, maybe longer. Every time he went out, he looked for me to tell me the heartbreaking and comical anecdotes of the madmen, of whom he had become a kind of protector against the violence of the nurses.
When my friend returned from Mexico, where he had been in exile, he started working as a journalist. He lived quietly for a few months, but he had been affected by his stay in the madhouse. He had a crisis, got sick with his lungs, tried to kill himself and was saved. He finally died in his early 40s.
When I finished this succinct biography of misfortunes, the trade unionist who listened to it carefully pointed out that my friend reminded him of Austerlitz, by Sebald. I had not thought of it. Anyone who had sought refuge or experiences with the insane died before Sebald, and when he started his asylum project, we only ever talked about Malcolm Lowry. But my interlocutor, who has a good memory, told me something that I did not know. Fifteen years earlier, one afternoon René Salamanca, the aforementioned SMATA leader, arrived at his home. He was accompanied by a young man (I add: skinny, stooped, with blue eyes and a thin beard). He was my friend. He did not stay to eat the pizzas that the homeowner made with them. He gave a pretext. Surely he went to the movies or to the bookstores, and left for a few hours that world of workers' militancy that caught him like a whirlpool, but to which he never fully belonged.
As a return to that world, my friend handed me his newly published book of poems. I am left thinking that this intersection of literature and politics seems to have taken place on another planet of which today we are scattered remains, with no obvious function. Although perhaps they have the function of reminding me that there were no abysses between literature and politics.
Some of the left-wing culture had a place, perhaps neither too large nor too visible, for a book of poems to be mixed with the union brochures that were distributed, almost at dawn, at the factory gates. And the militant who distributed them arrived at six in the morning, by bus, with a book in his portfolio, which did not mix badly with the appointments of the Communist manifesto, a romantic piece if there are any.
The worlds had not yet parted, as if they had been cut with a knife. It was possible that an activist read Pound. More than possible, this rare hobby was respected by those who might only buy a Corín Tellado novel to give to their girlfriend. But that girlfriend could be grateful for the gift and endeavor, at the same time, for her lover to read a poem by Pablo Neruda with her. The audiovisual world had not yet imposed its least pretentious encyclopedia on everyone. Traces of the past had not yet been erased by the mass media.
That past was not necessarily superior to our present. But it certainly opened up more alternative paths, which could be freely taken and abandoned. If my grandmother, who was a seamstress, recited Amado Nervo and a poem by Darío, why does that pleasure today become elitist pedantry? I'm not sure that our present day is more democratic than that past when, in every neighborhood of the city where I live, there was a popular library, where volumes of Spanish editions intrigued us with words that sent us directly to the dictionary.
You can follow BABELIA in Facebook Y Twitter, or sign up here to receive our weekly newsletter.
Sign in to continue reading
Just by having an account you can read this article, it's free
Thanks for reading EL PAÍS



elpais.com