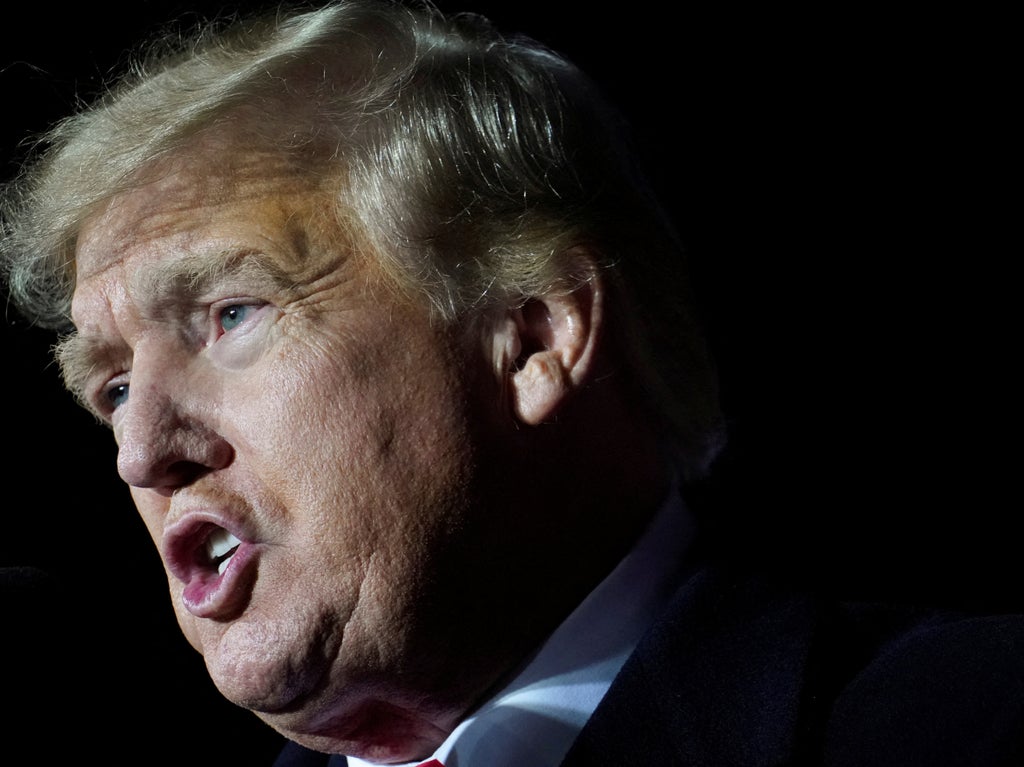 Trump tries to turn tables by claiming he was a victim of attempted coup
President Joe Biden is facing a new dismal approval rating poll released by CNN as his first interview with a major news outlet in 2022 is set to air on Sunday.
Mr Biden faces disapproval from 6 in 10 Americans, according to CNN, and the percentage of respondents who approved of his performance as president has dropped 12 points in less than a year.
Meanwhile it has emerged that the committee investigating the 6 January insurrection at the US Capitol has identified gaps in the White House call logs from the day of the riot, posing another obstacle to establishing what Mr Trump said and did in the hours before and during the event. According to the New York Timesthere is no evidence the records were deliberately deleted, but it is well known that Mr Trump frequently used his own and others' cellphones to talk to his allies while in office.
And as the saga of the Trump administration documents wrongly taken to Mar-a-Lago continues to deepen, a new book from the New York Times's Maggie Haberman has reported that Donald Trump himself clogged a White House toilet with torn-up documents that should have been preserved.
1644533119
They wanted to overturn 2020 election results. Now these candidates want to run the next elections
One of former President Donald Trump's top goals after leaving office last January was to purge the Republican Party at both the state and national level of politicians who opposed him and his false claims about the 2020 election.
The result of that intra-party battle is a slew of candidates running for top state-level positions with the power to oversee parts or all of state election processes who reject the accurate results of the 2020 election.
"We're seeing lies and conspiracy theories, threats against election officials, and the now-former president who continues to stoke those flames. But the threat has actually evolved," Joanna Lydgate, director of United States, told The Independent in an interview.
Read more from The Independent's Alex Woodward:
John Bowden10 February 2022 22:45
1644531313
Biden reveals he has SCOTUS shortlist
NBC News published the first snippet of a yet-to-be-aired interview with President Joe Biden, set to play in full during halftime at the Super Bowl this weekend.
The halftime interview is a presidential tradition that Mr Biden took part in last year and saw his former boss, Barack Obama, do throughout his presidency as well.
In the interview Mr Biden revealed that "about four" people remain on his shortlist for the upcoming vacancy resulting from the announced retirement of Stephen Breyer.
He added that he believed his eventual pick would receive at least some support from Republicans in the Senate.
President Biden on his search for a Supreme Court nominee:

Biden tells @LesterHoltNBC that he's done a deep dive on "about four people," and thinks his pick will get a vote from Republicans

Biden says he's looking for someone "with the same kind of capacity" as Justice Breyer pic.twitter.com/pNYLrLVSBR

— NBC Nightly News with Lester Holt (@NBC NightlyNews) February 10, 2022
John Bowden10 February 2022 22:15
1644531078
Biden faces brutal new approval rating poll from CNN
President Joe Biden faces a brutal new poll from CNN that finds that just about four in ten Americans approve of his job performance as president, down 12 points from April of last year.
The news comes as Mr Biden's first sitdown interview with a major news network is expected to air this weekend.
Mr Biden has faced a rash of defeats on Capitol Hill over voting rights, his Build Back Better Act, and also faces ongoing frustration from some Americans as the Covid-19 pandemic stretches into its third year.
That conflict with Congress has resulted in a 28-point drop for Mr Biden among Democrats when asked whether they believed the president had an effective working relationship with the Hill.
John Bowden10 February 2022 22:11
1644525334
Cruz hits McConnell over characterization of Jan 6 attack
Sen Ted Cruz knocked the head of the Senate GOP caucus, Minority Leader Mitch McConnell, on Thursday when asked about the Republican National Committee's recent resolution condemning the January 6 committee Republicans and declaring the day's events "legitimate political discourse".
Mr Cruz recently reversed his own position on the issue after a grilling from Tucker Carlson, a Fox News opinion host closely aligned with the Trump wing of the GOP.
"I think it is a mistake for Republicans to repeat the political propaganda of Democrats and the corporate media," he told CNN on Thursday.
Read more from The Independent's Jade Bremner:
John Bowden10 February 2022 20:35
1644524115
Lincoln Project pokes fun at report Trump flushed papers
The anti-Trump conservative Lincoln Project group posted a video on Thursday ridiculing Donald Trump over a report from The New York Times's Maggie Haberman indicating that White House aides believed the president had attempted to flush a document down the toilet.
Axios reported on Thursday, citing Ms Haberman, that "staff in the White House residence periodically discovered wads of printed paper clogging a toilet", and believed Mr Trump to be the culprit.
Here's the Lincoln Project's response:
John Bowden10 February 2022 20:15
1644522918
Fugitive Chinese billionaire and Bannon ally threatens to leave the US after judge orders him to pay $134m or face arrest
A Chinese billionaire aligned in the past with Steve Bannon faces a court order issued by a judge in New York on Thursday to pay a $134 million fine or face jail time for contempt of a court order.
Guo Wengui must pay a $500,000 fine for each day his superyacht, the LadyMay, was outside of US jurisdiction in violation of a previous court order, a judge in New York ruled on Thurdsay. He has five business days to make the payment, according to the court filings, or he faces imprisonment.
On a livestream, Mr Guo indicated that he planned instead to flee the US for either Japan or the UK.
Read more about Mr Guo's legal troubles and his connection to Steve Bannon, the former White House chief strategist:
John Bowden10 February 2022 19:55
1644521113
Morning Joe blasts GOP hypocrisy over Hillary Clinton emails and Trump docs
Guests on MSNBC's Morning Joe tore into Republicans for their silence on revelations that former President Donald Trump had retained documents related to his White House tenure at Mar-a-Lago, and was still in the process of returning them to the National Archives.
Democrats have roundly criticized the developing story, which this week escalated to include a letter to the Justice Department from the Archives suggesting a criminal investigation, as it echoes the situation for which their party's 2016 nominee Hillary Clinton was pilloried in the weeks leading up to her defeat Donald Trump.
Ms Clinton faced an FBI investigation into her use of a private email server while Secretary of State; she was cleared of any criminal wrongdoing but described as "extremely careless" in her handling of official documents.
MSNBC's Jonathan Lemuire opined on the situation Thursday morning, telling Joe Scarborough and Mika Brzezinski that it was a "double standard" at work.
"We heard every night in 2016 on this rally stage saying Hillary Clinton abused her e-mails and it was a question of judgment," he said. "That was the argument Donald Trump made – Hillary Clinton didn't have the judgment to be president because she would use her private e-mail account for classified information."
Read more from The Independent's Gustaf Kilander:
John Bowden10 February 2022 19:25
1644519244
Manchin slams rising inflation numbers
West Virginia Sen Joe Manchin, who doomed the Biden White House's Build Back Better Act by announcing his opposition to the bill, reacted with dismay on Thursday after the US Labor Department announced that inflation had reached a four-decade high.
In a statement, he appeared to further dampen expectations for the passage of more spending bills, declaring: "We must get serious about the finances of our country. It's time we start acting like stewards of our economy and the money the American people entrust their government with. Now, more than ever, we must remember it is not our money, it's the American people's money. It is not our economy, it's their economy."
But in an interview with a local West Virginia radio station, he also identified a target for Democrats to eliminate in their efforts to fight rising consumer prices: the 2017 tax cut bill passed under the Trump administration and dual Republican majorities in the House and Senate.
"We've got to get our financial house in order, get a tax bill that really puts us on a path to financial solvency," said the senator.
John Bowden10 February 2022 18:54
1644516306
Trump remains in contact with North Korea's Kim as 'love letters' taken to archives
Donald Trump is still in contact with North Korea's Kim Jong Un — or at least is telling people that he is, according to The New York Times's Maggie Habermann.
Axios reported this morning, citing an interview with Ms Haberman for her upcoming book Confidence Man: "Trump has told people that since leaving office, he has remained in contact with North Korean leader Kim Jong-un — whose 'love letters,' as Trump once called them, were among documents the National Archives retrieved from Mar-a-Lago ."
It has been reported before that Mr Trump exchanged written correspondence with Kim Jong Un outside of their in-person meetings; this is the first reporting indicating that the conversations continued after January 2021. But as Ms Haberman noted on CNN, it could all be bogus.
"You know, what he says and what's actually happening are not always in concert," she quipped in a CNN interview on Thursday.
John Bowden10 February 2022 18:05
1644513635
Nancy Mace implores Maga fans to back her regardless of Trump's preference
Republican Congresswoman Nancy Mace, who has previously broken with Donald Trump over the Capitol insurrection, is facing a primary challenge from a Trump-backed right-wing candidate aiming to take her down for her apostasy. But rather than come out swinging against the president, Ms Mace has instead traveled to the foot of Trump Tower in Manhattan to beg for the #Maga base's forgiveness:
Andrew Naughty10 February 2022 17:20



www.independent.co.uk
George Holan is chief editor at Plainsmen Post and has articles published in many notable publications in the last decade.