[ad_1]

The image that comes to mind when you think of craft beer is that of a man with a beard, plaid shirt, leather apron and cap, mug in hand. Not the one of four women who brew, drink and sell beer in a small town, and start the day with a cup of tea. In Spain, there are not many brewmasters. But more and more women make up the renewed landscape of this industry: they work in production, in quality controls, in marketing. The professionalization of the sector, as well as a slow but progressive equality in consumption have been decisive. In Catalonia, one of the regions with the greatest culture of craft beer in Spain, they barely represent 25% of the occupation in factories, according to a 2019 study by the Gremi d'Elaboradors de Cervesa Artesana i Natural. But the jump has been exponential: in 2017, they were 13%.
Since its origins, women have been in charge of the preparation of this concoction throughout the planet. From ancient Egypt to Mesopotamia, where the brewers were considered priestesses of the goddess Ninkasi, to the Viking societies, in which the Norse made the drink with which to celebrate the conquests. As in all guilds, the names of the women who laid the first stones were buried by the power of the patriarchy. It was a Benedictine nun – Hildegard of Bingen – who in the 12th century had the idea of ​​adding hops so that beer could be preserved for longer. And two women — Suzanne Stern Denison and Jane Zimmerman — who, along with Jack McAuliffe, founded one of America's first modern-age breweries. Later, with the Industrial Revolution, mass production, and home confinement, beer was taken from women.
Spain was a pioneer in importing the Pink Boots Society from the United States in 2013, an association that brings together professional women from all areas of craft beer. Its vice president, Lorena Bazán, assures that the visible face continues to be that of the man: "In general, when it comes to a family project, the woman accompanies the distribution, the labeling, the administration." But there are exceptions: businesses run by women, which, although they may have gone unnoticed, were always there.
The shelves of 2D2Dspuma, in the Barcelona neighborhood of Congrés, reflect the evolution of craft beer in the country: 15 years ago, almost exclusively filled with imported products, now more than half wear Spanish labeling. "Before, very bad beer was made here, but now it's just as good or better than what is made outside", explains Susana Giner (Barcelona, ​​46 years old), co-founder of this national benchmark distributor. In 2006, Giner and his partner, María Hernández (Palma de Mallorca, 47 years old), served coffees, croissants and carajillos. One day they decided to include some craft beers in their small menu: Belgian, German and some American. Shortly after, the first national brands began to flourish, especially in Catalonia, with names like Rosita or Montseny, and the boom exploded: "More and more interested people arrived, fairs began to be organized, they asked us for beers to take home …". That led them to open a specialty store. And then a blog, a distributor and an online store. In between, an extensive program of tastings, workshops and contests.
At the beginning, the most sweet and highly alcoholic ones triumphed (as there was not much criterion, the ball rule prevailed), but in recent years the IPAs have been consolidated – bittersweet with a high concentration of hops – and those that taste like fruits and tropical flowers. In general, women drink less beer and prefer them light. "You still have the idea that beer is not very feminine," explains Giner, who observes a constant evolution, although with women always one step behind: "When men drank Belgian beer, women drank wheat beer. Then, the men went to the IPA, and the women to the Belgian ", he explains. This slow incorporation into consumption is also reflected in the factories. The Catalan is unable to count on the fingers of one hand the women who have stood out as beer masters: "It is not a macho world, but it is dominated by them," she points out.
In Bustarviejo (Madrid), Bailandera – a name that pays homage in a feminine key to the Loma de Bailanderos – is synonymous with factory, bar and a philosophy that extols the local with touches of unpretentious modernity. Its creators are four partners who, among the labeling, designed by themselves, colorful and fanciful of their concoctions, take turns on the cold November morning when we visit them to try a new experiment: blueberry beer and hibiscus flowers.
The project was born five years ago from a desire for conciliation, when two lifelong friends, Ana Lázaro (Madrid, 40 years old), then an audiovisual producer, and Clara Aguayo (Madrid, 39 years old), an architect, decided to stop working for employed. "To inhabit the space where we live," explains Lázaro. They started out as nomads – a very common practice in the world of craft-, experimenting in other factories that gave them their facilities. Today, with two more partners on board – Carmen Cuéllar (Madrid, 39 years old) and Beatriz Pérez (Burgos, 42 years old) -, they produce 40,000 liters a year in an industrial warehouse. Their macerators are machines discarded by the dairy industry. They are part of a pioneering project by the Madrid Institute for Rural Development to use wild hops in their preparations in the future. They also run a bar in town. Ascribed to the Belgian philosophy of beer, this season they work on an elaboration based on boletus. In addition to the seasonal types, they have seven fixed varieties: from a black one made from organic Nicaraguan coffee, "for cold days and the high mountains", to a gluten-free beer or a dark one low in alcohol (0.9% ) with a strong bitterness in the background.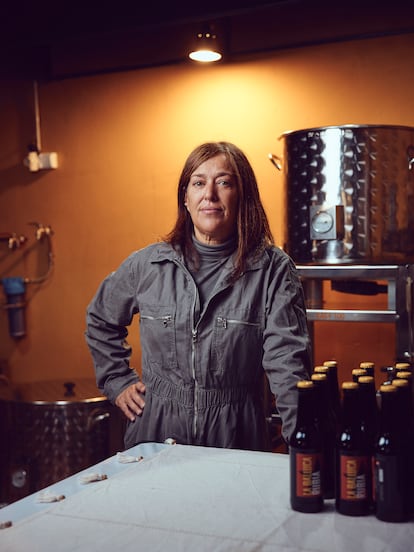 Cross country, in Milmarcos, a town of 80 inhabitants in Guadalajara, the kitchen of one of its few houses gives off a sweet smell of fermentation. It is La Balluca, "the smallest factory in Spain and, possibly, in the world", as it has been baptized by its teacher, Judith Iturbe (Barcelona, ​​52 years old), who produces around 3,000 liters of beer per year. His life turned completely around the turn of the century, when, together with his partner, he left the mass of Madrid behind to move to his family's town and start his own business.
Iturbe had long been passionate about beer, but was unaware of its production. After a decade of learning and testing, he finally opened the business at the end of 2019. His hands now engage all parts of the process: mashing, bottling, labeling, distributing. "I am a woman orchestra", laughs the winner of the award for the entrepreneurial woman of Castilla-La Mancha in 2021. In a corner of the kitchen, she keeps the arrow that she broke with her own body in a confidence test of an entrepreneurship course for women. "Although it seems silly, that gave me confidence," he says.
Their beers total three varieties (blonde, wheat and four malts) and are only distributed in the region. Its bitterness is subtle. They open a hole in a rural space where there is little culture of craft beer. Iturbe is now working on a new variety made from the honey from its hives.
Also Isabel Viéitez (Sevilla, 48 years old), teacher in charge of Galician Brew, started six years ago with small quantities: 250 liters per month. Today it produces more than 12,000 a month, has won national and international awards, and has been a jury since 2018 at the international cup in Mexico. On the labeling of their beers there is a drawing of a cart, a typical Galician owl, and an illustration of a flamenco dancer. They reflect Viéitez's personality: "Sevillian by birth and Galician at heart." His passions, beer and rock, are also a duality. The music events at the Galician Brew facilities, as well as the collaboration with the Rock in Río Tea festival – for eight years, they have made a special beer for the event – are no coincidence.
Viéitez grew up "in an environment of working women", who worked in the fields to pick the grapes. He lived in Seville and spent his summers in Solares (Galicia), running around the 19th century winery of his grandparents. He started out in wine, but in 2015, driven by the thousands of possibilities that beer offered, he converted the family farm into a liquid gold factory, whose machines are now graffiti with the faces of Galician rock musicians such as Miguel Costas (Siniestro Total), Tonhito de Poi or Xurxo Souto.
From the beginning, Viéitez opted for fairs, one of the most recurrent ways to make itself known in the sector. His beers were no more than a year old when three of the four he presented at his first fair won a medal. In its elaborations, it incorporates water from the springs of the Tea River and hops from its own harvest. Although its best-selling beer is Miña Terra Galega —a tribute to Siniestro Total's version of Sweet Home Alabamaby Lynyrd Skynyrd – the star of the competitions is Curuxa Black Lager, which is complicated to make. Its fermentation at low temperature and the two months of storage exude a very peculiar aroma of smoked and dark chocolate.
Contests are your way of demonstrating the quality of your products. "This is how we make ourselves visible. It is important that we do not stay inside the winery ", he points out. Thanks, in part, to courses and fairs, which determine the profile of a brewmaster – before the contacts counted, the compadreo – the path to equality has been opened. Stereotypes persist. In the 2D2Dspuma bar the women continue to order vermouth; At a fair recently attended by Bailandera members, a man approached the booth and asked about the brewmaster. But these shops – the tip of the iceberg, as more and more young people work in the factories – are the glow of a slight change, in which the woman is the pilot and face of a brand of craft beer. "In the industrial era, they took the production from us, but now we are once again taking center stage, to be beer women," Iturbe sentenced.
[ad_2]
elpais.com
George Holan is chief editor at Plainsmen Post and has articles published in many notable publications in the last decade.