In the Picasso Museum in Paris there is a small polychrome cut sheet metal sculpture that represents a footballer at the moment of hitting the ball. This is a preparatory work that the painter did in his studio in Cannes in 1961 and puts us on the track of the work that will later conclude in clay, entitled Footballer (1965). The ceramic is white, it is 28 centimeters high and 24 wide, and there are 49 more specimens scattered around the world. But the one that has been seen by the most eyes is in the Manchester Football Museum. Acquired by an English collector at auction at Christie's for £ 40,000, it was loaned to the museum in 2012. According to Mike O. Mahony, Professor of Art History at the University of Bristol and specialist in art and sport performances of the period interwar period, this work by Picasso "has the exuberance of a dancer", although to tell the truth its simple form is more like that of a ghost under the sheet or a yeti of the Himalayas.
We know that Picasso was not too interested in football, or not in sport itself, but in the movement of bodies in space, such as the jumps and passes of the bullfighter in the arena or the footwork of the fighters in a ring. However, we know some concrete data about the context and time in which he made the sketches and sculpture of the unknown footballer and They coincide with the final of the European Cup in the spring of 1961, played at the Wankdorf stadium in Bern (Switzerland) between Barcelona and Benfica, the so-called "cursed final" due to the number of balls that the Barcelona players crashed that day in the frame of the goal, in a final that they dominated and ended up losing by 2-3. The match went down in the history of world football because it succeeded in having the square frames removed from the goal frame and replaced by round ones, as today. Picasso would see the match live or hear about it on the radio and, always according to Mahony, "his sculpture could have been a reaction to that moment and indicates a sympathy for Barcelona".
The aesthetic equivalent of that little Picasso sculpture, admirable in its plain, is now well known and emerges from the extravagance and turbulence characteristic of the era of flashes and digital culture. His name is David Beckham, the famous English midfielder who began his football career as a child as a Manchester United mascot in 1986; He went through the best European clubs and retired from active sport in 2013. At 46, Spice Boy he is still a social phenomenon, an advertised man whose celebrity has only been equaled by the healthy, kind and tenacious Zinedine Zidane, whose best-known phrase is "I'm not a god, I'm just a footballer", while Beckham's simile The one he is dealt with most often is that of a Michelangelo's David, a pleasant punishment from hair-on-chest football to his metrosexuality. In short, Beckham will be the image o mascot of the Qatar 2022 World Cup, the first event of its kind organized by an Arab country, which explains his recent visit to the country, last weekend, when he visited a large exhibition by Jeff Koons recently inaugurated in Doha. Nice way to close the circle.
The peculiar utility of David Beckham, especially since his arrival at Real Madrid as galactic, is that he threw the fouls with the efficiency of a great stylist. He has shown it again in his last advertising appearance, kicking paint-soaked balls against a vertical white canvas as he would against a goal on a soccer field. The exquisite House of Haig Scotch whiskey distillery, with its more than 400-year-old stills, has signed him as the image of its latest product, the Haig Club, whose blue flask-shaped bottle looks more like a perfume than an alcoholic beverage. The campaign takes place in what looks like an artist's studio. Dressed in a T-shirt —which will not take long to take off— and white trousers stained with splashes of paint, David wants to be a football Picasso who takes penalties time and time again with his right hand. The balls are dripping red, blue and… they all go in!
On his Instagram account, Beckham is shown with a naked torso, blending into his skin tattoos and droplets of pigment: Victoria Beckham's drawing surrounded by stars and the legend in Hebrew "I belong to my beloved, my beloved is mine." David hits a few balls in a row until the final one, which he covers before with the pigment of the gods, gold, and will serve to crown the image of what we believed was a action painting but which in the end is — oh no! —a vulgar and predictable representation of a Christmas tree.
Like many soccer stars, Beckham and his talented wife have expressed their admiration for art and artists, more for their aura than for their social and inner energies. As a model, the footballer set the bar too high – so high that not even he himself will be able to overcome it – when in 2004 he posed for artist Sam Taylor-Wood in a 107-minute sequence shot where he is seen sleeping peacefully half-naked in a bed in the city. Hotel room after the match between Real Madrid and Villarreal. Unlike the film Sleep, that Warhol made in 1963, a 16mm film that portrays the then lover, the poet John Giorno, the video of the English artist is artificially colored and is a vain example of a cult of a social idol and with a title, David, which plays with that of Michelangelo's sculpture.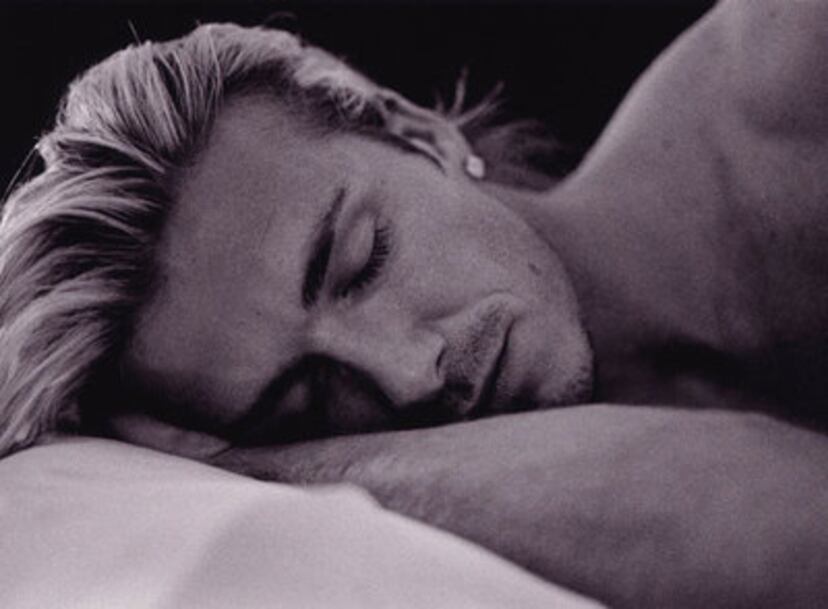 The Beckham's popularity, as well as its influence on fashions, has never waned. But it should be remembered that the sympathy, and even the desire, that seeing him as an Adonis kicking a ball can provoke is the opposite of the radical originality of the French painter, sculptor and former model Niki de Saint-Phalle, best known for her pineapple colored in glued paper, and that in the early seventies he used to organize shooting sessions in his studio (tirs) on a canvas, in an extraordinarily realistic connection between painting, violence and war. "A woman in a man's world is like a black man in a white world," he used to say. "We have the right to refuse, to rebel. The bloody flag is high ". Decanting in a couple of sentences all the possible associations between Beckham's cocktail of balls and De Saint Phalle's feminist battle, the phrase attributed to ex-Barcelona player Hristo Stoichkov is unstoppable: "God was on our side, but the referee was French."
You can follow BABELIA in Facebook and Twitter, or sign up here to receive our weekly newsletter.
Sign in to continue reading
Just by having an account you can read this article, it's free
Thanks for reading EL PAÍS



elpais.com
George Holan is chief editor at Plainsmen Post and has articles published in many notable publications in the last decade.