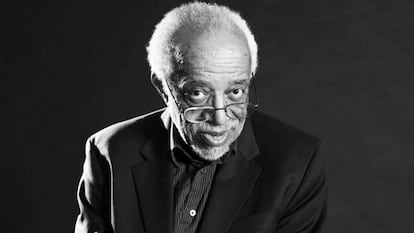 Barry Harris, legendary jazz pianist, one of the greatest exponents of the bebop Since the late 1950s, and also one of the most important references in the teaching of jazz piano, he died at the age of 91 on Wednesday, December 8, due to complications related to covid-19, at the Palisades medical center in New Jersey. He had been hospitalized for two weeks. His professional activity continued until the end, offering seminars and private classes in New York with great regularity and, until shortly before the pandemic, traveling to perform and give courses and master classes.
Harris was a member of a great musical bloodline, one of the four great pianists to emerge from the rich Detroit scene between the late 1940s and early 1950s – along with Hank Jones, Tommy Flanagan and Roland Hanna – and a leading supporter throughout your language life bebop developed by Charlie Parker, Dizzy Gillespie or Bud Bowell. Alien to fashions, trends or market demands, Harris always remained faithful to that style, becoming a champion of it as the years passed, and showing each new generation of jazz players the importance of that tradition in the development of music. African American. His stature as a performer is as relevant as his influence as a pedagogue: Harris was, without a doubt, one of the musicians most loved by the jazz community, which has unanimously mourned the loss of the veteran maestro.
Harris was one of the four great pianists to emerge from the rich Detroit scene alongside Hank Jones, Tommy Flanagan and Roland Hanna.
Born in Detroit on December 15, 1929, Barry Doyle Harris began to play the piano at the age of four at the hands of his mother, who was a church pianist, with whom he continued to take lessons and play until finishing high school in 1946. For Then, the new music led by Charlie Parker had already conquered him, and the saxophonist became one of his main references, along with Art Tatum and Bud Powell. After winning an amateur competition, he intensified his musical activity until he turned professional in the early 1950s. In 1954 he was already the house pianist at the Bluebird club in his hometown, since it gave him the opportunity to play with great local musicians such as Thad Jones and passing stars, such as his idol Charlie Parker or Miles Davis, whom he accompanied. for three months in 1954.
The prestige of Harris in the scene was growing although, except for a brief tour with Max Roach in 1956 replacing Richie Powell (the younger brother of Bud, who had died suddenly along with the trumpeter Clifford Brown in a car accident), Harris was not He moved from Detroit throughout the decade (except for occasional trips to New York to record on albums by Hank Mobley, Donald Byrd or Benny Golson). He continued playing with the great musicians who visited the city, such as Lester Young, Lee Konitz or Ben Webster, among others, and taking his first steps as a teacher, establishing one of his greatest vocations. Meanwhile, word was spreading in New York that there was an extraordinary pianist in Detroit, as those who had recorded with him attested, and several young musicians from that city such as Paul Chambers, Pepper Adams or Curtis Fuller. But it wasn't until 1960, after a call from Cannonball Adderley asking him to replace Bobby Timmons in his group, that the figure of the pianist grew to become one of the biggest names on the American scene.
All the culture that goes with you awaits you here.
Subscribe
Harris finally settled in the Big Apple and, although he did not stay long with Adderley, he had time to record on his fantastic album Them Dirty Blues, inaugurating a fruitful relationship with the Riverside label, with which the pianist published as a leader a handful of extraordinary albums throughout the decade, including some of the best of his career: At The Jazz Workshop, Preminado, Chasin' The Bird O Magnificent! His activity as an accompanist was not far behind: after a time in the group of his old Detroit friend Yusef Lateef, Harris was often Lee Morgan's pianist (together with him he recorded the legendary album The Sidewinder, among others), Dexter Gordon, Hank Mobley, Charles McPherson and especially the great Coleman Hawkins, with whom he played from 1965 until his death in 1969.
As the years passed and the new directions in jazz left behind the orthodoxy of the bebop, Harris was increasingly important as a representative of that tradition, and being considered the most faithful heir to Bud Powell, both as a performer and as a teacher, which he kept very active at all times. In the 70s, a contract with the Xanadu label produced another cluster of outstanding albums as a leader and accompanying Al Cohn, Sonny Criss or Jimmy Heath, but by then Harris and his music began to get buried in specialized circles: the pianist passed to be, above all, a musician of musicians, and the bebop it was already pure tradition, which had little to do with trendy jazz. To round off this twilight moment, at this time Harris had moved into the home of Baroness Nica de Koenigswarter (a known patron of jazz since the age of the bebop) where also lived his great friend Thelonious Monk, another of his great references, whom he closely accompanied in those last years of his life when he was already retired and ill.
His tireless pedagogical activity made him an unavoidable benchmark. On November 20 he gave his last class via Zoom
In 1982, just a few months after Monk's death, Harris and double bass player Larry Ridley partnered with promoters Frank Fuentes and Jim Harrison to found the Jazz Cultural Theater in New York, a jazz club that hosted performances and music. jam sessions on weekends and the pianist's classes the rest of the days. On the first anniversary of the premises, Harris declared that he had always been a teacher before anything else, and that his goal was to "pass on the tradition" to the new generations, something that he continued to do tirelessly after the 1987 rise in the rent of the premises forced to close the JCT.
Since then and until last November 20, the date on which he gave his last class via Zoom, his pedagogical activity made him an inescapable reference, marking several generations of new musicians at the same time that he continued to act and, already very sporadically, recording. albums. A stroke in 1993 took away some of his dexterity, but did not prevent him from continuing his work as the main ambassador of that jazz tradition. As a pianist Harris was always a creative and graceful musician, with a tremendous command of harmony, a clever left hand, and vibrant phrasing.
Despite not possessing the intensity of his teachers Powell and Monk, he has always delivered brilliant performances and few like him have synthesized the language of the bop on the piano. After Roy Haynes, Lou Donaldson, Sheila Jordan and Benny Golson, who are still with us, he was the oldest of the glorious generation of the bebop, and his death leaves an irreparable void in the world of jazz.

elpais.com