The political agenda of Barbados was marked until Sunday by a historical milestone: the small Caribbean island of just 280,000 inhabitants will become a republic by the end of the month, following in the wake of other former Commonwealth territories. The former British colony elected a new head of state, Sandra Mason, who will replace Elizabeth II on November 30. This event is now joined by another, although of different significance: the Ministry of Foreign Affairs and Foreign Trade of the micro-State announced over the weekend an agreement with Decentraland, one of the most popular digital worlds, to open a virtual embassy. It is the first stone of the Barbados plan: to open embassies in the metaverse.
According to an official statement that EL PAÍS has had access to, the Barbadian executive is in talks to close agreements with other virtual environments, such as Somnium Space and Superworld. Nothing is said about the metaverse of Meta (the old Facebook), the company that has made the term fashionable after announcing that its future runs there. The authorities of the island only refer to the metaverse that is already in operation (the Metaverse is still to be built). The embassy is scheduled to open in January next year, just a month after officially becoming a republic.
"The Barbados government is delighted to announce the launch of its embassy initiative in the metaverse," Foreign Minister Jerome Walcott said in the statement. "This platform will be an important forum in which Barbados will work with its traditional partners to deepen its relationships in the diplomatic arena, as well as in investment, business, tourism, cultural industry and people-to-people interactions. Barbados looks forward to welcoming the world to its metaverse embassies, "he adds.
To immerse yourself in the so-called metaverse, you need an internet connection and virtual reality glasses. Users thus enter an entirely digital immersive world in which they take the form of an avatar, as if they suddenly became a character in a video game. In that environment they can interact with other avatars or with companies that provide services there. There is no single metaverse, although Mark Zuckerberg proclaimed with great fanfare less than a month ago that he wants his to prevail. Bloomberg Intelligence believes that the business that moves there (buying and selling add-ons for avatars, experiences, services, etc.) could be around 800,000 million dollars by 2024. Other large technology companies, such as Microsoft, have already announced specific products there. terrain, such as the option to use avatars in video calls.
Political implications
When a country opens an embassy in a location, it is de facto recognizing the sovereignty (a State and a government) of the territory in which it is located. Does Barbados then give official legitimacy to a 100% virtual environment, that is, non-existent in the physical world? That is not the prism under which this measurement should be viewed. "The term embassy in this virtual context cannot be interpreted as permanent diplomatic representation before a State, since only before States or other subjects of international law, such as the Holy See or the Order of Malta, can diplomatic relations be had," says Jordi Sellarés, professor of practical diplomatic and consular law at Esade Law School. "Here it can be used in a loose sense as a platform for the dissemination of information, not as a recognition of international subjectivities, that is, international rights and obligations." Although it is called an embassy, ​​it is still a kind of web in a three-dimensional virtual space.
According to the official statement of the Barbadian Government, having an embassy in the metaverse will allow the country, in addition to providing consular services through that environment, to buy land in those fictitious worlds. From Bridgetown they explain their move as one more step in their strategy to position themselves as a hub American of new technologies and as an inexpensive way to expand your network of interstate contacts. "It is a tool that will allow us, at a low cost, to establish new allies, develop relationships with other countries and offer services all over the world," says Grabriel Abed, Barbados' ambassador to the United Arab Emirates, in an interview with Coindesk. The diplomat, good connoisseur of technology blockchain, The one that makes cryptocurrencies possible, and founder of three companies that operate in that sector, is leading the project, although he denies that the country in which he lives has anything to do with it.
The Caribbean island has about twenty diplomatic missions, a representation according to the size of the country, whose population fits in the city of Gijón. Thanks to the metaverse, and assuming that its implementation ends up curdling, Barbados could easily relate to the almost two hundred countries recognized by the UN. Abed recognizes that gaining efficiency in its relations with other states has been an important driver in promoting the measure. He also sees it as a form of cultural diplomacy: "with this embassy we can offer our art and crafts in a simple way to countries like Poland or Russia".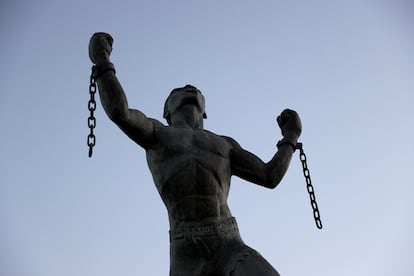 The ambassador also wields the environmental argument: having an official presence in the metaverse can allow reaching many parts of the planet avoiding travel by plane. Nor does he hide that his commitment to the metaverse can work as an attraction for digital nomads, professionals who work remotely (usually for Western technology companies) while traveling the globe. Offering this group an immersive experience to see what services they can enjoy on the island can help them decide to move there.
For Andrea G. Rodríguez, analyst of the think tank Cidob and specialist in cyberdiplomacy, it is desirable to take advantage of a channel that is expected to become mainstream (in this case the metaverse) to promote the culture of your country. "What seems more delicate is that it is a hyper-centralized and hypervigilated space of which, in addition, there are no guarantees that it will become what Zuckerberg promised," he says. "Nor can the cybersecurity and privacy risks implicit in that environment be ignored, which are sure to be there, and which are precisely two of the things that are of greatest concern in embassies."
Then there is the very nature of the place (or environment) in which the diplomatic or consular work will take place. Can this happen in a cyberspace created and managed by one or more private companies? "Companies, like NGOs or individuals, are not subjects of international law. But the limits are blurred in areas in which companies assume a similar role or tasks that until then were exclusive to the States. Space flights and satellite control, to cite two examples ", reflects Sellarés. There is precedent in addition to the Companies of the Indies, predecessors of the current mercantile ones, which had diplomatic relations.
The background to Second Life
Barbados is not the first country to open an embassy in a virtual world. That credit goes to the Maldives: in 2007, the Indian archipelago officially launched its diplomatic office in Second Life, which at the time also seemed to be set to become the cyber environment that everyone would want to be in. In a few days Sweden followed. Then came Estonia, Colombia, Serbia, North Macedonia, the Philippines, Albania, Israel and Malta.
What could (and can) be done there? Talk to your avatar of an embassy official to obtain information on visas, trade and other consular procedures. "The legal validity [de abrir una oficina en un entorno virtual] it is total; its relative usefulness ", sums up Sellarés, from Esade Law School. "It is more about a symbolic action than something else," agrees Antonios Kouroutakis, professor at IE Law School (IE University). "In any case, it must be taken into account that the metaverse is a virtual environment that can be shaped by public and private entities, and therefore regulated by both. What will be interesting to see is how the virtual world will interact with the real one ", he adds. For example, if a user suffers trauma in the metaverse, can they resort to ordinary justice? What happens if something illegal is committed in a virtual embassy?
Abed, the promoter of the Barbados e-embassy project, is convinced that more will come behind his country. It happened with Second Life and, in his opinion, it will be repeated with the new metaverse.
You can follow EL PAÍS TECNOLOGÍA at Facebook and Twitter or sign up here to receive our newsletter semanal.



elpais.com