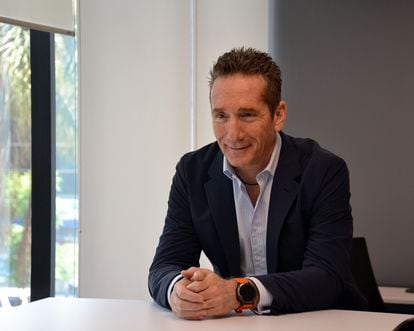 Faced with the news that Citigroup put up for sale its retail sales business in Mexico, and with it the brand of the National Bank of Mexico (Banamex), the banking employers in the country ask for calm. The decision does not reflect a risk and should not be interpreted as a bad sign, says Daniel Becker, president of the Association of Banks of Mexico and CEO of Grupo Financiero Mifel.
"We are talking about a lot of speculation and unknown elements that are not clear because the news has just been announced", says Becker in an interview with EL PAÍS. "Evidently, Banamex, being such an iconic brand and one of the most recognized brands in the population, has generated more attention than other transactions. What we do know, according to the statement released by the director [general de Citigroup] Jane Fraser, is that they are immersed in a redefinition of their global model", added the banker.
Citi eliminated 13 markets in Asia and Europe as well, where they either sold their entire business, or got rid of their retail business, as they are now doing in Mexico. The US bank will request a new license to continue operating in the country, strictly in the corporate and investment banking market. "Which does not mean that Citi leaves the country. We must base ourselves on that information that we have, because if not everything else would enter the field of speculation, "asks Becker.
Ask. In addition to Citi, JPMorgan, Canada's Bank of Montreal and Israel's Mizrahi Tefahot Bank also closed operations in Mexico recently. Santander ceased trading on the Stock Exchange. What are these signs telling us about the banking sector?
Answer. The fact that Banamex is getting out of its retail banking, the second most important bank they have after the United States, does not imply any risk and is not a bad sign. Simply, it opens the possibility for Mexican groups to recover and balance the participation of Mexican banks together with Mexican banks with foreign capital. I can guarantee you that there are several groups of Mexican and foreign capital interested in acquiring this asset, which I think can lead us to the conclusion that it is exclusively due to a strategic issue. JPMorgan did not completely leave the country, it continues to serve large corporations and the Federal Government. The reasons for some other banks that have left, because there is also an interesting phenomenon that would also be worth exploring, there are many banks that have left Mexico and have returned.
P. Which ones have returned?
R. Deutsche Bank, which had decided to leave, determined that it would remain in Mexico and continue to operate. Last year BNP Paribas started operating here, it is part of more of our members, we welcomed them. That a bank with foreign capital leaves a country can be due to multiple reasons, it is not necessarily due to the wrong elements of the country in which they are operating.
P. The retirement funds, or Afores, fought for the reform that puts a maximum limit on the collection of commissions not to pass. Isn't this regulation affecting the appetite for the Mexican market?
R. No, because at the same time the compulsory contribution that companies will have to make to the Afores has increased significantly. We must not forget that the Afores represent 21% of the gross domestic product (GDP) and, by the end of this year, they could represent 25%. The Afores will be even more important than the banks in terms of attracting savers.
P. High delinquencies are expected this year in loans to small and medium-sized enterprises (SMEs). Doesn't this impact the attractiveness of the sector?
R. Unfortunately, associated with the issue of the pandemic, more than a million SMEs disappeared. All the banks that participate in the SME segment were affected, but it is also important to point out that the banking system comes out extremely strengthened and I believe that this is an element that must be analyzed. After such a severe crisis, banks today have capital ratios above 18% and excess liquidity. They are ready to support the new expansion of economic growth.
P. These types of announcements, like Citi's, are usually made with an interested buyer, which is also advertised. Citi did not do this, which in part generated so much speculation.
R. I would not necessarily agree with the view that when a transaction of this type is announced, I already have to have potential buyers. Sometimes they are done in these open processes that allow the participation of different bidders and the decision is determined at the end. It doesn't seem to me that the notice of an operation of this type already has to be clear and agreed or predefined with a potential buyer. The Banamex brand is extremely important to Mexicans and I am practically certain that this brand will be maintained regardless of who the buyer is. Perhaps what could have been fine-tuned or what has been lacking is depth to warn all Banamex users that they are not at risk, that the bank will continue to operate normally, that absolutely nothing is going to happen and that they will continue to be served by Citibanamex in a process that will last a few months. I think it was not an easy element because Citi had to notify the Stock Exchange because it is a public company in the US Banamex is a brand so deeply rooted in Mexicans that we are confusing a rational decision with a sentimental decision. There is a great approval and a great feeling for such an iconic century-old bank, the National Bank of Mexico, the name says it all. But it is not the first time that such an important iconic bank has been put up for sale, although it is not very common, but it does happen.
subscribe here to newsletter of EL PAÍS Mexico and receive all the informative keys of the news of this country

elpais.com
George Holan is chief editor at Plainsmen Post and has articles published in many notable publications in the last decade.