"I cried. I spent two days crying, totally sunk. Fucked up I would go up to my room and cry alone, secretly. And he said to me: up to here, up to here because there are already two knees and I am almost 28 years old ". The confession is from Carolina Marín, the Olympic badminton champion at the Rio 2016 Games. It was Friday, May 28, when she went up to her room to cry alone. "I didn't want to worry my mother, or for people to see me." He had just torn the cruciate ligament in his left knee. The second break in two years. And this time, in addition, the two menisci had also been torn: internal and external. End of the Olympic dream in Tokyo two months after traveling to Japan. For 48 hours he thought that it was not the only thing that was over. The blow was brutal. She tells it now, six and a half months later, sitting in the badminton hall of the High Performance Center in Madrid after a training session.
He tells it without haste. Calmly. Serene and calm. Using words like "darkness". Not afraid to show his version anymore fragile "Rather human," the one he has always tried to hide, out of stubbornness. He relates the fears, concerns, uncertainties, what he has discovered about her, how he is managing this second recovery, what he has somatized and what has been restorative for him. What he needed to run away from and what was good for him. And she says that unlike so many other long-term injured athletes, she doesn't miss competition. "I have realized two things in this second recovery process: that I no longer have so many years of my high-level sports career and that what I have left I want to enjoy. I want to take better care of myself to achieve the goal of Paris 2024 ″.
At that Olympic event he would arrive at 31 years old and with a few scars on two knees. But, as María Martínez, the psychologist with whom she has worked for years, says: "Caro has an overwhelming talent for self-improvement. And naturally. Psychologists have protocols for how certain processes work, I prepare them and when you want to find out, she sometimes goes two steps ahead. Is incredible".
The day Carolina Marín broke the crusader in her left knee, on May 28, her mother was driving to Madrid to spend the weekend with her. It was the last time they went to see each other before the player concentrated Sierra Nevada and then flew to Tokyo. "I called her from the ambulance: 'Mom, instead of going home, come to the hospital because I've broken my knee.' He was going to stay for the weekend, he stayed for two months … "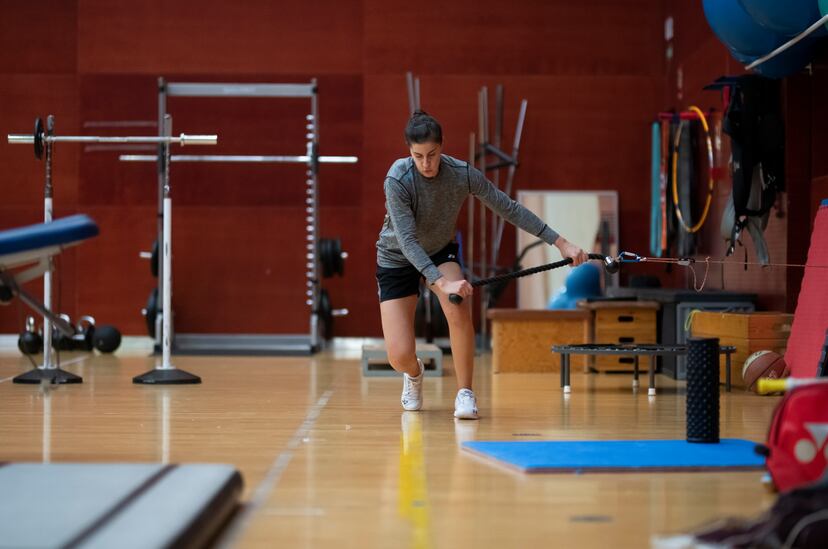 Marín says that, unlike the previous injury, he was aware that it had broken. "I knew it from the move I made. Just like in indonesia [en enero de 2019, cuando la rotura del ligamento cruzado de la rodilla derecha] I left the pavilion walking alone, here is that I could not even support my leg. And yelled it at Anders [Thomsen, el segundo entrenador]: I have broken, I have broken. In the ambulance his knee was already like a blood sausage. It was like an elephant's foot. The MRI confirmed everything: crossed and the two torn menisci… ". He was in his prime. "I had a bad time, a very bad time. I saw everything very black. I was thinking of the dark, of everything bad. Why me? I wondered ", continues Marín, who had just overcome another crusader breakdown and lost his father after months in a hospital due to an accident. "The blow was that: that there were two months left for the Games, that it came from winning four tournaments out of five. After everything that had happened to me, I started 2021 with renewed energy. I felt good, comfortable, comfortable, I enjoyed myself, I was motivated, understanding and internalizing everything that I worked with Fernando [Rivas, el entrenador] and suddenly…".
And suddenly they say goodbye to the Games and the World Cup at home because the tear of the two menisci also implied three months without being able to step on or force the leg. His dominant leg, too. The knees are essential in a sport as explosive as badminton, with continuous changes of movements and directions. "People would come to the house and I would try to put on a good face, but then I would go up to the room and cry… The chip change came on Sunday morning. I kept seeing it very black but I woke up and said to myself: 'yearInside the bad, there are only three years left for the following Games. That was my little light that I saw at the end of a very, very long tunnel ". The following Monday Guillermo Sánchez, the physical trainer, was already at home and for a month they trained — as little as they could — in the garden.
When did you stop thinking why me? "At night I would go to bed and instead of disconnecting as normal people do, I would not stop thinking about it. I broke down in 2019, recovered in seven and a half months, all running and in a hurry. Then my father had an accident, almost died, they admitted him, the pandemic began and I went to Huelva and went to the hospital every day to see him. Every day I went to a place that I did not like to go. I had a hard time, it was a continuous desperation that consumed me inside. There were days when I was going to train at 11 at night to do something and feel good about myself … ", she replies. And he adds: "I was thinking about all that and that in the last two years I have only encountered obstacles along the way, I have been overcoming them and then came the second break. He told me: maybe the Tokyo Games weren't for you. Maybe it was a consolation, but I came out like this, thinking that I had Paris 2024 ″.
The little light of Paris 2024 ignited the chip change. But it was not easy. First came the Tokyo opening ceremony. "I saw her on TV, she was crying on the physio stretcher. Tears of helplessness came to my eyes, I remember it now and it still makes me angry. And we weren't even going to go to the ceremony because we were competing the next day… But I knew that from then on the Olympic Games would start and my dream was broken because my knee was broken ", he confesses. "It hasn't been broken, Caro, it's been postponed," her coach interrupts her. "Nor is it that later I have seen much of the Games, I could not stay up late and I did not feel like sticking the knife more than I already had it stuck," he admits.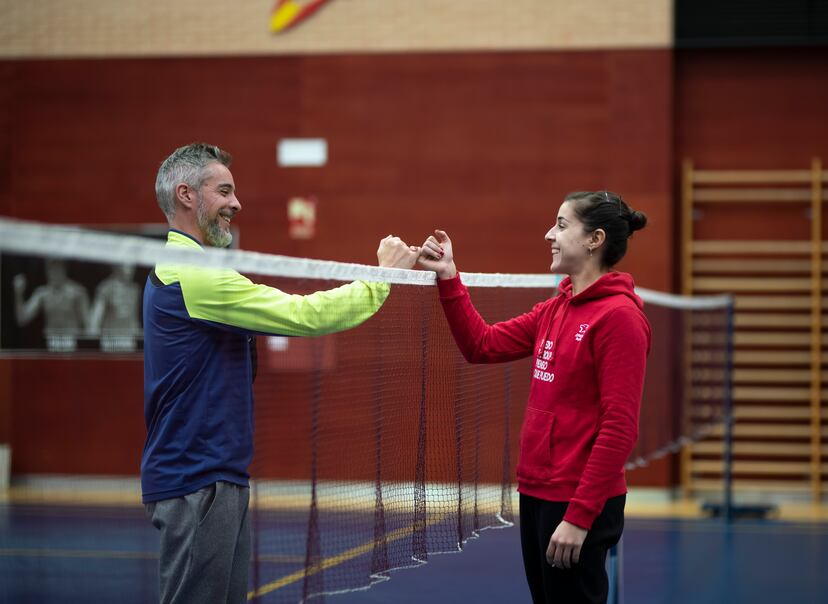 The impotence was also motivated by the severity of the injury. Assuming that he could no longer attend the Games, it was necessary to think about how to approach the recovery. And do not fall into the trap of comparing it with the previous one. Although unconsciously, as Marín acknowledges, he has. "The doctor who operated on me advised me that the medial meniscus needed three months for it to heal properly. Until then, we could not put a leg to the leg because the meniscus could not be seen in any tightness, or rush, or tension. With the previous injury we did put the cane quickly to be able to recover muscles as soon as possible. And that changes everything: from the start we go slower. We also decided that in this recovery, as the most important thing [los Juegos] we had lost it, we were no longer in such a hurry, "he explains.
In fact, while in 2019 Fernando Rivas's strategy was for Carolina Marín to step back into the CAR pavilion as soon as possible – and there she was training with a limp seven days after undergoing surgery – to feel like a player and not sick, this time the body asked for something else. His technician explains it like this: "It was not only a physical issue. Missing the Games emotionally was very hard and I was somatizing it with intestinal and digestive problems and we decided that it was time to disconnect. What would have corresponded to that moment was: lose the time you need, but I had to do rehab. We gave him a spin and decided to change places: he would train in my home gym from Monday to Thursday and the rest were days off ".
Rivas insisted that nothing happened because he did not take the racket for a month, that he had already been without it for the three months of the pandemic and had not lost feeling. And Marín admits it: "I thanked him for giving us the keys to his house. I needed to get out of this pavilion, because there were many external tensions and that made me feel less comfortable here, I didn't want to go in … ". Marín uses the word "repairman" to refer to those weekends in August. "What I have enjoyed the most is being a person, disconnecting, making plans, not having fixed schedules from Friday to Sunday. I went to Ibiza with friends. Another weekend at a campsite in the Sierra de Madrid. It's just that I had never had this. It seems silly eh, which in the end is three days … but it is important. And on Mondays when I arrived here I even trained with enthusiasm ".
The restorative moments
Martínez, the psychologist, highlights the importance of those moments of disconnection. "It has been one of the discoveries of this injury because we always had to resort to small pleasures throughout the weeks and months to be able to cload the stack as we say she and I. And this was very refreshing. Learning to manage time, returning to have more continuous, more satisfactory social relationships has taught him to know himself and that has allowed us to advance at all levels ".
Once the first three months were left behind, the problem was to stop comparing with the previous injury. "And I have done it sometimes. I was thinking: in the previous injury in the fifth month we were in Sierra Nevada, I was moving more and now I can't see myself… ". The sensations, of the meniscus, have been new. "The cruciate ligament was already perfect in the fourth month. The meniscus is what has given more war, where it has been broken, due to our changes of direction. And by the way of supporting. And of course, I have had some tension to carry because when you spend a long time without doing badminton movements, you have to relearn them, to square your whole body for that movement, so that your knee does not put you in or your ass out. It's like a baby, relearning everything. " In it he is. And this Thursday, the 9th, he celebrates having done a two against one for the first time in six and a half months. "I have felt like a player again."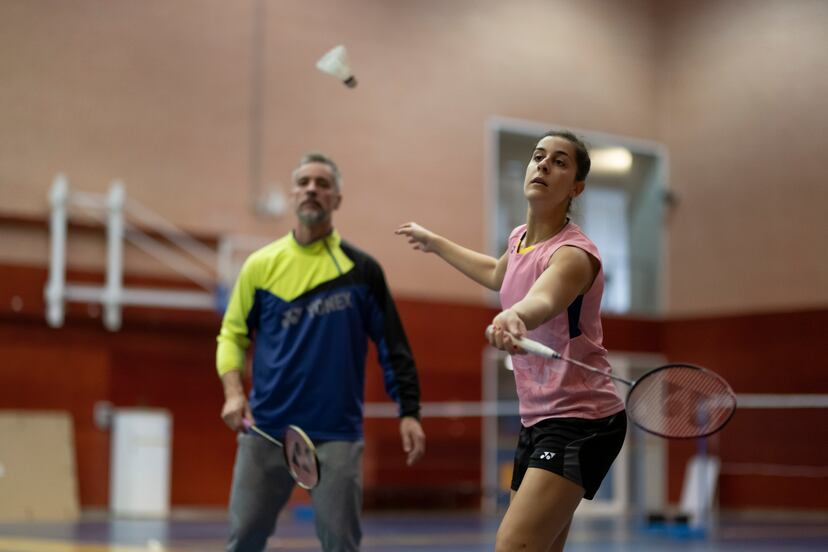 "Fernando asked me last week if I wanted to compete and I said no, because I still don't look good to do it yet," says Marín, who estimates that he will reappear on the tracks not before February. Every day, every exercise, every session, they ask about the sensations of the meniscus because, unlike the other injury, these are new. "Three weeks ago I couldn't sit as I am now, I couldn't flex my leg, I had to keep it extended because it caused me pain. And it all came through the external meniscus. Which is the one that has given me the most problems in the last two months ", he says.
"The cruciate ligament was already perfect in the fourth month. The meniscus is what has given more war, because of where it has been broken, because of our changes in direction and because of the way we support. When you are not doing badminton movements for a long time, you have to relearn them, to square your whole body for that movement, so that your knee does not go in or your ass out. It's like a baby, relearning everything. " Fears? "In the physical part that involves rotations I am more cautious or in the jumps, which we did two weeks ago. At first you go with a little caution or fear. Until you take the first jump and see that you can and the next you are more fluid ", he concludes.
You can follow EL PAÍS DEPORTES in Facebook Y Twitter, or sign up here to receive our weekly newsletter.



elpais.com
George Holan is chief editor at Plainsmen Post and has articles published in many notable publications in the last decade.