[ad_1]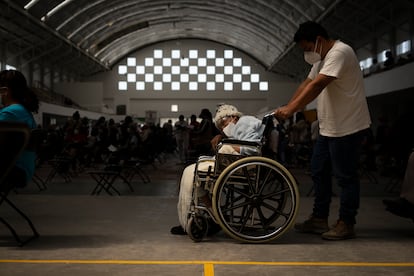 In an ideal world, Adam Smith and David Ricardo would be right. We all prosper more if we each do what we do best and then exchange the goods in an unrestricted market. You make vaccines in specialized laboratories that I don't have, we avocados that grow in this climate. I make auto parts with cheap labor, you make the sophisticated chips that are required to power cars. Why produce gasoline if it is cheaper to buy it abroad than to refine oil?
Sounds good, except when the world stops being ideal. The comparative advantages (each one specializes in what works best for them), turn out to be comparative disadvantages when we discover that in the face of the first crisis we are left with our avocados and with factories that only make fragments of cars; or when we realize that it is the powers that be left with the vaccines, chips or refined fuels that we would need to live and move. Strategic goods and goods that then have to be begged or paid at exorbitant prices.
You can mock the intentions of Mexico or Argentina to make their own vaccine against Covid. What took the laboratories of the powers ten months we have not been able to achieve in twenty. There was too much lag and wasted years that forced to start practically from scratch. Again, it would be easier to buy them from those who know how to do it, except for the fact that in the face of an epidemic, the manufacturing countries prefer that our citizens die and not theirs. And that's where the comparative advantage goes.
It may take another year or two for countries like Brazil, Mexico, India or Argentina to be in a position to set up laboratories capable of responding to the umpteenth version of the covid or, worse still, the bug that the future holds. But hopefully by then we will have the infrastructure that allows us to partially solve such challenges and not depend exclusively on the charity of others, which is not abundant, or solve it at the point of checks, something that is even less abundant. President Andrés Manuel López Obrador's call to develop the Patria vaccine seemed like a third-world bravado, the product of an anachronistic nationalism and oblivious to the realities of a new international order. But precisely, it is the realities of the world in which we live today that validates this strategy, however difficult it may be. It would seem to be the most sensible thing to do in the face of a dependency that condemns us to be left alone when difficult times come.
Today Spanish households and Texas families are paying electricity rates they never thought possible. This Wednesday the price of a megawatt-hour (MWh) in Madrid registered a new historical maximum, of 360 euros on average, seven times more than the 50 that it cost a couple of years ago. It is the result of the increase in the cost of natural gas and of the new regulations on the emission of carbon dioxide, but above all of the voracity of private companies that were given the production and distribution of energy. The logic with which the sector was privatized was based on the naive notion that everything that was convenient for Iberdrola, Endesa, Naturgy or Repsol would benefit the consumer. It was not so.
In Texas it is not only a problem of rising costs, but essentially a regional shortage; unfortunately it is not solved with money. The distribution network was fragmented into independent structures to maximize the efficiency, competitiveness and profit margins of each of the companies involved. It was never seen for the common good because it was assumed that what was good for the market was also good for households. Today they make desperate efforts to interconnect isolated networks and introduce criteria of social interest in a rationale that was absurd and that until recently seemed impeccable.
Of course, it is not a question of returning to an unattainable self-sufficiency in these times of globalization. Nor is it a matter of trusting in the efficiency of the State to solve fundamental aspects of economic activity. There are many antecedents in Mexico and in the world that indicate the inadvisability of surrendering ourselves into the arms of the bureaucracy. But it is just as inadvisable to surrender blindly to the goodwill of other nations, to the supposed virtues of the invisible hand of the market or to depend on a supposed social conscience of companies, which no longer even obey a notable businessman, but rather funds investment and stock quotes without a face or a heart.
What it is a matter of is that each society take measures that make it possible to qualify or mitigate the effects of a disadvantageous dependency in strategic areas for the interest of households and the common welfare. Producing vaccines, refining gasoline or prioritizing community criteria in energy matters would seem to acquire a new meaning. There are no perfect recipes or absolute formulas. This does not mean that the State should replace economic, local and external actors, but it does mean that it retains the power to establish the limits and conditions that ensure that the interest of all is above the profit maximization of a few.
Twitter: @jorgezepedap
Subscribe here to newsletter from EL PAÍS México and receive all the informative keys of the current situation of this country
[ad_2]
elpais.com
George Holan is chief editor at Plainsmen Post and has articles published in many notable publications in the last decade.