Of all the trophies (90 on the professional circuit), the prizes and distinctions that Rafael Nadal has received throughout his prolific career, surely none has more value than the photograph that went around the world on October 11, 2018 That day, when the torrential rains had swept away houses, cars and streets of Sant Llorenç des Cardassar -a municipality of 8,000 inhabitants located 11 kilometers from Porto Cristo, where the athlete resides-, the champion of 21 majors and recent winner of the Open from Australia put on some katiuskas, took a rake and rolled up his sleeves along with the rest of the local residents to bail out water and collaborate. The image was on the front page of the newspaper. The times and produced a planetary impact.
Nadal had gone there in a low profile and did not want to make any statements when he was caught on camera removing mud from a warehouse. Quite simply, the tennis player acted accordingly. "I am a town boy", is usually defined. "It was a disaster and I decided to go there as a citizen. I do what I think I have to do, "he explained in front of those voices that dismissed his presence as a calculated maneuver or simple posture. "He has shown that he has a social commitment and projects a series of ideas and values," introduces David Moscoso, professor of Sports Sociology at the University of Córdoba; "That image has a lot of strength and remains retained in people's memory."
The image of Nadal in the mud did nothing but reinforce the story of a figure who has managed to transcend tennis and even sports. The fable of an island boy who began to play tennis and learn under the strict method of his uncle, and who, unlike the aristocratic profile projected by the Swiss Roger Federer, to whom virtuosity came as standard, practically always immaculate, has He has been forging himself and overcoming all the physical ills that his body has caused him during almost two decades of professional career.
Last Sunday, the Eurosport broadcast marked historic audience ratings. Specifically, the final against Russian Daniil Medvedev was the most watched in the channel's history, with close to one million viewers on average (15% audience share) sitting in front of the screen. Among them, many top-level athletes.
"The way he perseveres despite injuries and how he comes back is really impressive," said golfer Jon Rahm, who on more than one occasion has acknowledged being inspired by Nadal's example. "I go back to the gym, because Rafa has given me the motivation. We all have it as a reference. I'm living a similar situation, I've been coming out of an injury for two years and entering another", said motorcyclist Marc Márquez. And so, a long list of figures of all kinds and nationalities, surrendered to the last rebirth of the Balearic Islands.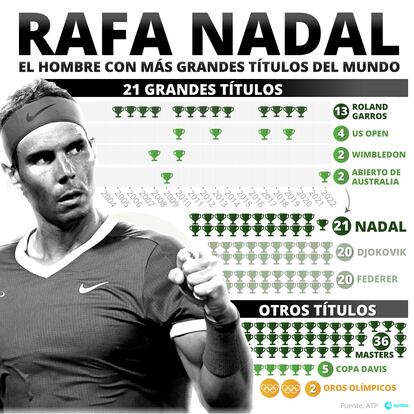 "Athletes admire him because they value perseverance, and in Nadal's case that is something distinctive and exceptional. He always comes out afloat, with a lot of humility," Moscoso underlines. "He has always shown respect for his rivals, has not been involved in any scandal and meets social expectations of being great in the sports field and also in the human field. He represents, in some way, the ideal of fair play. But he does not behave like this out of norm, but out of the conviction that he should be like that. He has come as far as he has and has done it in a way that deserves the admiration of others. He is an image projected knowingly, but without ever losing its naturalness".
At 35 years old, Nadal hooks like few others and gains followers because society interprets him as a hero of flesh and blood, earthy, constantly rebelling against misfortune. The Mallorcan has been seen to grow, win, collapse and get back up countless times; writhing due to cramps and disappearing from the shot in the middle of a press conference, consoling Federer when he admitted that he couldn't stand his rival's push, or inviting Manuela, a 95-year-old woman with Alzheimer's disease, to watch a match in Madrid. grandson sent a message to the tennis player through the networks so that his grandmother could fulfill his dream before losing his memory.
From Indurain to Pau Gasol
"He is a guy with very good values. As a junior he wanted to take on the world and was a bit naive, but basically he is the same as always. Now he is a man ", contributes the coach who made him debut in the Davis Cup, Jordi Arrese, as amazed as most before the last recital. "I have not seen an athlete with his mental capacity. No matter how bad things go for him, he never fades. No matter how badly the match may go, he is still there, there and there", specifies the former Barcelona player, silver medalist at the Barcelona 92 ​​Games.
"He has generated a story through effort, since childhood, assuming many opportunity costs. He has made himself and has tanned himself without anyone giving him anything, and that generates social adhesion", continues Moscoso, who then cites the examples of Miguel Indurain and Pau Gasol. "These two, for example, have also been at the public height," he remarks; "Rafa has a high vision in his public image. He knows that what he says has an impact and that is why he expresses himself through a measured, respectful and balanced speech. Along the same lines as other athletes such as Zidane, Valdano or Zubizarreta".
"If it serves as motivation and more for colleagues like Marc [Márquez]who is one of the greats in the history of his sport, is an honour", he points out in an interview with the newspaper WHAT in reference to the compliments that rain down on him everywhere, recognized in Spain and in all corners of the world. "But I'm not one to throw myself very high," added the Mallorcan.
"People would like to see 350 Christmas carols in Congress, because it would be debated in another way. In the end, what the fans and society want is to see sensible and empathetic people, who do no harm and know how to behave, and hence the admiration that Rafa arouses. It is a bit the anti-image of Djokovic, who is now questioning his human worth, "concludes Moscoso.
You can follow EL PAÍS DEPORTES on Facebook Y Twitteror sign up here to receive our weekly newsletter.



elpais.com