Being written in the English language and sharing, to a large extent, the aesthetic codes of contemporary American poetry, however, has not served to make Australian poetry well known beyond its vast borders. Perhaps the best known exception, among active poets, is Les Murray ("the Usain Bolt of modern poetry", in the words of the also poet Daljit Nagra, and perhaps the most alive visual intelligence of this poetry) of whom Lumen published here an anthology twenty years ago and whose work is known and admired in other countries of the English-speaking world. Other cases would be Robert Adamson or John Kinsella. This scarcity is a shame, as poets like Fay Zwicky (1933-2017) deserve a place of honor in the canon of poetry of the last century. Let no one look for it published outside Australia: its Collected Poems They were published by The University of Western Australia in 2017. Most recognized for her book Kaddish, in which he deals with his problems of Jewish identity, it is in later books that the essential The Gatekeeper's Wife where her ability to develop the long-term poem that combines personal reflection with historical inquiry places her at the height of the great poets of her time.
However, little by little, some books from there are beginning to find a niche in the poetry collections of Spanish publishers, always more attentive to poetry in other languages ​​than their colleagues from other countries. Pre-Texts now brings an anthology by Judith Wright (1915-2000). Better known for her environmental profile in her country, it has been outside of it where her poetry has reached more resonance and a certain number of translations. His poetry, like that of so many Australian authors, fits perfectly into what one expects of a contemporary American poet, as he said: clear line, experience, stylistic correctness. Wright delivers outstanding poems along this path, here faithfully translated by José Luis Fernández Castillo. For example, 'Petition for a year' is moving: "If the year is thinking of giving me a gift, / I would like you to choose the attitude / of my great-great-grandmother, / legendary devotee of the arts." The poem develops an anecdote: the grandmother saves a son who was dragged by the current of a river. 'Year', he concludes: "If you still don't have a gift for Mother's Day, / from then on bring me the firmness of her hand." Other times she rehearses the biblical theme poem (as in the subtle 'Eva to her daughters'), but her best achievements are found on the side of the experience poetry:' Remembering an aunt ',' Snake Skin on a cancel ': "Later, at last, I saw her, under the sun stretching, / resplendent; its long carved jewel print. / Free from obscurity to see them, his bright eye saw / without fear only light and movement. / Thus, from our changes, let us know, my soul, let us drink renewal ". Clear line, anecdote, slight exoticism in landscape and fauna, revealing image: poetic Australia is aesthetically very close to us. And poets like Judith Wright are certainly on a par with their colleagues in other, better-known English-speaking countries.
One of the authors I cited at the beginning is John Kinsella (1963). In 2019, in translation by Katherine M. Hedeen and Víctor Rodríguez Núñez, the La Garúa poetry label brought us Silo. This book by Kinsella, to seek a more well-known reference, reminds us of a Seamus Heaney reduced to the trunk of his peasant experience, the branches of history and politics pruned; or yet beat with less mystique and more rural technology. The subtitle of the book, A pastoral symphonyIt does not hide any irony (something very curious, this being one of the terms most reviled by ecocritics – Kinsella is also an environmentalist – since the pioneering days of Raymond Williams). The poems in the book are also poems of experience, anecdotes from which an attempt is made to extract an image that serves as a moral, as in "Intervention (or an encounter with a bat)": "We walked barefoot from Happy Valley / towards the town —As if he were on a pilgrimage— ", he begins; "We remain alert / for pythons and kangaroos", until the announced encounter with the bat arrives. When the bat finally disappears, they no longer see it but "we feel it there and we remain defiant, / lightening our souls before continuing / towards the town, but that, eventually, // on our return, we can appreciate / the rich night on the moon, and detect it – like a radar / sick of brilliant flight, of discovery ". Despite what has been said, Kinsella's ode to rural life is sincere and not without nuances, written from within and not from the vision of a Sunday.
Despite this common aesthetic, delving into a perspective of Australian poetry would lead us to the reading of poetry written by poets from other parts of the world. Asian-Australian authors have produced specific anthologies and a book like Captive and Temporal, from the Australian-windy Nguyën Tiên Hoàng, is one of the most outstanding of the last five years. Poetry geographically at the antipodes, but aesthetically so close; especially for a reader, the Spanish, so accustomed to the translation of almost all the good, regular and bad poets of the USA. It is worth expanding the search field and approaching a poetry, the Australian, that looks at the world from the extreme periphery, with their own accent and in the common language.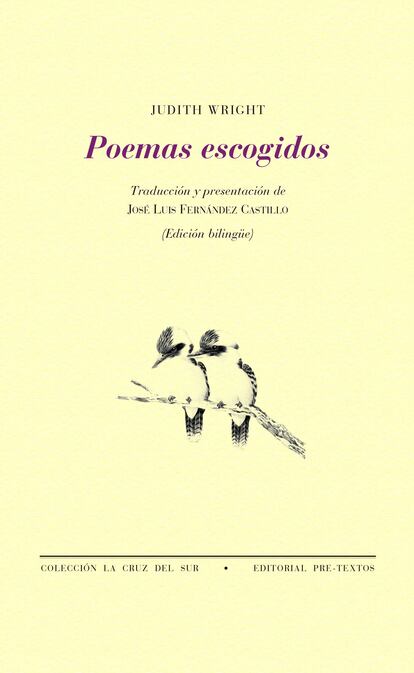 Judith Wright. Translation by José Luis Fernández Castillo. Pre-Texts, 2021. 150 pages.
You can follow BABELIA in Facebook and Twitter, or sign up here to receive our weekly newsletter.



elpais.com