The current government was constituted in the second week of January 2020. Two months later, Spain was confined. Since then, the pandemic has starred in a good part of the government's actions. The Secretary of State for Digitalization and Artificial Intelligence, Carme Artigas (Vilassar de Mar, 1968) knows this well, despite the fact that her department, dependent on the Ministry of Economic Affairs and Digital Transformation, seems to be on the sidelines of health issues. Quite the contrary: shortly after the covid appeared, it led the development of an infected tracking application, Radar Covid. And this year, the Recovery Plan has put more budget in your hands than you ever imagined when you were offered the position.
That has not scared Artigas. This chemical engineer, who before entering the Administration was an entrepreneur and executive of Telefónica after selling her emerging company Synergic Partners to the multinational, defends that European funds are a unique opportunity to transform the productive model of Spain.
Ask. We are in the sixth wave. The Radar Covid tracking app, his department's flagship project when the pandemic hit, is totally out of the public eye. What is left of it?
Answer. In each phase of the pandemic, different tools have been needed, which make sense at one point or another. Now everyone is vaccinated and also Health knows who is and who is not. Therefore, the anonymity part of the app It's not that important. The first thing we did was develop intelligent systems, chatbots, that they attend to people when they called 112 without success because the service was saturated. Then we found a technological solution that was not intrusive to privacy: Radar Covid. You could tell if you had been in close contact without anyone knowing who you were, who the other person was, or where you were. It was shown that app it was up to three times more efficient than manual trackers. And currently, having already exceeded the target of 20% penetration, with more than eight million downloads, we know that we have saved 55,000 trackers to get to communicate the 150,000 contact notices made by the app.
P. Why didn't it finish working?
R. My job is to equip everyone equally, but then each autonomous community decides what to do with them. Some have used it and some have not. It's like giving a town a five-bladed snowplow during the storm. Philomena and that it is preferred to remove the snow by hand. We can't get in there. For me it is a pity that no will use the app all autonomous communities. I think that in the first wave, in the absence of manual trackers, Radar Covid could be a much more useful tool. But it has already fulfilled its function, which was in that first phase. It is also true that at a time of so much tension in public health, you cannot pretend that they are urgent and also make a digital transformation of their processes and the way they work.
P. Do you then consider her dead?
R. Not dead, it is operational for all the autonomous communities that continue to use it. What happens is that not all do. But I repeat, our mission ends when we deliver the technology. A tool that multiplies the efficiency of human trackers by three is a good tool. In any case, Radar Covid does not make so much sense now, because we are no longer trying to stop the chain of infections. The disease is already in endemic stages. What you have to do is react to primary care so that it does not become overwhelmed.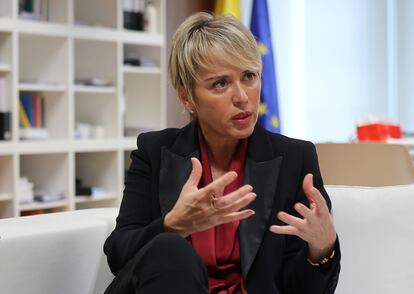 P. He said two weeks ago that the complicated thing in his department is to combine short, medium and long-term strategies at the same time. What is your proposal?
R. In the short term, it is necessary to urgently address the gaps that still persist in people's basic skills and help the technology adoption of SMEs. In the middle, it is necessary to transform the country's economy into the data economy, helping large sectors to understand the value of digitization, artificial intelligence and shared spaces to innovate. And in the long run, you have to start thinking about and investing in the skills of the future. The great opportunity offered by the recovery funds is to be able to carry out those structural reforms that change the economic model of the country. Currently, the digital economy accounts for 19% of GDP; if it were a sector it would be the second behind construction. Our goal is for it to reach 40% by 2030.
P. They will dedicate some 3,000 million to digitize SMEs. What do you consider digitizing?
R. The big problem for Spanish SMEs is that they do not have a critical dimension, they are 5% smaller than German SMEs. Of the increase in electronic commerce during the pandemic, which has been 50%, Spanish SMEs have only captured 9%. Training is needed, understanding the new dynamics. They must be encouraged to join in purchasing centers, to be able to work as a team.
P. And then they have to compete against Google, Facebook or Amazon.
R. Precisely because they have to compete against greats, they must associate and collaborate. The EU is the only institution in the world that is worrying about regulating the big platforms. Directives for digital services and marketing prepared by Brussels will ensure that everyone can compete with the same rules of the game.
P. What can be expected of these two directives?
R. First of all, we must begin to understand that large global digital platforms have to be regulated. They are monopolies, especially data monopolies. It is also necessary to see if it is necessary for these monopolies to open their data, in the same way that in the past the railway line had to open the tracks for other trains to pass and we have forced those that had the telephone infrastructures to open them to that other operators participate. Because the great differential advantage of the Gafam [gigantes tecnológicos] It is the large database that they have compiled for 15 years without any restriction or economic transaction. All this generates competitive advantages that are impossible to win with only open competition.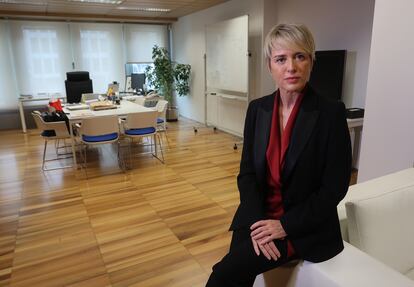 P. The National Artificial Intelligence Strategy (ENIA) contemplates the performance of algorithm audits that can discriminate part of the population. When will they arrive?
R. We have three years to deploy the provisions of the ENIA. We are going to invite the private sector to participate in the process and promote the creation of sandboxes test. When we are clear about what we want to measure and how we will open it up for people to adopt. It is true that not everything can be audited: there are algorithms of machine learning [aprendizaje automático] that are still inexplicable. But we hope that the issue of biases is something that can be opened up so that the community can help combat them.
P. Revelations from former Facebook employee Frances Haugen have revealed that corporate self-regulation, something she has been supportive of, doesn't always work.
R. Twitter decided to publish some biases that it identified and that it does not know why they occur: the ideas of the extreme right spread faster than those of the extreme left. He has published them so that we can all help him solve the problem. It is true that these dynamics have not been followed by, for example, Facebook. But I still believe a lot in self-regulation: there are some things that are imposed by law and many others that are imposed by reputation. I think it is also important to promote public awareness on these issues. The institutions will regulate when necessary to defend individual and collective fundamental rights.
P. In the case of Facebook, not taking such measures has not prevented it from making more money than ever.
R. We must demand transparency and ethics from companies. It is one thing that they use our data with consent and another is that we give these companies such a privileged position that they can influence democratic processes. Or that they constitute monopolies. Just as you cannot work with slave labor or contaminate, you also have to put limits on the use of that data, AI, biases … everything that erodes rights and discriminates.
You can follow EL PAÍS TECNOLOGÍA at Facebook Y Twitter or sign up here to receive our newsletter semanal.



elpais.com