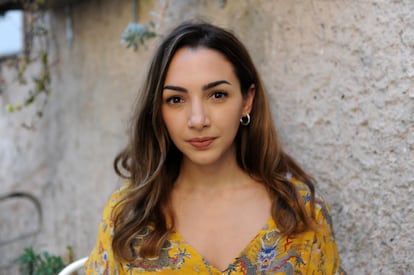 Almost three years have passed since Argentine actress Thelma Fardín (San Carlos de Bariloche, 29 years old) publicly revealed that she was raped as a minor by actor Juan Darthés. Days later, he denounced him in the Nicaraguan courts, while in Argentina messages of support multiplied and other stories of sexual abuse appeared that had remained silent. This Tuesday the start of the trial in Brazil is scheduled and Fardín counts the hours to give testimony before the magistrate. In an interview with EL PAÍS held before her judicial statement, the actress says that she arrives at the audience very tired, but with the hope that justice will be restorative.
"The victims are asked to go to justice and sometimes it is not said that it is very difficult for justice to listen to us. If you are not behind the process, Justice falls. Now is the time to see what justice we have in Latin America ", he says. It is enough to see the complex judicial process to understand their criticisms. Fardín denounced Darthes before the Nicaraguan Justice because the violation of which he is accused occurred there. They were co-stars in the youth soap opera Ugly Duckling. She was 16 years old; he, 45. As the actor took refuge in Brazil, a country that does not have an extradition agreement with Nicaragua, the complainant thought that the case would be closed, but managed to get a court in São Paulo to accept the case and move forward. Darthés will be tried for aggravated rape. Due to the covid-19 pandemic, Fardín will testify by videoconference, as will the defendant and the dozen witnesses cited.
After three years of going through the courts, delayed by the covid-19 pandemic, she feels like an athlete meters from the finish line. "I am very tired because I feel that my body is beginning to loosen, to say that's it, but luckily I am very contained by my friends and my family," she reveals.
Even so, today his greatest fear is that Darthés's defense will delay the start of the trial. "Until the hearing begins and I give my testimony, I cannot lower my guard. For me it is very important to go before the judge and tell my word. To be able to take off this backpack that I have felt for so long because by leaving my word, in a way I am no longer responsible, it no longer depends on me ", he emphasizes. After denying it at first, the actor admitted the sexual relationship but hinted that it was consensual.
– What do you expect from the trial?
– It would be very important for justice to give a restorative response because there is a large part of society saying that it believes the victims and it is important that it has a counterpart in justice. When one looks at the figures, the numbers are very sad in relation to who comes to this instance and even less so as to the fact that justice endorses the word of those who denounce.
In Argentina only 15.5% of complaints for crimes against sexual integrity lead to convictions, while in Chile and Ecuador it is less than 4% and in Guatemala and Brazil the conviction rate for rape is only 1%. according to figures released by Amnesty International.
Fardín decided to report Darthes when he heard that three other actresses – Calu 'Dignity' Rivero, Natalia Juncos and Ana Coacci – accused him of harassment and related a modus operandi similar to the one she had not been able to forget. "I started having very strong panic attacks after listening to the other victims. 'It can't be, how many times did he do this?' I thought. There was also a common phrase, 'look how you put me on', with which he put the responsibility on us. I had the feeling that I was a serial predator and that, as I kept working, I could do it again ".
Fardín accuses Darthés of having raped her in 2009, the last night of the last tour of Ugly Duckling in your hotel room in Managua. "He grabbed my hand and said 'look how you put me' making me feel his erection. I kept saying no, "he said when he made the complaint public. According to her testimony, he later threw her on the bed, performed oral sex on her, and climbed on top of her to penetrate her despite her multiple refusals.
The actress was afraid that, as had happened before with other women, they would not believe her, but the response was very different from what was expected. "With me there was a very broad social consensus, many people who came out to tell me: 'We believe you, we believe your word." The support continues to this day, as can be seen in the cafe where the interview takes place. Several clients come to greet her and say: 'We are with you'. He appreciates his words with a huge smile. "That support always made me feel very accompanied and it was hard to lose it in the pandemic, it was a moment of great loneliness."
In the days following her public complaint, calls to child sexual abuse hotlines grew 1,200%. In social networks, hundreds of women who had never dared to speak, began to do so. "For me to speak is healing and not necessarily only before the Justice. First, to be able to recognize oneself as a victim, find someone to share it with and not carry it alone, because if it doesn't end up feeding on you, "he says.
Subscribe here to the newsletter from EL PAÍS América and receive all the informative keys of the current situation of the region

elpais.com