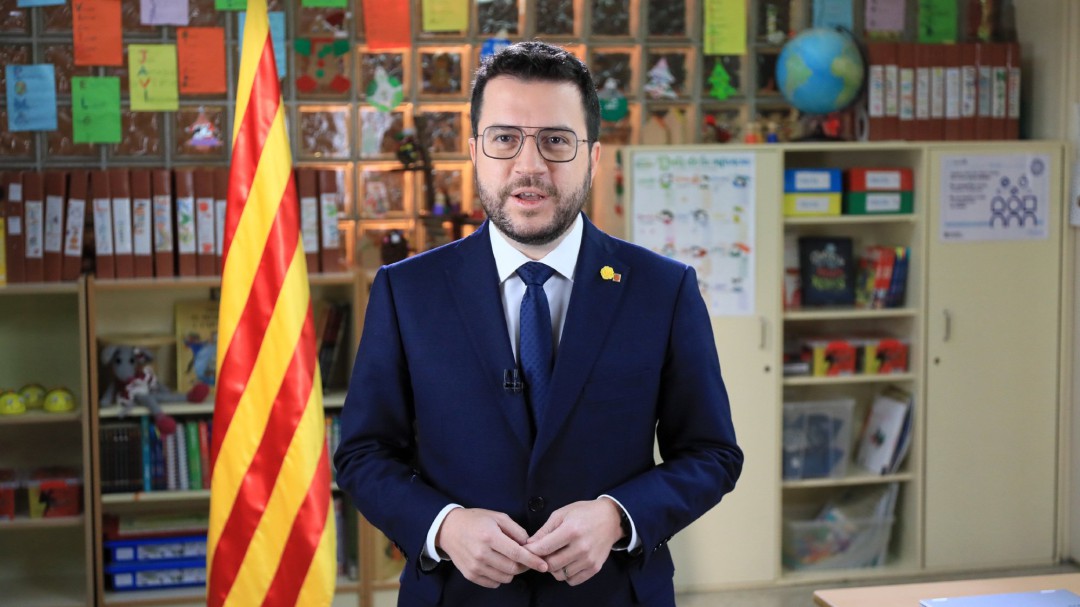 The president of the Generalitat, Pere Aragonès, has affirmed this Sunday that 2022 must turn around the COVID crisis and also the conflict with the State as a result of the independence process, although he has warned: "If the negotiation stalls we have to start to build alternatives ".
He has focused on both issues and on linguistic immersion his institutional Christmas message, delivered from the Rosselló Pòrcel school in Santa Coloma de Gramenet (Barcelona), which was a pioneer in "public and Catalan" education during the democratic transition, reports the Generalitat in a statement about the message, broadcast on TV3 and Catalunya Ràdio.
"2022 should be the year in which we begin to unblock the conflict with the State" so that there are tangible results for citizens, who mostly support – he said – self-determination and amnesty. But he also defends "starting to build alternatives" with realism, maximum consensus and learning from experience, in case the talks with the Government run aground.
He has justified it by assuring that Catalonia is not willing to renounce "the democratic resolution of the political conflict" but neither to independence, and has ended the speech with a 'Visca Catalunya lliure'.
On the health and economic crisis

He also hopes in 2022 to turn the crisis around as a result of COVID, and has justified the new restrictions in Catalonia, which the Generalitat "has accompanied by financial aid for the most affected sectors."
He has assured that these measures will last as long as necessary and that, meanwhile, Catalonia "is beginning a new stage" based on promoting a social, green, feminist and democratic transformation.
Towards economic transformation

As proof it has provided the Catalan Budgets 2022, which for the first time in 12 years will come into force on January 1, and which will provide more resources for education, health, building public housing, promoting the fight against climate change and "acting as a State entrepreneur "that boosts the economy and employment.
After recalling that this Monday marks one year of the first COVID vaccine in Catalonia, he insisted that 2022 will entail a health change and must "direct all the efforts of the Next Generation funds to an economic reactivation in a transformative key".
He has exemplified that economic transformation in which there is more employment and quality of life, and has verified that there are already entrepreneurial initiatives, scientific leadership and increased exports.
However, he has found that many companies are going through problems and that many workers have lost their jobs due to COVID or the production system – he has cited Mahle in Vilanova i la Geltrú (Barcelona) and the Nissan plants in closure.
School, "nucleus of the Catalan nation"

Noting that he delivered his speech from a pioneering school in Catalan education at the beginning of democracy, he defended that this made sense then and now: "It takes on much more relevance in a context where the country's cultural and linguistic diversity has not stopped growing ".
For this reason, it has reiterated its will to promote the school, including its current linguistic model and its ability to unite, "because, without any doubt, it is the nucleus of the Catalan nation."
Aragonès recalled then that the Government works to "ensure that the Catalan language continues to play a vital role in the educational system."
In addition, it has reiterated its announcement of September that the next course will begin with the free education of 2-year-old children (P2) and that they want to extend it to all early childhood education.



cadenaser.com