Antonio Banderas warns from the start: "I shouldn't talk too much, I have to sing every night." And he launches into a torrential speech in which he does not shy away from any topic: theater, fame, the heart attack he suffered in 2017, politics, religion … An astonishing winter sun shines on the sea of ​​Malaga, the city to which he has decided to return and where he has become an overwhelming cultural promoter. His Soho Theater uses Broadway airs, after first premiering the musical A Chorus Line and more recently Company, the work of the late Stephen Sondheim, great master of the genre, in which Banderas himself stars.
His site is now here, although he does not stop traveling the world to continue shooting films such as the next Indiana Jones or to promote the Puig perfume firm that has been named after him for 26 years, a record: "It is the relationship between a celebrity and a longest brand in the history of world perfumery ", he points out. For his latest release, The Icon, he shares the limelight with Mario Casas. Another sign of this new stage that Banderas is experiencing (Málaga, 61 years old): a moment in which, he says, he no longer pursues fame or money, only to satisfy his oldest passion, musical theater, the genre that dragged him from teenager to his acting career.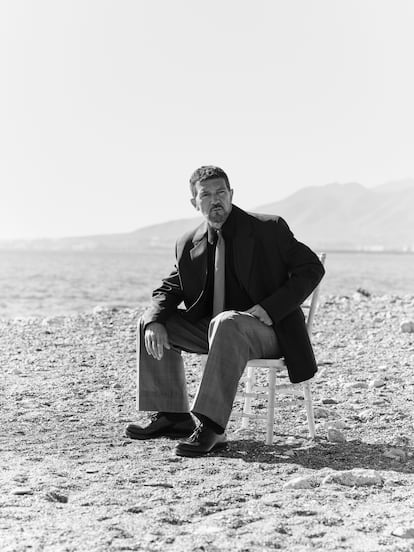 It is difficult to find someone who speaks ill of you. What do you think people see in your personality?
If I tried to intellectualize it, it would still disappear, like the genie in the lamp. I prefer not to think too much about those things that have led me to success, I am no longer talking about the success of a movie, but about the relationship one has with people and with the world.
But do you perceive it?
Yes, I perceive affection and that surprises me because as a human being I also recognize myself a lot of shit, I travel with my backpack loaded with miseries and greatness like all Christ. There are also people who don't like me and that's fine. Pretending to like everyone drives you to absolute insanity.
After having triumphed all over the planet it may sound strange to say that you have never felt so comfortable as with what you are doing now, a much more modest thing, in a small city …
The point is really discovering what you want, and for me I am now doing one of the greatest things I have done in my career. I am acting, it is my passion, and the repercussion that it may have brings it to me, I don't give a damn. I have reached a point in my life where I have already been there, I have lived 26 years in the United States, I go to Japan and people know me … But right now the most important project of my life is here, because it gives me pleasure tremendous, regardless of fame or money. I lose money, but it is not designed for that, it is designed for the pursuit of excellence. If I wanted to earn money, I could not seek excellence, because I could not put 26 musicians in the theater orchestra, I would have put in seven and pre-recorded. That pleasure … let them take it away from me! When I had the heart attack, I realized that I am going to die and that is why I want to do things that give me pleasure. When I die I will not be able to take money with me, this seems very simple, people do not understand. People live as if they were not going to die. Every day I hallucinate more: but if you're going to die, man, what the hell are you doing there accumulating bullshit? But they do, until you have a heart attack and it hits you twice.
Did that change you a lot?
It's the best thing that has happened to me in my life. In those moments you think about your daughter, but also about absurd things, things like how Malaga is going to be on Sunday. But what you really think is that you are going to die and you rethink everything, what is really important.
And now the really important thing is the theater and more specifically the musical theater.
I am an actor through musical theater. My family was very fond of the theater, they always took me and it seemed like a magical thing to me, people telling a story to other people, a precious act of civilization. In 1976, Hair came along, a revolutionary American musical with hippies that told the story of Vietnam, and I was amazed. I was 16 and bought bell bottoms the next day, growing my hair long, and starting to consider jumping on the other side of the mirror. Musical theater may seem frivolous if you think of feathers and people dancing, but you find authors like Sondheim, who put deep reflections on issues such as the world of the couple, and all that also with music. It is a reviled genre here in Spain, it has not been given the value that it has had in England or the United States, we have a precious heritage, the zarzuela, which we are also going to do here.
The theater, Malaga … Everything sounds like going back to the origins.
People think that I have come here to a grave and it is not like that, I have come to a crib where there is a child that I am breastfeeding day after day. The great success of this project would be that one day it would not depend on me, that the sponsors would support it financially and that the day I die this will continue and there will be an important theatrical production center here. Because I'm not going to stop: we're going to build a second theater, a school for technicians and theater management and production, a voice school for opera or jazz singers, a huge auditorium for big festivals … People see it as something local, tiny, but I see it very big, that it can jump from Malaga nationally and internationally. Chorus Line already offered us to do it on Broadway, it was the first time that something was going to be done there in Spanish, although it was frustrated by the pandemic.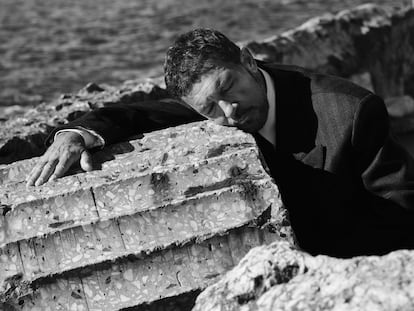 Has this decision to return been very thoughtful?
Things have changed a lot, before you needed to be in the places to be claimed, now Hollywood is no longer a place, it is a brand, and if you have it, no matter where you live, they will call you the same. I can't stand living in big cities anymore, it overwhelms me a lot. And when the heart attack occurred and I bought the theater, I came to Malaga. It is a city that is just the right size, here I find what I need, I walk to the theater every day, I love to kick the streets, sit on a terrace with friends, live a more real life. Even Madrid overwhelms me.
Now he is also involved in a new promotion of his perfume with Mario Casas, whom he has almost sponsored.
Yes, I love him very much. His first movie, The way of the English he did it with me in Malaga. I was 17 years old.
Something similar happens to you: it is difficult to find someone who wants to speak ill of him.
The thing is that she is very independent, she does not like the suck, the pose. And he is a boy who does not settle as an actor, he is always mad at himself because he wants more. That at his age is the host.
How did you find your country when you returned?
Fuckin ', pretty bloody … This does have a four-hour interview … We have gone from being citizens to being all suspects of something. There are things that sing a lot, the great facility we have had to become what we criticize. Many parents have come out of many theories that fall into the errors that they criticized and I am afraid that we will lose the north, that we will not value what was done at some point. I do not have now any political option, I consider myself a democrat who deeply respects the decision of the majority. But we are being ruled by many minorities.
You were very political, you asked to vote for the PSOE several times. Is it another disenchanted?
Yes, I asked for it for many years, in 1993 I even spoke at the end of the campaign with Felipe González. But I realized that he preferred to be an ordinary citizen.
In his Twitter account he reveals great concern about some issues, climate change, for example.
Yes, and because of global poverty. I have collaborated with the United Nations for a long time. There are things that cry out to heaven, that could be fixed, but that would take 40 or 50 years and politicians just want quick answers. We protest because Africa is on us. That could be fixed with a Marshall Plan in which not only countries collaborate, but also private companies. But that does not give votes … And Africa is upon us, because if I am born in Ethiopia or Sudan …
Would he get into a boat?
Let's go, cheeky! Before I stay there starving with an idiot face … If we are not going to help them, they are going to come here.
When you speak with your friends in the United States, do you perceive that climate of almost civil confrontation that many describe?
That was already seen coming from the elections that Al Gore won and gave them to George Bush Jr. because the Supreme Court cut the count as in a banana country. So some of us are already beginning to say: something big is happening here. And it ended as it ended years later, with a kind of Cicciolina in power. The American does not like the state to get into his life, that has some advantages and many disadvantages, because you can withdraw from an idea of ​​community to become one that is too individualistic. And there incomprehensible things happen in Spain, like the lobbies, who go to the Capitol to say "what's mine". Pharmaceuticals, weapons, oil … All those lobbies they control because they give money for campaigns in which pornographic amounts are spent. In addition, very absurd ideas are creeping into politics. For example, what happened to Gone With the Wind, that now you cannot see because there is a black maid who says "Miss Scarlet" [imita el acento] , and you have to hide the past and tuck it under a rug.
Are you worried about the tyranny of the politically correct?
A new censorship is being generated. What do we do with the othello of Shakespeare? Do we burn it on a pyre like the Nazis with books? What happened with Gone with the Wind is very curious, because the central character is a woman with two balls that fat [hace un gesto extendiendo las manos] In a time when women didn't have those balls. And that is forgotten, we are left with the black maid. But that black maid thing happened and even today black Americans are much worse off than, for example, Hispanics. Man, I've seen it! That I've been to Arkansas and, hell, there are places they can't get into because they look bad!
He does not usually miss Easter. Is it simple tradition or is there also something religious about you?
I live comfortably in the mystery, I have a great doubt, I do not know if agnostic is exactly the word. But I think there is something, although we don't know what it is. The Big Bang, yes, and before the Big Bang, what? Easter has many colors, it is a very rare polyhedron. It has to do with faith, with popular religiosity and with the Andalusian idiosyncrasy. It is nothing other than the Roman Ides of March: winter dies and spring is born. The Andalusian is so colorful and cheerful because everyone knows that when Sunday comes around, the uncle comes back to life. And there is a happy ending.
Realization: Nono Vázquez. Photography assistance: Osama Ahdi I ben Moumen. Production assistants: Rubén Cortés and Susana Guerrero. Makeup and hairdressing: Ramón Ríos (Tenagency).
You can follow ICON on Facebook, Twitter, Instagram, or subscribe here to the Newsletter.



elpais.com