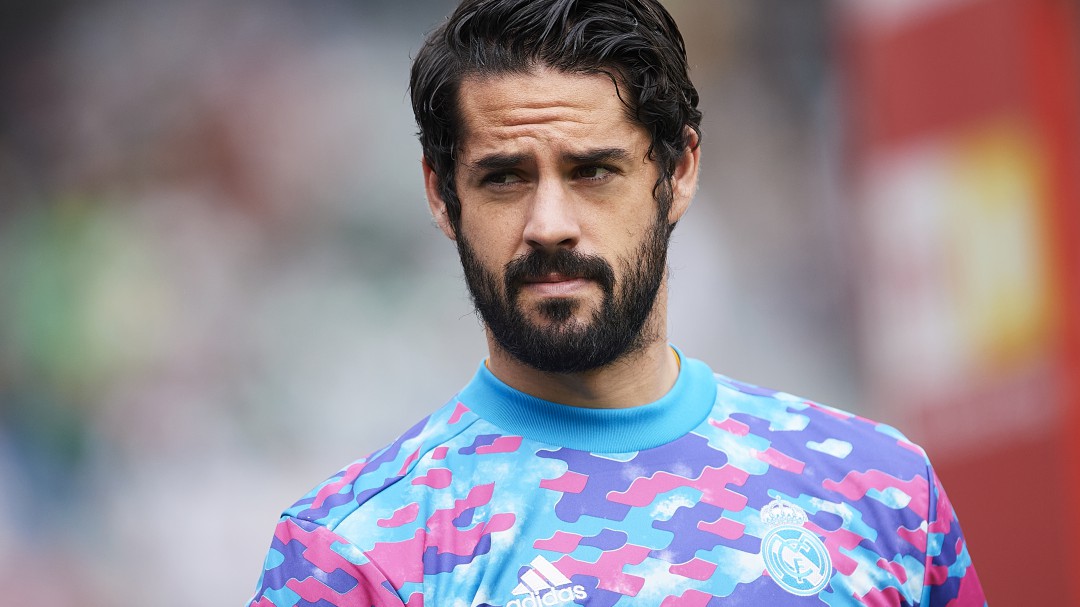 The situation of Isco and Bale in Madrid, the doubts about Cholo Simeone after the defeat against Milan in the Champions League and the latest statements by Laporta and his confidence in Xavi are some of the questions analyzed by the Sanhedrín de El Larguero.
The iframe code has been copied to the clipboard
Isco, one of Real Madrid's designated players
Antón Meana reported on the last minute of Isco's situation at Real Madrid: the player ends his contract in January and still has no firm offer.
Antón Meana: "Isco does not have any firm offer and is free in January. The reports received by the clubs that ask about him are very bad. Sources consulted by El Larguero say that he has received the interest of two great clubs, one from Italy and one from another from England, who are part of the Super League. But their environment does not want to confirm it. "
"Real Madrid a year ago saw Isco practically irretrievable. Now they say that it is impossible for Isco to be a top footballer in any European league"
Antonio Romero: "Isco's head has been restricted. He has abandoned himself while healthy. Bale's injuries have been restricted. Isco has a privileged talent, but not his physique. When you abandon yourself for years it is very difficult to get hooked back to life. elite…"
Jesus Gallego. "Right now Isco is only getting excited about it. And Madrid is not excited. He has already thrown in the towel here, but he has time to get excited elsewhere."
Torrejón: "We have been talking about Isco for a long time. When Solari arrived, a loss of confidence came and he has not been able to recover it. We talked about this very early, because he is a 28-year-old player, but when all this started he was 26."
The doubts, about Simeone
Atlético's defeat in the Wanda Metropolitano against Milan left a clear signal: coach Diego Pablo Simeone. The Sanhedrin analyzed what could be the reasons for the 'puncture' of the rojiblancos.
Gustavo López: "We are not seeing a recognizable team of what Simeone wants from his teams. And that is what he does not like. If you analyze the game against Milan coldly, I think that what Cholo tried was something different from other games: press in a lower block. Against Barça he did something similar: wait down. It worked out well for him there, but Milan is different, they have more intensity when it comes to stealing. "
"Leading players? I think that at certain times you need those players. You know you have names, but when you play a game that doesn't come up with anything, that can happen, you have to know how to play so that the game dies. That is what the players do. they have to know how to do it. They should have done it yesterday and right now that is missing ".
"The cholo has revalued a lot of players. Look at Llorente. But when he played as a right-back, he wasn't deep. When he was, Atlético found his best chances. Cholo has to get a lot more juice out of him."
Jesús Gallego: "There is no crisis in Atleti, in another team there would be, but there is disappointment. Cholo can no longer play as before because of the players he has now. The only hope is that he will find the key so that the team play up ".
Mario Torrejón: "The difference is that last year it was a more compact block, and this year there is more distance between the lines. People, although they were angry yesterday, continue to trust Simeone."
Antonio Romero: "We are not talking about LaLiga that Atleti wins, but that things are not working now. It is compatible to say that Cholo is the best coach in the history of Atleti with that this year he is not giving the level".
Miguel Martín Talavera: "The squad is more than the 4 forwards. It is not the best in the history of Atlético de Madrid and some reinforcements are needed. When one has been at this level for a decade, fatigue is evident. Like the fans , yesterday Simeone was touched and will be worried about what is coming ".
Laporta trusts Xavi
Following the latest statements by the president of FC Barcelona, ​​Joan Laporta, the Sanhedrin analyzes how Barça comes to the fight in the league after the incorporation of Xavi.
Santi Giménez: "It seems to me that a strange euphoria has set in. It is true that Xavi has changed things and is lucky. With Koeman Seferovic's goal would have entered."
Lluis Flaquer: "It remains to turn that luck into a series of results that confirm this new era for Xavi."
Miguel Martín Talavera: "The state of mind is very important. There is a joy that was not seen two weeks ago and that is something on which a more hopeful Barça can be built."
Antonio Romero: "The mood change is important, but more than solving the problem of making the squad. And that in the short term he cannot do. He can only count on the margin of improvement in Ansu Fati's recovery and regularity without injuries Dembélé. He has to resolve that someone is the goal and that the team defends very badly. "
Santi Giménez: "Koeman said that Barça was going to be brave with what there was. In that sentence there is nothing, the bad thing is how it was translated on the field. On Laporta, as long as he speaks and has the staff entertained … It doesn't happen either nothing. Xavi is not new to this. "



cadenaser.com