Anna Castillo (Barcelona, ​​27 years old) has the ability that one has the feeling of knowing her for a lifetime within five minutes of seeing her for the first time. Probably before. And that is something that also transmits within five minutes of appearing on the screen. Maybe less. Let's take the case of Life was that, David Martín de los Santos' debut feature, which opens on December 10th and is the film that has brought us here. In it, she plays the twenty-something roommate in a hospital of the character of Petra Martínez, who is 77 years old. And from the moment they open their mouths, the viewer already senses that these women, no matter how different they may seem, are going to end up being friends.
Because it is impossible not to want to be friends with Anna Castillo, an actress who manages to be the object of attention in all her films and, at the same time, convince with the character she is playing at that moment. Who knows what term psychology will use for that extreme degree of empathy, but if there isn't one, there should be. And it's a wonder of capacity.
"I just know how to do it like that," she says, with the ease that comes from having explained it a thousand times, on a terrace in the center of Madrid, the city where she has lived for years. "I can only start from the truth, from myself, from the naturalness. Sometimes subject to the script line by line and others with a lot of room for improvisation, as in Wild sunflowers, the movie that I just shot with Jaime Rosales, which is based on creating very real situations. The truth is that I feel very comfortable working like this. And it is better for me, because that is how it comes out ".
This very specific way of owning the characters takes its own toll. "What I do causes them to call me for certain roles. Women with strength, who maintain joy even when facing tragedy. I'm not complaining, I think there is a lot of margin there, they are all different, but they are all very mine. I always give my papers something of my own ".
It is true that their characters have as much in common as things that separate them. It is easy to see the similarities between the determined adolescent of The olive, by Iciar Bollaín, with which she won the Goya for Revelation Actress in 2017, and the also cast forward Susana de The call. Although they both have different pasts and experiences, they are still that charming neighbor who always greets at the door. Specially in The call, the project that put Javier Ambrossi and Javier Calvo on the map. "The Javis have something very special, which is creating their own universe: a combination of Disney with trash. That was very special and all of us involved got into a wonderful maelstrom ", he recalls.
Anna Castillo was a member of the original cast that turned that pocket musical into a theatrical phenomenon and years later made the film based on that play that had already been seen by almost 500,000 viewers. "I have realized that each one, depending on when he sees it, from where he sees it and at what point it is, The call He talks about one thing or another. When I made it, it was crystal clear to me that it was a film about seeking happiness. A film that talks about loving yourself is very valuable even if it seems light to many. Let's see, I know from my own experience that it is very important for many people: for the actors and the team, for sure. It marked us. But also for many viewers ".
She has appeared alone in the interview, something that, frankly, increasingly strange in a world where interpreters are increasingly overprotected by agents and press officers. Here, on this terrace, he has arranged to meet the photography team and it is taken naturally every time a messenger interrupts us, because we have arrived before the rest and they leave us around packages of clothes or the food service of the session " Can I have a sandwich? "He asks. "What a look they have," she exclaims excitedly as she chooses. Anna Castillo is that type of person who sees the charm even of a refreshment sandwich.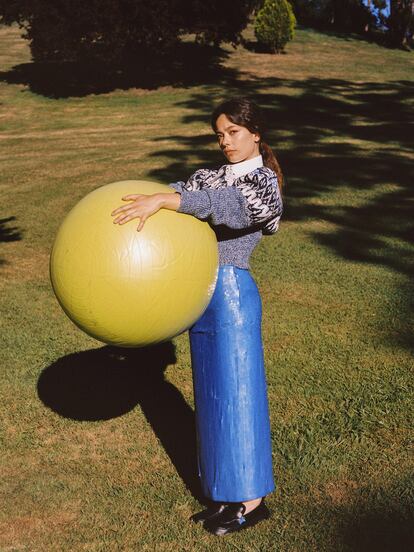 Talks up a storm. She is not very fond of interviews, she says, but nevertheless loves to "have a little chat." He says that he is always that open and illustrates it with anecdotes. Outside of the filming, like that time he met Estopa at a party, which he loves, and spent the night laughing with one of them, the one who was not: "All night calling him David and it was José. That's how I am". Also from the sets, like when Jaime Rosales recently gave him a little touch on the set of Wild sunflowers. "He is very serious, and I am not. And at one point he told me that maybe between takes I should be more tense. " But he was not daunted. "I told him that if I'm tense all the time the tension goes away. I went overboard and I'm already on another level ".
That expansive way of being also has a bad side, as he discovered during confinement. "Now when I remember it, it gives me a lot of tenderness. I was fine, at home, with my partner and my cats. But I am very anxious and having nothing to do made me very angry. It gave me the impression that my life was slipping away and I didn't feel like learning a language or doing yoga. It bored me like an oyster, it caused me a lot of frustration, it made me cry ".
Surely the fact that since I was a child working at a hellish pace has something to do with this feeling. "Just before the pandemic, I had decided to stop for a couple of months because a lot of things were coming to me and I wanted to take a break. And when I was going to rejoin, this comes. It was like 'stop it right? Now it is OK!".
She claims not to remember when she decided to be an actress, "but because she has always been there. Acting was my escape route from life since I was a child. It was a game. I remember, being a dwarf, telling my mother that I wanted to make movies, that I didn't want to do commercials. And she asked me: 'But how who?' "Later I got older. My parents helped me a lot and I got into this in a natural way, as it happened ", he explains. Castillo does not come from an acting family. His mother is a teacher, his father, a salesperson. But they supported her. They looked for a representation agency for him and at the age of 12 he was already in a children's program on TV3, Super three.
"They made a musical group that gave like bowling and then they called me to join the program," he explains. Later he would move to Madrid, where he would start working on series such as Love is forever. "It was a school, I worked with great actors and I learned a lot. It's so much work that you have to be able to do everything and sometimes you feel a little pressure. And the scripts are going full blast. There the sad is very sad and if you get angry, the anger is like a beast. They were two very intense years ".
In the cinema, Anna Castillo is also that girl who is called to be a high school with weight. "It's what they count on me for most of the time. Which is the logical thing, because there are many more supporting roles than protagonists. I have no problem, many of them are beautiful ". It is the case of Life was that. Her character is the trigger for the action, the film would be impossible without her in the hospital room, but she is barely 40 minutes on screen. From there the weight of the story is carried by Petra Martínez, a veteran actress. "It is inexhaustible, it has an overflowing energy. She used to put on her own plays and that was how it remained until film and television arrived ". In an interview, Castillo has released the following reflection: "Petra puts a mirror in front of me and makes me think that my generation is a pain in the ass, complainers, always burdened by work and with sometimes misplaced ambition." What did you mean? "Well, I see her, who has been working all her life without giving herself importance and that seems wonderful to me. For Petra this is done for pleasure and to feel better. If not, it is better not to continue. Sometimes I think that in my generation we become very transcendent ".
To understand this, it is worth bearing in mind that Anna Castillo has been singled out as an actress to follow for years. "They began to say that I was 'the actress of the moment' when they nominated me for the Goya with The olive. Before even winning it. And that filled me with doubts. I did not understand it. I saw very good actresses. Why was it my moment and not yours? I don't know if I would say I was overwhelmed, but I certainly didn't feel comfortable. What happens is that I realized that it is one of those things that appear and disappear. You have a premiere and for a month you are the actress of the moment, and then you stop being so for six months until the next. No problem. In this profession everything is relative ".
The consequence is his philosophy for facing life, based on the certainty that being perfect all the time, in all aspects of life may not be a reasonable goal. "I am not one of the actresses who punish themselves. I am aware that things go well, bad and regular. And you have to assume it. And when I get home I quit work and rest. Let's see, if the day has been hard, physically or emotionally, I get blown up, like everyone else. And it's not that I ignore the character. I really like to get into his life. I do a job to try to understand his burdens, his past, his way of acting. I like to understand what he has on him, what happened to him that does not appear in the film. But then I get home and have dinner, I don't take his traumas with me. "
You can follow ICON on Facebook, Twitter, Instagram, or subscribe here to the Newsletter.



elpais.com