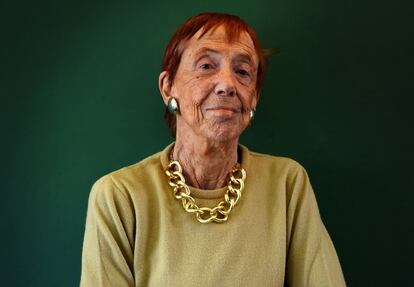 The Argentine writer Angélica Gorodischer described books as "the door to the universe". This Saturday, at the age of 93, one of the Latin American pioneers of science fiction passed away in Rosario, who made her readers travel to the vastest empire that never existed, to an archaeological field on what was once Buenos Aires and to other spatio-temporal dimensions sprouted from his fertile imagination.
"I don't want to die in therapy or in a sanatorium. I hope to do it in my bed, calm, with someone who holds my hand, "he had told his relatives. She died in the house where she wrote much of his work. "I don't want a wake either, and I do want to be buried in a garden cemetery, with flowers, in an ordinary drawer, that it rots soon," she asked as her last wish.
Angélica Beatriz del Rosario Arcal de Gorodischer was born in Buenos Aires on July 28, 1928. But her family moved to the city of Rosario, some 300 kilometers west of the Argentine capital, when she turned seven. At that age she and she preferred books to dolls, even when she grabbed one that caught her attention from the family library and she didn't understand much of what she read. "The almost adventure thing was to read, to decipher what was in that book. The question was to take over the world," she said upon receiving the Grand Prize for Lifetime Achievement from the National Endowment for the Arts in 2018.
Soon he began to admire writers, such as the British Virginia Woolf, the Argentine sisters Victoria and Silvina Ocampo and the American Ursula K. Le Guin. The latter, a master of science fiction, translated into English Gorodischer's best-known novel, imperial kalpa, and thus opened the doors to the Anglo-Saxon world. Among the more than 40 titles of his, also stand out opus two, Trafalgar, the night of the innocent, Fable of the virgin and the fireman Y Alabaster vases, bokhara rugs.
"Science fiction leaves a very strong mark on you. I always say: 'Real life doesn't interest me. There are authors and authors who have done wonders with real life. It doesn't work out for me because real life doesn't interest me'. And what interests you?, they tell me. I am interested in the inexplicable, the ineffable, what cannot be said, "she noted in 2015.
Despite the prominence of this genre in his bibliography, Gorodischer also ventured into family and autobiographical stories, such as Treatment Diary (2011), in which he narrated the fight against cancer he suffered.
All the culture that goes with you awaits you here.
subscribe
A feminist precursor, more than 30 years ago she claimed that label in her literature. "Women speak and write a different language than men," she answered in 1990 in an interview with EL PAÍS. "Men always do things for themselves, so why not us?" she added, with a smile, after having participated that year in the Barcelona Feminist Book Fair. Her pages are full of female role models other than the conventional ones, like the bold old lady from Alabaster vases, Bokhara rugs or the protagonists of the tales of The girls (2016), among others. "The truth is that I am tired of the defeated women in our phallocentric society, who end up dead, alcoholics, suicides, I wanted to cut that literally speaking. A girl can also reveal herself from her place in society, which is not just obeying her mother, "she said following the publication of the collection of stories.
Her red hair, cut almost flush, stood out at any event among the long hair of many of her colleagues, as well as her large earrings and necklaces. Her friends have remembered her today as a woman with an overflowing imagination, intelligent, with a great sense of humor and a capacity for wonder. Her star will not stop shining.
Subscribe here to Newsletter of EL PAÍS America and receive all the informative keys of the current affairs of the region

elpais.com
George Holan is chief editor at Plainsmen Post and has articles published in many notable publications in the last decade.