One of the eight-year-old girls of the nine minors injured when the wind raised and knocked down an inflatable children's attraction at the Mislata Fair (Valencia) has died in the hospital to which she was transferred, according to sources from the Ministry of Health.
Of the rest, only a four-year-old girl is still hospitalized with a reserved prognosis, according to the same sources. The event occurred late Tuesday afternoon when a strong gust of wind lifted the inflatable, which was lying on the ground.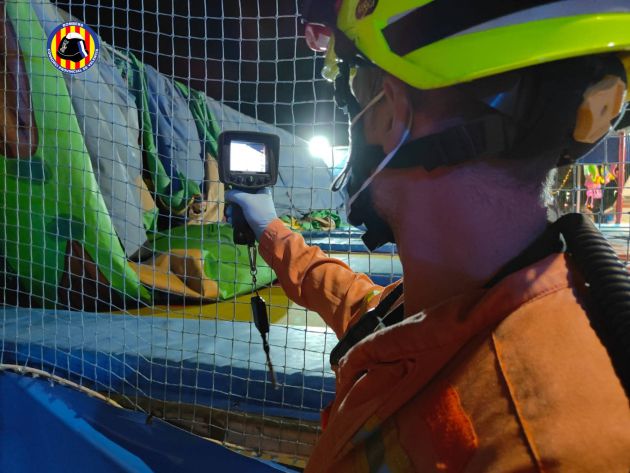 Up to the Mislata compound, troops from the Paterna, Torrent parks and the Valencia municipal fire brigade, along with health facilities, traveled.
The Ministry of Health mobilized two SAMU units, a Basic Life Support and an assisted transport to assist the injured. Four of them were transferred to hospitals in Valencia. The prognosis for all of them was reserved, although two had more serious injuries. According to the Police, the most seriously injured were two girls of eight and four years old.
Finally, one of the minors has died and another remains hospitalized. Another five children were treated at the Manises hospital and two remained under observation.
The mayor of Mislata, Carlos Fernández Bielsa, was "shocked" by the event on Tuesday and, as indicated in a message on his Twitter account, in the town they were awaiting how the two minors who were seriously injured are evolving.
Police investigation
The National Police is investigating the causes of the event, which have been taken over by Homicide agents and the Scientific Police, and determine the responsibilities, if any, of the fair assembly company. Firefighters checked the infrastructure of the attraction to check if there were more people underneath and rule out that there were any trapped.
This has been announced in a statement by the town council, which has declared official mourning until Friday and has suspended all planned municipal events, including the Three Kings parade this afternoon.
The Consistory has also announced that police proceedings are being carried out and that the Scientific Police has opened an investigation to clarify the facts and determine the responsibilities, if any, of the fair's assembly company.
The city council has made available to the National Police all the administrative documentation on the installation, which certified the assembly of the fair attractions.
This includes the attraction's annual inspection certificate; the final certificate of facilities issued by a collegiate engineer provided by the company that manages the fair, as required by current regulations; the civil liability insurance, the responsible declaration, the project and the emergency plan.



cadenaser.com
George Holan is chief editor at Plainsmen Post and has articles published in many notable publications in the last decade.