[ad_1]

Venezuela lives these days with its back to the regional and municipal elections that will be held next Sunday throughout the country. There is hardly any electoral propaganda in the streets of Caracas or rallies that attract the masses. There is no enthusiasm for elections in which few people believe, sometimes not even the candidates themselves, who do not consider that these are fair. Politicians visit the neighborhoods at full speed, followed by their trucks and equipment in the field, and they leave in an hour at the most, after greeting and shaking hands with people who raise their eyebrows when the candidate turns around and we are sees it. After 22 years of the Bolivarian revolution, Venezuelans seem to have little incentive to go to the polls.
The most surprising novelty that people have been rubbing at their eyes lately is that there are again traffic jams in Caracas, a city that for a time seemed deserted. Drivers celebrate it, instead of cursing it. Dollarization has created spending bubbles in certain points such as five-star hotels, where there are parties every day, or it has made the taxi re-emerge by application as a method of transport, when it seemed like a job that was extinguished with hyperinflation. In the neighborhood of Las Mercedes, one of the most exclusive, glass buildings rise that it is not very clear who will occupy them. Prices have skyrocketed in coffee shops, where a coffee can cost four dollars.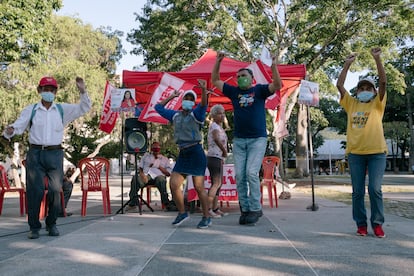 All of this conveys a strange sense of normalcy. After eight years of economic disaster, in which GDP fell 75%, experts believe that there is a rebound effect after hitting bottom. In 2021, oil production has improved slightly and the Government has opened its hand to foreign investment, which has produced a slight improvement. There are no empty shelves in supermarkets. The streets seem somewhat safer. The theory of many is that the thugs have grown tired of stealing empty wallets. Homicide has decreased, but crime has mutated. Months ago, the assault on an armored truck carrying dollars to a bank made headlines. No one remembered such a robbery.
The elections have not altered the day-to-day without much horizon of a country whose regime faltered in 2018 and lost credit with the emergence of Juan Guaidó as an alternative president to the official, Nicolás Maduro. Chavismo solved that crisis and remains in power. These elections are interpreted as the intermediate step to hold a general election with international observers and guarantees of impartiality. The opposition has widely debated whether it should stand in these elections. The majority have decided to concur with the idea of ​​building an electoral base and having a presence in the neighborhoods for the future. In the previous ones, those of 2018, the opposition carried out a boycott and Maduro swept. Those who oppose believe that the mere fact of participating legitimizes Chavismo, which controls all institutions, and gives air to Maduro, drowned by sanctions and exiled from a large part of the international community.
The feeling that it is a formality does not electrify people. Not the Chavistas themselves. At the foot of the El Valle hill, under a statue of Simón Bolívar, the government party, the PSUV, has set up a tent in which electoral brochures are distributed. "Select the eyes of Chávez", reads an explanatory on how to choose the Chavista candidate. The commander's gaze is the campaign logo. The person in charge of the information point, Orlando Suárez, greets with an energetic "comrade!" to passersby. "We do not have a guaranteed victory, but we are at hand, due to the way in which the extreme opposition has behaved. They are not solid, we are ", he says. On a sheet of paper, write down the name, telephone number and the problem of everyone who comes around. They process the social voucher and the clap, the food distribution system. Chávez became very popular in the poorest areas, those embedded in the hills that surround Caracas, for social assistance, a mechanism that later served to control the vote.
Join EL PAÍS now to follow all the news and read without limits
Subscribe here
Nearby, a house sells the Clap bags, which contain four packages of rice, sugar, a can of sardines, 100 grams of coffee and 400 grams of powdered milk. A poster reports that each of these bags costs 2.3 bolivars. Carmen Borges, a school teacher, passes by at that moment and cannot help being didactic: "It says that there, but in reality there are 2,300 trillion. They have removed 13 zeros. That level is the devaluation. Before, with my salary, I could go on a trip to other countries. Now I fight to survive ".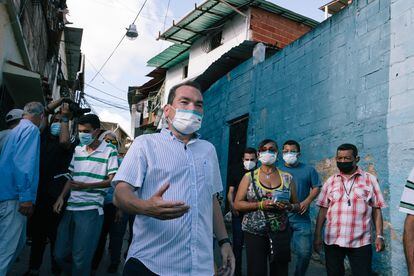 The opposition politician Stalin González waits in a corner for the press conference of Carlos Ocariz to begin, who is going to resign his candidacy for the governorship of Miranda in order not to disperse the opposition vote and favor Chavismo. He wears a blue shirt with his initials engraved, SG Participates in the negotiation between the Government and the opposition in Mexico to find a way out of the crisis with the mediation of Norway. González is a faithful defender of the opposition getting involved and gaining political space within the country. "This elephant cannot be eaten in one bite," he says, referring to Chavismo. "The government has allowed the election to be more or less competitive," he explains, "but tries to have abstention and people do not go out to vote. It favors you. We have to encourage it. I am not telling you that we are going to win in many places, but it is a way of reorganizing and making contact with people ".
Tomás Guanipa has taken it literally. The opponent is running for mayor of Caracas. This afternoon visit El Valle, a Chavista neighborhood on a hill. Maduro lived in this place his adolescence. Chávez was God here. Guanipa, a visitor. Although after years of scarcity of water and electricity, some are beginning to question the Bolivarian revolution that started two decades ago. Guanipa, greet mechanics, merchants, children and the elderly. A few come to greet him at the doorjamb, others lean out to greet him through barred windows. Some young men on motorcycles accelerate when they reach his height to annoy him. "I am counting on that vote, brother," he says to an orange seller who has been caught by surprise. "Go out to vote, my brother, we have been with them for 22 years," encourages another a little more enthusiastic. It touches the head of a newborn: "He has to grow up in a different country." Finally, he reaches a grumbling boy, who has been avoiding him for a while: "'Make your face happy!" But there is no way, the regional elections do not seem to inflame hearts.
Follow all the international information at Facebook and Twitter, o en our weekly newsletter.


[ad_2]
elpais.com
George Holan is chief editor at Plainsmen Post and has articles published in many notable publications in the last decade.