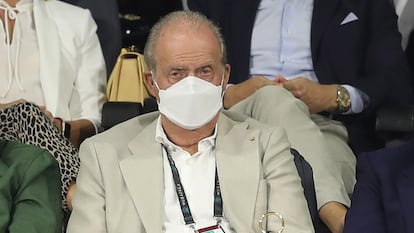 Abdul Rahman El Assir, the Spanish-Lebanese arms merchant in search and international capture after failing to appear for trial for defrauding the Spanish Treasury for 14.7 million, has resided for months in Abu Dhabi (1.5 million inhabitants), the capital of the United Arab Emirates, and frequently accompanies Juan Carlos I in the private complex where the latter lives since his departure from Spain in August 2020, according to eyewitnesses told EL PAÍS.
The friendship between the emeritus king and El Assir dates back to the eighties, is public and is sustained by a nucleus of common friends and a love of hunting. "The relationship had cooled down, but in the loneliness of both in Abu Dhabi it has been strengthened again," says a person close to Juan Carlos I. "It is a friendship of more than 30 years that nobody has managed to avoid," he says. another source consulted in his environment and that omits to give details.
One of the witnesses to these meetings in Abu Dhabi interprets that El Assir is using his old friendship with the former Head of State as a "shield" due to his judicial problems.
Given these facts, a spokesman for La Zarzuela responds that the private activities of Juan Carlos I no longer depend on the Casa del Rey. And Javier Sánchez Junco, lawyer for the king emeritus, declined to comment.
El Assir, 71, is a well-known international arms dealer and is credited with a key role in Spanish military exports in recent decades. The whereabouts of this singular character was unknown since three years ago he decided to give a scared sound and outwit the Spanish justice.
On October 4, 2018, this Hispanic-Lebanese linked to high society disappeared from the map. That day he had an important appointment in a court of the Provincial Court of Madrid, where he was going to be tried for a millionaire tax fraud. He managed to delay the oral hearing for a month claiming that he was ill in Switzerland, the country where he settled when his problems with the Tax Agency began. The trial was set again, for December 5, and then for February 5 and finally March 5, but he did not attend any of the appointments. The excuses of his lawyer and the repeated sit-ins exhausted the patience of the Prosecutor's Office and the court, which issued an international search and arrest warrant and his entry into prison. "The order was issued and is still in force," now confirms an official source from the Prosecutor's Office.
What affects the most is what happens closer. To not miss anything, subscribe.
Subscribe
The Prosecutor's Office requests a sentence of eight years in prison and the payment of almost 90 million, specifically a fine of 73,923,014 euros and compensation to the Treasury of 14,784,602.
For the public accusation, this arms merchant and international commission agent "consciously omitted" earnings of more than 31 million euros and did not make the declaration of the Personal Income Tax (IRPF). The fraud made it easy for him to fail to pay 12.03 million in 2002 and 2.7 million in 2003.
To hide his fortune, El Assir used the instrumental companies La Granjilla Corporation SA, Miraflores Dieciocho SA and Gransoto SL, in whose name he has several mansions, a berth for a large ship and several luxury cars for the use of his family, according to points out the investigation of the Prosecutor's Office, which has been tracking him since he established his residence in Spain in 1999. For the maintenance of these assets, it received funds from the BBVA Private Banking subsidiary in Jersey (English Channel) and from the Portuguese Business Bank.
Persecuted in France
Assir has more legal problems than those that have pushed him to flee Spain. In France he was convicted in absentia for the Karachigate, a corruption and arms sales scandal in Pakistan. The justice of that country issued another order of "search and arrest for extradition" that has been in force since mid-2020 and appears in the Spanish police bases, as this newspaper has verified. You are being prosecuted for a financial and property crime. Part of the commissions for the sale of submarines financed the campaign for the presidency of the Republic of Prime Minister Édouard Balladur.
In Switzerland, it has also left a trail. It owes 2.2 million in taxes, according to the Swiss media Bergen Zeitung.
The elusive Spanish-Lebanese is linked together with his brother Rabih with the Luxembourg company Wheelerdale, as recorded in the Mercantile Registry of the Grand Duchy and revealed the Openlux journalistic investigation published in June by Infoliber. In 2019, Wheelerdale declared assets of 77.5 million.
High society and privacy
Abdul Rahman El Assir is the son of a writer and a singer. His figure emerged in the eighties thanks to his contacts between Spanish high society and with some politicians from the PSOE. His first wife was Samira Kashogui, editor and director of the women's magazine, AIsharkiah, daughter of the personal physician of the King of Saudi Arabia Abdullah Bin Abdulazziz and sister of Adnan Kashogui, the influential Saudi arms dealer based in Marbella, who died in 2017 and considered then one of the richest men on the planet.
Samira was divorced from the Egyptian businessman and founder of the Harrods department store in London, Mohammed Al-Fayed, and with him she had Dodi, who was the boyfriend of Diana of Wales. The Kashogui brothers were uncles of Jamal Kashogui, the journalist from The Washington Post Killed in 2018 by Saudi agents at the Saudi Arabian consulate in Istanbul.
Hand in hand with his influential brother-in-law, Abdul managed to be the CEO of Triad Spain and vice-president of Alkantara, a company in which the INI and Focoex participated together with Adnan Kashogui. After divorcing Samira, who later died, in 1985 he married María Fernández-Longoria, daughter of the Spanish ambassador to Egypt, with whom he has had three children and from whom he is separated. It is at that time when he began to work on his own and set up his Exel company in Madrid's Paseo de la Castellana. Its first operations consisted of selling military weapons to Morocco and trucks to Somalia.
Thanks to his friendship with Juan Carlos I, he attended as a guest in 2004 the wedding of the then Prince Felipe de Borbón with Leticia Ortiz. In 2016, she celebrated the wedding of one of her daughters at the Swiss Gstaad station and chartered a plane for the guests, including José María Aznar's daughter and her husband, Alejandro Agag, whom she attended at El Escorial, as reflected by the means of the heart.
Assiduous in the exclusive urbanization of Sotogrande and very careful of his image, he has managed to ensure that there are almost no photographs of him in the newspaper archives. "He has lived almost his entire life on loan, asking some to pay others," says a businessman consulted. This newspaper has not been able to collect the testimony of El Assir or anyone close to him.

elpais.com