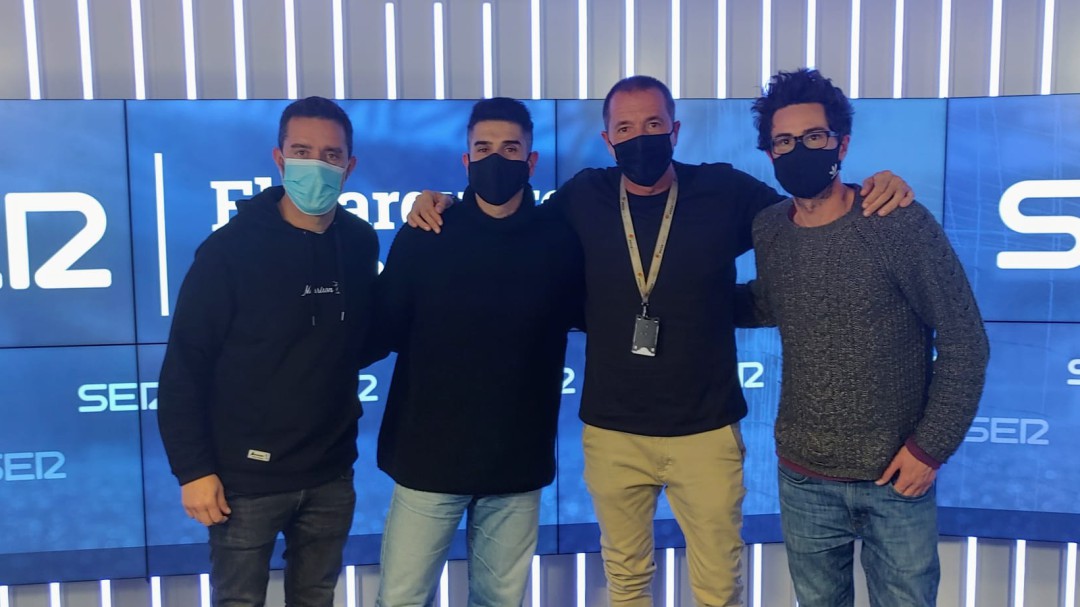 After seven years, Pignoise is back on stage with a tour that will begin in January. The Spanish group that began its journey at the beginning of the century, is one of the most recognized groups in the country. Álvaro Benito, a partner in Carrusel Deportivo and El Larguero, along with his bandmates Pablo Alonso and Héctor Polo, stopped by El Larguero to announce their new album and to chat a bit about football.
When do you decide to take it all back after seven years?
Álvaro Benito: "When I stopped training at the Real Madrid quarry, we returned. It was impossible to reconcile. If I had continued to climb the ranks as a coach, perhaps I would not have returned to the band. What happens is convenient and you have to adapt. Everything brings good things. up to one ".
Héctor Polo: "We have done a concert, but when we were going to return, the COVID made us dust".
Pablo Alonso: "We have seen each other less, but when Álvaro could do concerts we have done them. Now that we have gotten together again it's all like 'do you remember when …'".
Do you talk about football in your spare time during the tour?
Álvaro Benito: "Constantly. I remember the league of Madrid's comebacks, we couldn't watch any game and we listened to it on the radio. In the first Eurocup, we lived it very nervous and the Germans were already used to it"
Héctor Polo: "I remember living the final of the European Championship in Palma de Mallorca in front of the Germans with Torres' goal."
What are the keys to 'Fun'?
Álvaro Benito: "The objective was to recover the sound that has always represented us. It's like the first album. The selection process has been among many songs because I have continued composing. People will sound very Pignoise, however, the quality of the songs is very high. People who have heard it tell us the same thing. "
Hector Polo: "We have grown a lot as a band. Álvaro has set his expectations very high."
Pablo Alonso: "What people repeat to me the most is 'how good that the essence remains the same'. In music the most difficult thing is to create your own identity, I think we have achieved it."
Did the idea of ​​creating the band come up before or after Álvaro's injury?
Pablo Alonso: "In 2000 we were already giving everything".
Álvaro Benito: "In the 2000s I was still injured. Around there I still thought I could get back to the life I had. The music was gaining strength and from then on we were very persistent. I am very much in love with being a musician, perhaps more than when I was completely dedicated to it. I'm all my free time making songs. "
Hector Polo: "When he was injured I would take the drums to his house. I think it came in handy as a help and that's when we took it more seriously."
Álvaro, how are you going to combine Cadena SER and Movistar with the tour?
Álvaro Benito: "The weeks of the Champions League are directly death. I don't know which trip is my turn. I may have to go to a game in Liverpool on Wednesday and on Thursday I have to go to another Spanish city."
Are touring better now or 20 years ago?
Pablo Alonso: "I'm doing better now. Maybe it's also because of the time we've been without playing. It became normal and we stopped appreciating how difficult it was to get there. Now every time we go on stage we we eat it. "
Héctor Polo: "At that time perhaps we had 4 or 5 concerts and we would go out 4 or 5 as well."
Do you still have a fandom young?
Álvaro Benito: "What has really surprised us is the return. I saw thousands of 18-year-old kids singing them all. Very young people who were not tangible, but with the passage of time those generations have come together."



cadenaser.com
George Holan is chief editor at Plainsmen Post and has articles published in many notable publications in the last decade.