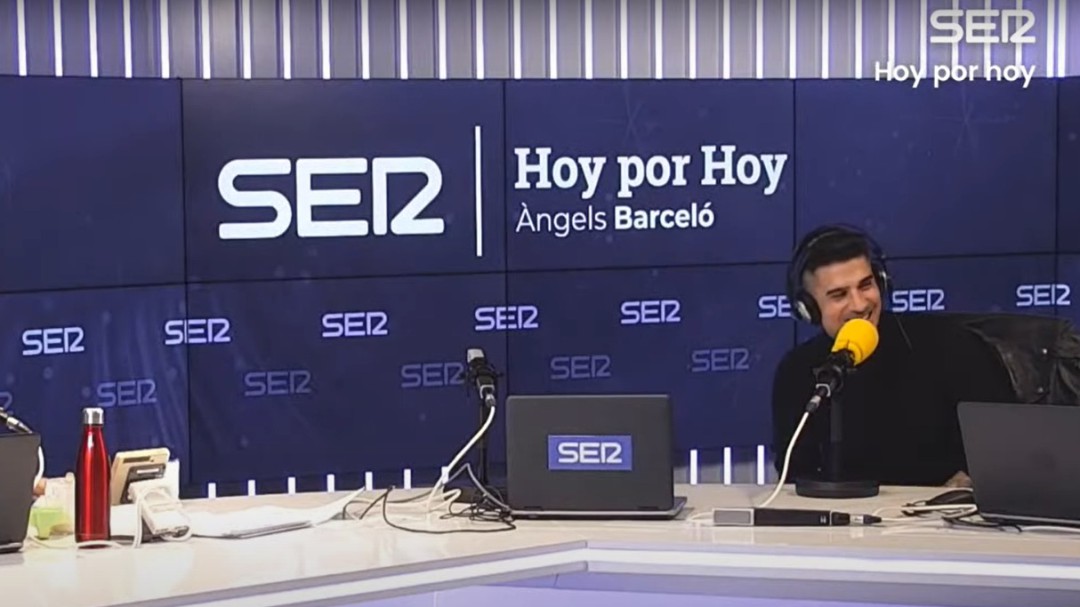 This Friday the Pignoise group publishes its eighth album, 'Diversión', the first since 2015. The group's vocalist, Álvaro Benito, speaks with Àngels Barceló in the SER studios, his home, where every night and every weekend he analyzes football at El Larguero and Carrusel Deportivo.
You were a professional soccer player, you are a professional musician, you are a sportscaster. Have you got the feeling that people say you do everything right?
I am not very aware of the steps that I have been taking, seeing it as a complete life but I have been living very in the present time. My life was the ball. I loved music, when I was 16 I bought my first electric guitar. It is true that if I had not been injured surely nothing of the later would have happened. In the world of music, it took me a lot to get rid of the 'footballer who now has a music group' label, it took a lot for us to be taken seriously.
You do not speak from the colors and that is a sign of respect that is not very common.
I started in 2007/2008 with Josep Pedrerol in what later became El Chiringuito and at first I said no because they had given me a lot of sticks in music and I wanted to get away from the ball. He insisted for three or four months and one day I went, I started talking about football and until today. I realized that I liked to analyze the game, I took the three courses for coach and then they called me to enter the lower categories of Real Madrid. When analyzing matches, the fact of the jerseys does not matter to me a bit, I focus on the aspects of the game.
Is there a moment in your life when you are not sure whether to go for music or football?
No, it was always soccer. From the moment I got up, I went everywhere with a ball. I came to Madrid from Avila when I was 14 years old, Real Madrid signed me and I came to study and play football, I sacrificed everything to play. In fact, I did not have a childhood, because we were here on Recoletos street in a pension where we had quite strict schedules, so all of us who were there, adolescence did not live as it is.
Have you ever thought that maybe you had bad luck, that maybe now that same injury would not have kept you from football?
It's a posibility. The truth is that I have never given it too much thought. I am not very much into looking back with sadness, I think that in life you have to take steps forward no matter how hard things happen. My problem was that the meniscus, which is what is between the bones, before when a footballer broke it, they would remove the broken part. When I played again, there was no meniscus between the bones, so the cartilages began to collide and from there you suffer from chronic inflammations that are difficult to restore or find a solution. No matter how much you rest, when you return, touch the same area again. Then I had a meniscus transplant in the US and I went back to playing soccer, but I was not even 50% of the soccer player that I was. And that was almost harder, Àngels. The fact of playing again and verifying that I was unable to develop the football that I had was much harder than the whole process, which was already hard in itself.
When you had to quit football, maybe it was more relief, right?
Relief. The path of uncertainty, which I called it, because after the first operation I had problems again, later the operations were reproduced, more of the physical suffering of having surgery, being at home, that was very hard, but the worst was the uncertainty. How will I be? Will I be able to walk? Because I spent four years of my life in which I could not stand for 10 minutes because my knee was throbbing. In fact my friends always remind me that I was glued to an ice pack and when we made plans the first thing I asked was, 'but can I sit down?' And the uncertainty of where I was going to play, because for me leaving Real Madrid was a drama. The moment I decide to hang up my boots, I breathed. I remember calling my father and saying, 'life will take me in other ways.'
Is the transition from football to music automatic?
No, because when Pignoise came up we were three guys in a garage who didn't know how to play, we didn't know anything about the music industry or the steps necessary to find a life for you in that area, we started to meet up at my house to enjoy ourselves. When I began to have a minimal notion of music, I began to compose, it is the part that I like the most about this work. We started recording our demos, moving them around all over the place. They didn't want us anywhere but we were very persistent. We recorded two self-financed albums and they still didn't love us, but we remained persistent until one day fortune smiled on us.
This is Pignoise's eighth album, right?
Well possibly (laughs). You will know more than I do.
How do you define it? Are you more mature?
It has been an album of difficult gestation. Since 2015 we had not done anything new. In 2015, with a newly released album, they called me to train for Real Madrid and I put the music aside. It is not that we left the group permanently but I could no longer dedicate myself to music with continuity because the fact of training absorbs you. In summer we did get together and do a concert just to kill the bug. If he had continued to climb the steps to being a professional coach, he might never have released new music again. In 2019, when I stopped training at Real Madrid, the opportunity to return to music presented itself. We did some concerts, we exceeded our expectations and we thought about making new music. I was at another point as a musician at the compositional level, but we have tried to go back to the roots and make the album sound totally reconictable to Pignoise.
What makes you happier to compose or sing?
To compose. I am not a singer, I sing because someone had to sing in the group. I write songs, now I am very focused on studying, all the free time I have I use to study music.
Is there a difference in going out to the Santiago Bernabéu full of people and to a concert?
There is a difference. The world of football is uncertain, you have to beat an opponent, it is a physical exercise, not every day you feel the same. In fact, one of the things that happens to you before going out to a game is that you say, 'I hope my legs feel good today and I can be physically comfortable.' In the end there is more pressure, for me music is something much more playful, people will see you sing your songs. You have responsibility, but I live it much more relaxed.
Did it hurt to leave Real Madrid in 2019?
Not too much, honestly. I fully understood the decision they made. In my house we all feel that we have some right to be critical. Now that I am not at home, I am much more cautious with Real Madrid when it comes to making a criticism than when I was there because I understood that no one was going to think that I wanted to say something to hurt Real Madrid
Would you train again?
Yeah right. If something comes out attractive and stimulating enough for me to abandon all other fronts in my life. It is not easy because right now I am very happy. It has to be something irreplaceable.
Don't lose your eye on Barça …
(Laughs)



cadenaser.com
George Holan is chief editor at Plainsmen Post and has articles published in many notable publications in the last decade.