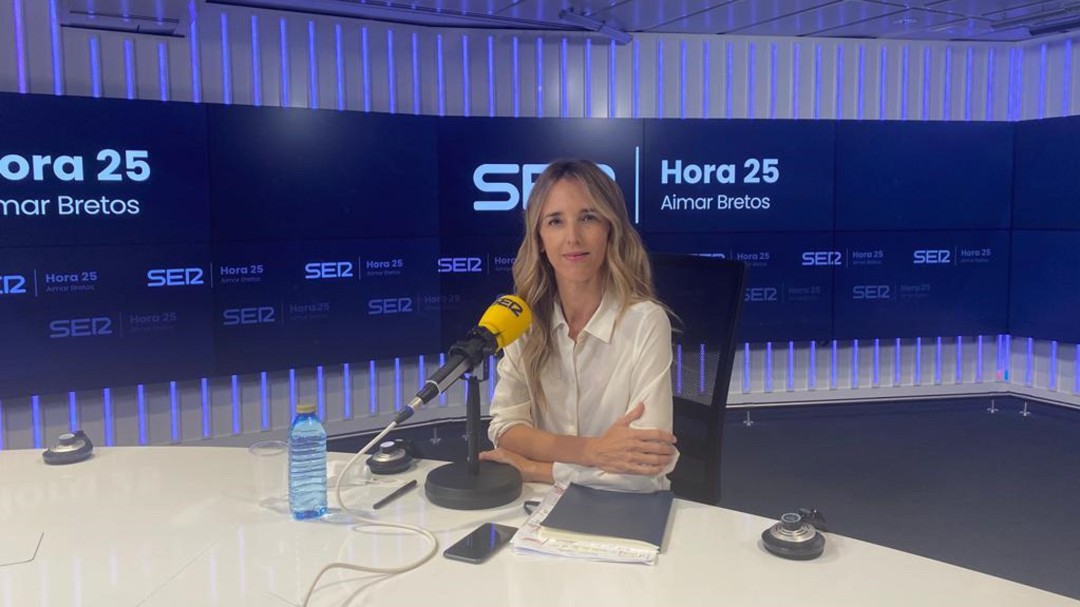 "I am not going to leave my seat, it would be the easiest and most vulgar thing to do." This is how the exporter of the Popular Party in the Congress of Deputies, Cayetana Álvarez de Toledo, has pronounced live 'Hora25', interviewed by Aimar Bretos, in the framework of a confrontational context with his formation, after the controversy that arose as a result of the harsh criticism leveled at the Secretary General, Teodoro García Egea, whom he called "a childish and irrational dictator" and at the leader Pablo Casado, whom he accused of being "a weather vane leader" and a "well-wisher". Álvarez de Toledo talks about its leaders in his book 'Politically undesirable' and when asked if they exist within his party, he comments that "yes, as in other formations inside and outside Spain."
In fact, the secretary of communication, Pablo Montesinos, has suggested today that Álvarez de Toledo should "take a step backwards", although the exporter has stated in recent days that he does not intend to hand over his deputy certificate.
The exportavox has indicated that it will not leave its seat because "politics needs a regeneration and that has to be done from within. Politicians are needed who say the same in public and in private, to rescue politics from the clutches of populism", has added.
The deputy has spoken openly about how she defines Pablo Casado, with whom she has not spoken on the phone since he dismissed her, about whom she comments that "he has many virtues, also defects, although he is a person with great parliamentary capacity, dialectic and empathy" , although he criticizes his "lack of confidence in himself and a leader needs it since he has a lot of responsibility."
Asked about the 'theocracy' of Teodoro García Egea, the exporter has regretted that he "tries to convert the rest of the members of the formation into subjects." "It is a completely authoritarian conception within the party, at times despotic and irrational. They seek – together with Casado – a total submission to the top, they do not accept deliberation or their own personality, that there is a reasonable freedom to discuss matters, that they parties are not sects, they have people with different sensitivities, "he criticized. He would not have it as number two, he says, by conceiving the mandate as "order and command" towards the rest of the deputies and members.
Álvarez de Toledo insists that "he tells the facts and the truth of what has happened." "The truth is always useful and necessary and politics needs a real cure."
Other interview headlines:
There are undesirable practices in politics, but not undesirable politicians. The book is a reckoning with undesirable politics. I am not looking for a promotional campaign, the book tells a story, it talks about how undesirable politics is not inevitable, it is an optimistic book that wants to correct current policies.
Governing is different from coming to power: now we have a left allied with a nationalism that controls the Spanish cultural framework and a center-right capable of restoring reason and defending constitutional order is needed.
Organizing a campaign against the person who has achieved the greatest victory of the PP in recent years -Ayuso-, who has defeated Sánchez, who has fired Pablo Iglesias is a real madness, it does not seem very smart to me.
I affirm what some media published, that Genoa is saying that they are looking for something so that Ayuso cannot be presented to the PP Congress. They are unusual expressions and events.
I am from the PP and I believe in the ideas of the PP, I have never changed them and they are the same for which I joined the PP.
Asked if it has a place in the national project, she comments that the lists are made by the domes.
There are many deputies afraid to express their opinion freely.
I have lived a particular experience and I have told it in detail. They are the facts and I draw conclusions that I hope will be useful for the party and politics in general. They are common problems that are in other democracies. I don't expect others to make the same decisions as me.
Vox has not tested me at any time. It is a nationalist party and I am not a nationalist.
My dismissal was not overnight, Javier Casqueiro interviewed me and it was the trigger, but it was a slow motion dismissal, which was done by pushing in the case of García Egea and in the case of Casado con a passivity since he allowed that to happen, but the decisions are up to the leader. Those in the forefront have the responsibility.



cadenaser.com
George Holan is chief editor at Plainsmen Post and has articles published in many notable publications in the last decade.