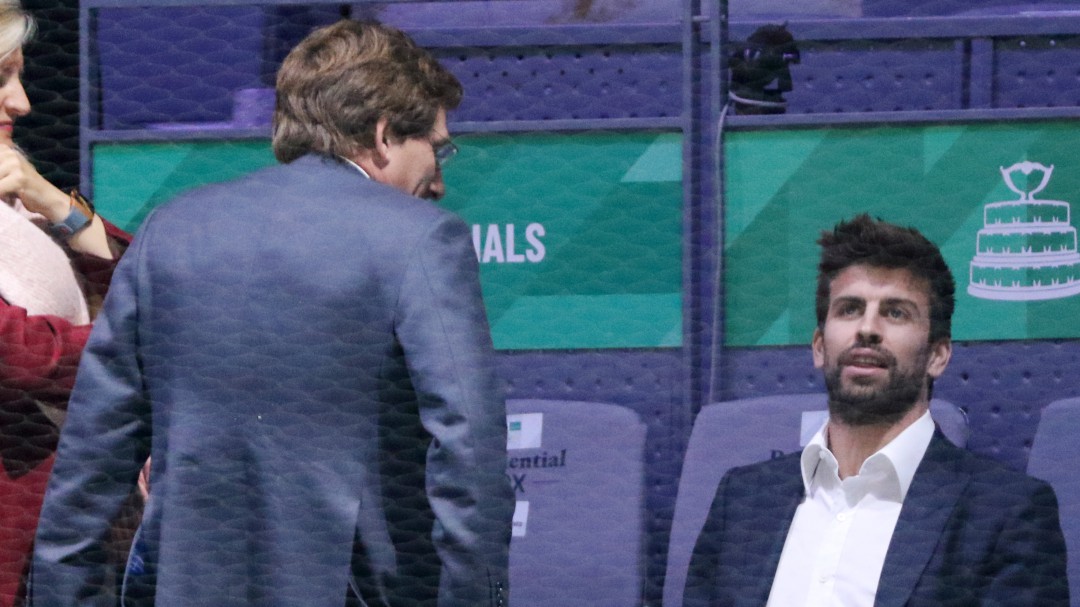 José Luis Martínez-Almeida, mayor of Madrid, has spoken about the absence of Gerard Piqué, Barcelona player and president of the company that organizes the Davis Cup, in the presentation of said tournament at the Palacio de Cristal de la Arganzuela. "Piqué has not sent us any message saying why he was not coming, but we can imagine why it is," he joked to the microphones of Cadena SER.
The Barça central defender recently announced that he would not be in the presentation of the Davis Cup, a tournament that will bring together the eighteen best international teams in Madrid. In fact, the Barça player himself acknowledged this Monday on Ibai's Twitch that he had to cancel his visit to 'El Hormiguero' on Antena 3. "I canceled the interview because I wanted to cancel it, because in the end there are rules that he has set Xavi and that if you want to travel, then you had to tell him and comment on him and I preferred not to comment on it and cancel the interview because I didn't feel like having to ask him for permission, much less, "he explained.
"A strong hand or not a strong hand. Barça, as a personal opinion, has been right by signing Xavi. When Barça was in a crisis like it had not been in years, we have to go back to the basics. Xavi represents very well what is the Barça philosophy. When a new coach arrives, he has to establish the method that he considers most convenient. If Xavi understands that you have to focus exclusively on football, go ahead. Barça will do better, "continued the mayor of Madrid when asked by Piqué.
Pique, in the previous presentation of the Davis where he did attend, praised calling the Spanish capital an "example for Europe and the world for everything it is doing": "I would like Barcelona to be at that level," he admitted. Given these words, Almeida answered on Tuesday that the Barça center-back could follow in the footsteps of David Villa and Luis Suárez, former teammates of Piqué, who went to Altético de Madrid "which wins Leagues."
"We must praise Madrid. I have always felt at home here and I do not do it for money. They have never said anything bad to me on the street, despite the bad period with the national team," said Piqué, who recognized that day that the whistles received in the matches played at the Santiago Bernabéu are "normal". "With the rivalry that exists, I love that they receive you hostilely or with whistles. It is part of our job," added the Barcelona footballer. "In organizing the Davis Cup at the Bernabéu I would have no problem if it made sense, but it is complicated. In a stadium seeing the ball is difficult. Real Madrid is a team to which I have an extreme rivalry but when it does not play, if it can be used in an event, and especially after the works they are doing, which will leave it spectacular, there would be no problem ".



cadenaser.com
George Holan is chief editor at Plainsmen Post and has articles published in many notable publications in the last decade.