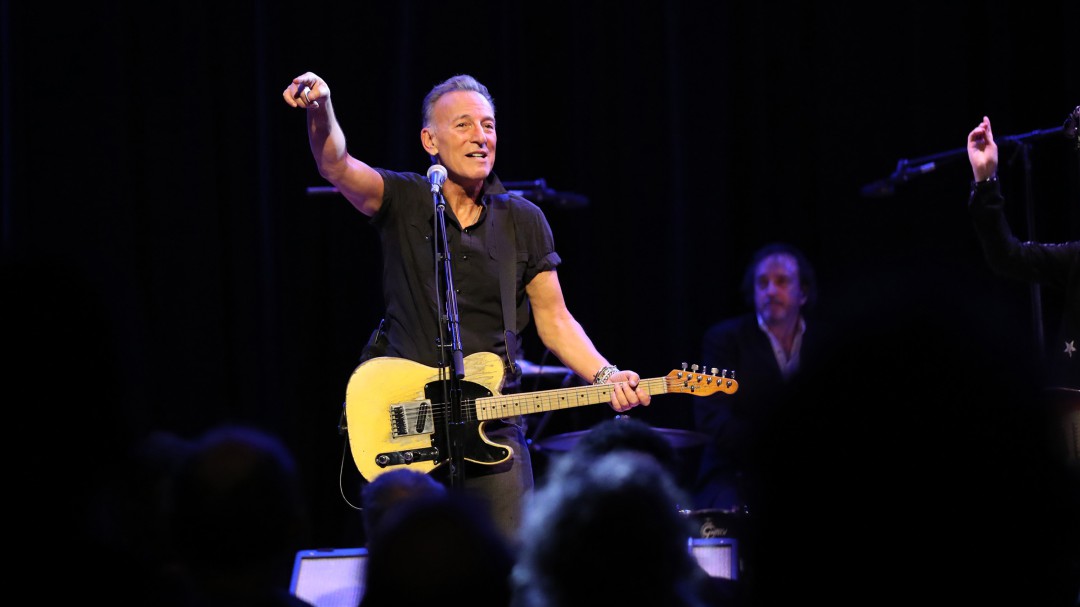 Bruce Springsteen has broken Bob Dylan's record, selling his entire music catalog and publishing rights to Sony Music for $ 500 million, the largest transaction ever involving the work of a single artist. Dylan sold it to Universal for about $ 400 million.
Springsteen has been a part of Columbia Records – the group Sony – since the beginning of his career. Its record sales exceed 120 million copies worldwide and add up to a dozen number one, which is one of the greatest records in rock history. He also has more than twenty Grammys, two Golden Globes and an Oscar.
The Boss now joins the list of artists who have sold their song catalog with a record, which also includes Tina Turner, David Bowie, Paul Simon and Neil Young. But why this trend?
There are several factors that explain this fact. The main one: pasta, liquidity. As explained Sympathy for the Lawyer, a legal firm specialized in the music industry, by selling its catalog, the author obtains significant financial resources to maintain their expenses due to the impossibility of planning large tours due to the pandemic. Although concerts, festivals, major tours are recovering, tickets are not sold as before, as Albert Salmerón, president of the Association of Musical Promoters, acknowledges.
Also, royalties from streaming are not compensated, they are small. This was recently recognized by Gustavo Santaolalla, one of the great composers of soundtracks: "streaming services have to find a way to pay us better, because if they are not going to end music. Young people believe that music is something of what they can enjoy for free. " This statement is supported by the latest piracy study in the sector. Antonio Guisasola, president of Promusicae, warns that piracy exceeds 50% among young people and subscription to payment platforms is one of the lowest in the world in Spain. Platforms like Spotify, which are no longer profitable for creators. Although it is true that the sale of records is residual today, since the bulk of the income comes from streaming and public communication.
In young artists, these operations allow financing recording projects, future tours or other investments. In cases like Bob Dylan or Neil Young, the legal planning of the future inheritance process may be behind the decision: liquid assets facilitate the distribution of the inheritance. Besides that they are no longer in a position to do big tours like they used to.
In addition to liquidity, according to Sympathy for the Lawyer, the sale of the repertoires generates a better exploitation and profitability of the same, exempting the authors from the work of managing their catalog. They also obtain tax benefits. Musicians must pay 20% of the profits they obtain with their creations, both for the sale of physical discs and online reproductions. They make more money by getting rid of them.
Publishing rights are more profitable than the rest of the business, with profits accounting for 23% of revenue, compared to 15% for recorded music, according to Bloomberg. That's why Spotify is investing in podcasting: having more content. "It is the goose that lays the golden eggs in the music industry today," according to Fernando Neira, a journalist specializing in music. "The sale of records is testimonial and streaming generates little income, although it tends to increase." the great artists is their catalog, their songbook.
What does Sony Music earn?
One of the factors to take into account, we talked about it a few weeks ago with the writer Jorge Carrión, is that of algorithms. "One of the clearest examples we have of algorithmic perfection is in music – says Carrión – there is a high percentage of music that is based on the algorithm." The algorithms can not only create the ideal music for each user, which is already a lot, but they can also foresee how best to exploit the songs on the market. Make an offer on a repertoire and make very reliable estimates of the benefits of it.
Furthermore, the music industry has entered a new era. A decade ago, artists like Madonna signed on Live Nation. It was the first time that a singer of her height sold all the rights to her records, tours and merchandising products not to a record company, leaving Warner, but to a promoter, like Live Nation, focused on tours. Concerts are what generated the most money for artists. This, with the pandemic, which has restricted tours, with more veteran or aging artists and with new platforms such as TikTok or Twitch, has changed.
Twitch and TikTok have revolutionized the culture industry. The art market, for example, is increasingly looking at these social networks to sell their products, the sale of which grows exponentially every year. Also fashion and any consumer product. The TikTok generation is called to those young people turned into this social network and who are unable to concentrate on something or pay attention to any topic that takes them more than a few seconds, which is how long the videos shared on it last. With millions of young users, there is the future content consumption market. Tik Tok or Twitch have swept networks like Spotify, Youtube, Facebook or even Instagram.
If old songs, by Bruce Springsteen, Bob Dylan or The Beatles, appear in a TikTok challenge, they could go viral and their value could go up considerably.
Why is it not in Spain?
In Spain there has not been something similar at the moment, since most of the repertoires are transferred to traditional record companies, except self-managed artists such as Vega or Sienna, who recently told us about the voracity of the Spanish music industry. Patacho Recia, from SEDA, the Spanish Copyright Society, tells us: "In Spain the recordings, with rare exceptions such as the latest by Kiko Veneno or some by Amaral, belong to large multinational companies, you cannot sell them because you cannot They are yours. Serrat or Sabina cannot do it. " They could give it up, but not sell it.
Spanish intellectual property legislation contemplates moral rights. "In the EU there is a moral right, which is non-transferable, against other countries. The moral right, the authorship of a work, is inalienable. And great artists live off the great tours, with the disappearance of the great tours and the physical sale of records means that these works need to have income on the other hand ", explains Recia.



cadenaser.com
George Holan is chief editor at Plainsmen Post and has articles published in many notable publications in the last decade.