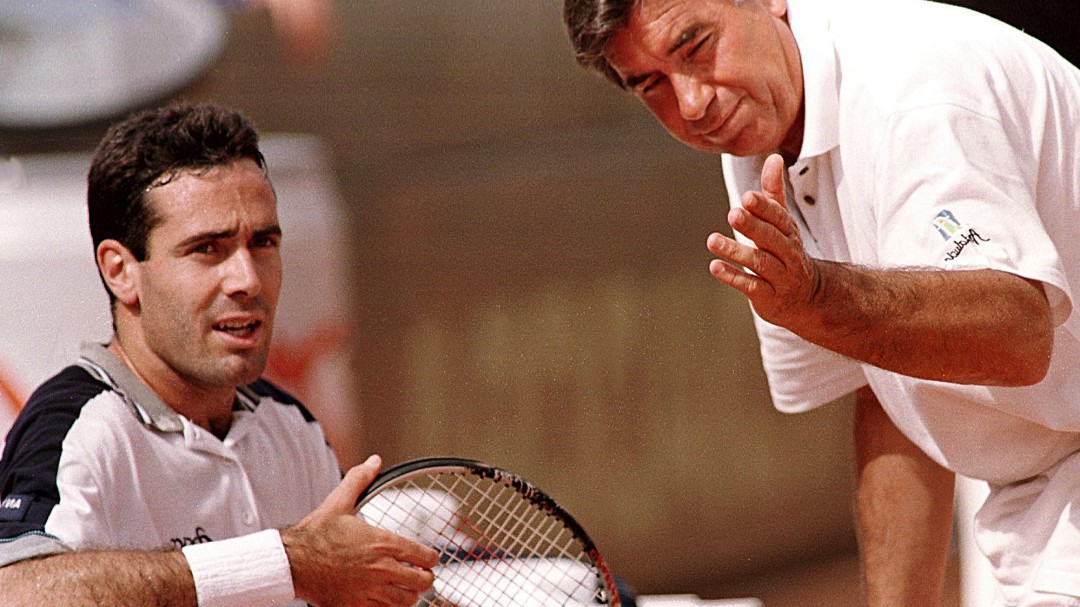 Manolo Santana passed away this past afternoon in Marbella at the age of 83. A pioneer of our tennis who has not been able to experience how the great legends of this sport have said goodbye through Carrusel Deportivo. Toni Nadal, Ferrer, Luis Suárez, Zubiarrain, Bruguera, Mielgo, etc. have paid tribute to this great legend. Álex Corretja, former tennis player and the former pupil of Santana in the Spanish team, and Arantxa Sánchez Vicario have wanted to pay tribute to Manolo Santana.
The sadness that the death of Manolo Santana leaves us
Yes, because Manolo has gone far beyond tennis. It is a very sad sadness to see that he is gone, we knew about his health difficulties, but we never thought that he could leave so soon.
What was Manolo like?
He was liked by everyone. He was very special, very spontaneous, very funny and very passionate about tennis. At the Mutua Madrid Open he was always in the front row, at Roland Garros as well … Making jokes when he was captain in Davis, taking iron out of the matter.
The legacy of Manolo Santana
They opened a path, in the end you realize the importance of the legacy in people, not so much because of the recognition where there are countries that have it more and others less, I think it is important that young people should value it.
Do you remember the first day you met him?
I remember the first call to play with the Davis Cup team to face Israel in April 1996. He was a benchmark and wherever you went you knew you would always be. It was there when I lost the final at Roland Garros with Moyá and it was also there when I beat Moyá at the Masters. It has always been where tennis has been.
Do you remember any anecdote with Manolo Santana?
We played a tie in Porto Alegre, Brazil, in 1998 and the crowd was very hot. I was playing against Gustavo Kuerten and Brazil beat us 2-1. I win the first two sets, he the third and in the fourth I don't really know how to play Kuerten. I say to Manolo, 'hey, I don't know what to do anymore. Kuerten has got on my hump 'and he answers: "Don't be so overwhelmed, man. You're better than him. All you have to do is clear up your ideas a little, so put fresh water on the back of your neck now. you will see how you will see everything better and do not come to me with stories that you are going to beat this guy ". I keep playing and I break Kuerten's serve and keep mine, and when I change fields he tells me: "You see that you are better, that you just needed to clarify your ideas!". That is one of the most difficult qualifying rounds in history.
When Nadal and Federer arrived at the Mutua Madrid Open he was the first to receive them, but those who played the pre-tournament he was also going to receive and that is what made him so appreciated: he treated everyone the same, be you the 130th of the world or a world star.
The goodbye of
Arantxa Sánchez Vicario
Iframe code has been copied to clipboard
Arantxa Sánchez Vicario also wanted to say goodbye to Manolo Santana in the last section of 'Carrusel Deportivo'. The former tennis player confessed to Yago de Vega that it is a very sad day for her because an excellent person has left: endearing, affectionate and a reference for everyone.
The winner of three Grand Slams recognized that Manolo was unique. "When I trained, he came to see me, gave me advice and took great care of me. I have always felt very loved by him. Everyone who knows him can say it and surely they are like me, with great sadness."



cadenaser.com
George Holan is chief editor at Plainsmen Post and has articles published in many notable publications in the last decade.