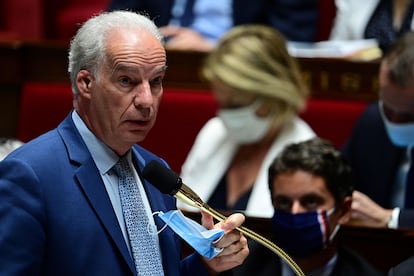 The French Minister for Small and Medium-sized Enterprises, Alain Griset, resigned this Wednesday just after being convicted of having hidden data in the declaration of assets that he was obliged to do as a member of the Government. His department has explained in a statement that, upon resigning, Griset thanked French President Emmanuel Macron for the responsibility he had entrusted to him in July 2020.
Just two hours before the resignation was made public, the Paris Correctional Court had sentenced him to six months in jail exempt from compliance (he will only go to prison in case of recidivism) and three years of disqualification from holding public office.
The judges consider it proven that, voluntarily, Griset did not disclose part of his assets, as is the obligation of all members of the Government when they take office. In his case, they reproach him for having concealed a savings plan in shares worth 171,000 euros, as well as other holdings in companies such as the Française des Jeux lottery company and the Natixis bank.
The court has emphasized that the former minister had decided "to conceal a substantial part of his assets" with a "real will to conceal." The omission, the magistrates have pointed out, was quite "significant", because the hidden amount represented "7% of assets" and "65% of bank funds" of Griset.
The convicted man's lawyer, Patrick Maisonneuve, has announced that he will appeal the sentence, although he has shown his joy that the sentence is less severe than the request of the Prosecutor's Office. Last October, during the trial, the prosecutor claimed a sentence of ten to twelve months in prison on bail and three years of disqualification from holding public office without bail, which would have automatically deprived him of the exercise of his public functions.
The portfolio of Small and Medium-sized Enterprises will be assumed from now on by Jean-Baptiste Lemoyne, already Minister of Tourism, French Abroad and the Francophonie, has announced the Elysee. Lemoyne will reconcile the two. During a visit to the city of Vichy, Macron declared himself "very sad" for Griset and highlighted the "excellent job" he had been doing and how he had "assumed responsibilities" by resigning.
Join EL PAÍS to follow all the news and read without limits.
Subscribe
Griset is not the first member of the Macron governments to leave office due to legal proceedings. A few weeks after arriving at the Elysee in May 2017, the incumbents of Justice, François Bayrou; of Defense, Sylvie Goulard; and for European Affairs, Marielle de Sarnez. All three were indicted on suspicion of having been involved – when they were MEPs – in fictitious jobs as parliamentary assistants.
The current Minister of Justice, Éric Dupond-Moretti, is also accused of having allegedly taken advantage of that position to settle accounts with magistrates with whom he had been in conflict when he was a lawyer.
Follow all the international information at Facebook and Twitter, o en our weekly newsletter.



elpais.com