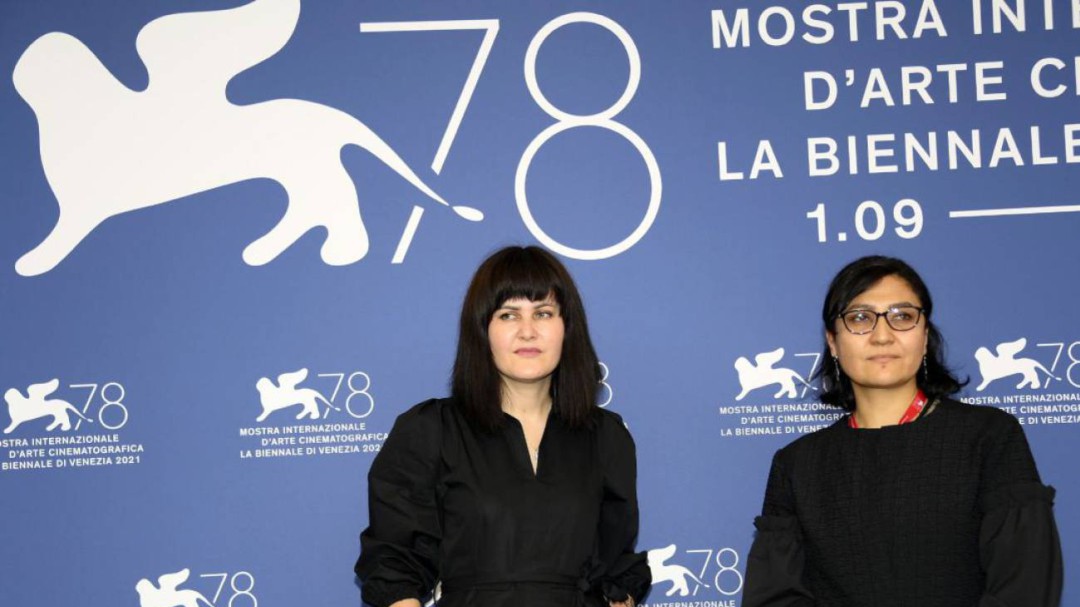 Working in Afghanistan, being a filmmaker, writer, painter, was never easy due to the endemic corruption that corrodes all its state structures, but the artists persevered without means and sometimes without light and with countless bureaucratic demands. After several invasions, the Afghan cinematography seemed to raise its head, but on August 15 everything was cut short. The Taliban seized power and millions of Afghans tried to flee to the country. Many succeeded, like the director Sahraa Karim who did not hesitate to put images of that flight.
As the filmmaker who had less than an hour to pack her suitcase and run to the airport to escape, the rest of her most valuable belongings – paintings, photographs, furniture or any souvenir – have remained at her home in Kabul.
Other women belonging to the cultural industry, most of them actresses, are still in their country in hiding or putting their lives at risk. "Most of the filmmakers in Kabul were able to escape, but for example the actresses I have worked with are still there. We put their names and their families' names on the last flights, but when they had the opportunity to get to the airport there were explosions." Sahraa Karim said in an interview during the last Venice Film Festival, where she asked European cinema for help.
A few months have passed since the Taliban took power and things for actresses and for many women continue to be very difficult. For them, leaving the country is not easy, since it is complex to admit asylum for actresses, since most of the time a profession is not at risk.
To begin with, in international law there is no assumption of persecution based on sex to request asylum, but for reasons of religion, race or political ideas. In the case of our country, although the Spanish Asylum law includes persecution for reasons of gender as one of the causes, the norm does not categorize this possible cause of request for asylum at the same level as persecution based on race, religion, nationality, social group or political opinions. As Noor Ammar Lamarty, founder of Women's Rights by Women's Fight, explains to us.
"In the case of Afghanistan there is a lot of documentation on the lack of rights of women accumulated over the years, so this is not an obstacle. However, it is alarmingly paradoxical that there is a demand to wait and see how they kill, rape and they deprive women of their rights en masse for years and that this be documented in order to consider that other citizens of that same country can request asylum because they are women who were committed to their freedom and their emancipation, and for which they are now being persecuted " , explains the activist to the SER.
From the magazine of Womenbywomen they work for the evacuation of women who are still trapped and who do not have a high status like prosecutors or judges but who are also at serious risk. Many of them have appeared unveiled on television and are very well known. In trying to remove the actresses, the activists came across all the legal mess that makes it impossible to prove that these women suffer persecution for the mere fact of being so.
The situation of the actresses is critical. Many of them hidden until their situation improves and without being able to work. On November 22, the Taliban government ordered the cancellation of Afghan telephones and soap operas starring female actresses. Afghan regulations carry with them a list of eight religious guidelines, issued to the local media. Among them the use of the hijab. This was the first directive from the Ministry for the Promotion of Virtue and Prevention of Vice, a body created by the Taliban in September, shortly after the militant Islamist group regained power in the country.
The rule, which prohibits women from appearing in film and television, is a tremendous blow to the collective, which already had the media vetoed by the Taliban when they took power for the first time, from 1996 to 2001. Women in the performing arts they have always faced stigma in the country, but had made significant progress in recent years.
Content that shows body parts, female and male parts (for example, a naked torso), and comedy shows in which people are humiliated have also been banned. Leena Alam, one of Afghanistan's best-known actresses, explained the unthinkable of the situation: "Who would know better than me how dangerous it is to be an actress with the Taliban in power? You can't give me one more drop of fear than you can. I have already". That's what Alam, who currently resides in California, said in a speech to the Los Angeles Center for Writers.
All these movements agree with Noor Ammar Lamarty in requesting that the gender issue be a requirement for the asylum request, in order to help those women who are currently in Afghanistan. The method currently being used is to try to remove them through Pakistan, but the danger also exists there, since Afghan refugee women remain in dire conditions for a long time, waiting for the asylum application that is given in a trickle.
In Spain, activists have found support among Spanish actresses and filmmakers. In January they will organize a meeting of women to make visible the situation of their Afghan colleagues, as well as several documentary screenings that show the terrible situation of these women, waiting for International Law to protect them.



cadenaser.com
George Holan is chief editor at Plainsmen Post and has articles published in many notable publications in the last decade.