Happy Twelfth Night. He thought, like someone who thinks of anything, of the affection between Primo de Rivera and Lorca, of how many things they would have shared. A few verses in his head: If your mother wants a king, the deck has four: king of coins, king of cups, king of spades, king of clubs. Guillotining monarchs had always been a good idea: with a sharp blade to make those pure sahara phenomena of mirage disappear, to scrape stars without aurora, men without aura, dead in life. With Jacobin ardor to unfurl a nationalist, popular and exasperated flag; rising up, emerging from the trachea of ​​deformed consanguineous eunuchs, the banners hang well. The old king and the new king remembered the gentlemen whose houses their mother always cleaned, the houses, so many books on the shelves and so little affection. In a rich house there was always a lot of space and sometimes even parties were voted socialists. The defenders of the bourgeois system could afford to have very long corridors linking rooms between them; They no longer practiced any carpetovetonic eclecticism, nor were they able to decorate different rooms as if they were part of different times. A new and singular prevailed malaysianism As aesthetics, in two aspects: the poor – recently added, as a subcategory: of some time ago, among speakers of perverse neolanguages, the proletariat had been replaced by the precariat, that is, by the decaying middle class – had all the same furniture, to which they forgot to tear off the labels, capable of tracing its origin to some huge, very concrete and concreted IKEA building on the outskirts of Madrid; those who weren't poor — the sons of bitches — ordered their custom furniture, asked for designs, valued options, and saved money or even allowed themselves extra costs. The poor bought "Sparkle Girlz" Or any shit and the sons of bitches ordered their custom toys, designed sensory boards, took their children to Montessori schools; they wanted them to develop their intelligence, but above all not to mix with outcasts of very different kinds. He never believed in those myths. The light was a genetic, Spanish, race issue. Lola Flores saying that the brightness of the eyes is not operated; you can only make up the whites of your teeth. Unbearable arrogant cowboys, statólatras, believers in progress, dizzy from so many turns that his top made but always being the ones who pull the thread, happy, radiant, always families and never collectives, always conservative and progressive and never revolutionary, chameleonic, capable of going to bed being something and rising in its opposite, savers and lovers of waste, without the need for money, without the need for classes, without a soul, without life but apparently happy, absorbed, exhausted, scavengers of so much other people's work and of so many hands and bodies that they break every day. He declared war on them. No one would come today with their children to try the roscón de Reyes bought at the supermarket. If the military had any meaning, it was to be the voice of the mute, the shelter of the homeless.
"Tears, Santiago always thought, purge low passions (precisely because they resemble blood so much). They exorcise the real "
Come and try our roscón de Reyes. Let's spread the roscón, and with it happiness, and with happiness the country. There was no perversion in the corneas of any of the parents who would bring their children that day. Tears, Santiago always thought, purge low passions (precisely because they resemble blood so much). They exorcise the real. In the eyes of the parents who came, and it was for this that something could be worthwhile, gratitude was appreciated lighting up. They would not come if they had any other recourse. Would they eat something so disgusting if they could afford anything else? They didn't reject even the candied fruit slices, even if the green ones were the grossest. Long live the King of Spain.
As powerful as he had, he knew that his was not the majority opinion within the organization, so he had to live with those of others and learn to bend them. It had always been possible to make ideological diversity an organizational virtue. The Captain repeated it insistently: It doesn't matter where we come from if our goals are the same. With whom, other than her, did he trust? He knew that his three Wise Men were the Nation, the Republic and Socialization; the homeland, work, bread. In another era they would have wielded swords and hammers together. They concealed the too obvious displays of ideology and got rid of the usual symbols. Who had said this? We will not make our propaganda or achieve our victory at the cry of the outdated. You had to learn to live in hostile territory: when the reaction to something appears before the seed of the thing itself. Be common sense and be common sense of the people. Forward, people of freedom! Long live the uniform myths that can only be sustained in war, in violence! There is no violence in giving bread to those who arrive empty-handed, but there is mythological construction, and there is love. We are establishing community, she would say, and choosing those to her (the community, not to she: important the nuance) belong. We rebel against those who go to the mall to buy potatoes from Israel, onions from the other side of the world — literally: New Zealand — when we could once grow them locally. We detest beef nutrition from the Brazilian Amazon, which is no longer even a lung, one day it will be nothing, just fallow and death. We dream of another world in which we love each other, we love each other and we all fight together. They all had some minimal things in common, a few factors: they hated similar population specters, lived more or less similar routines, chose the same pets. No one in the entire organization had a cat.
The presence of cats – which are already considered a plague or invasion in places like Cyprus – was seen as the first symptom of degeneration. Its trinkets contain cereals, meats and animal by-products, oils and fats, mineral substances, by-products of vegetable origin, palm oil, oil of death. Dogs, on the other hand, protect from something: they are not pets or submissive, they are comrades, tools, shields or weapons; exactly like the poor, the outcasts, the starving, who then arrived with their children and saw gifts, food and an oasis in the building. Christian charity was an inspiration, but the importance was not neo-Catholic: if we control the flow of what is put in the mouthsaid the Captain, we will also control your aspirations, your desires, your goals and objectives, your collective vision of the world and of things. Whoever handles what someone puts in their mouth also handles their fingers, teeth, gums, jawbone and jaw.
I would have added: those who come to master dreams have even more power, the bond that a child can develop with objects. There was something genuinely exciting in how the Captain took them, in her arms or by the hand, to take them to Melchor, that is, to Juanma. The others didn't make too much noise as she called out — in turns — each one's name; they received a gift, posed for the camera, chose another from among all those available. Santiago forgot for a moment the force of repulsion that kept him away from many of those present. Emilio. Aitana. Hello, Aitana! We are going to take a photo, a photo and a gift, a photo and a gift with our flag in the background, our beautifully designed logo, a fortress and a Madrid and Spanish bear while you suck your thumb, or index finger, like who does not want the thing. The faces were familiar. The poor are multiplying, but those who already were continue to be so. The mechanism, once actuated, cannot be stopped without external intervention. Hello Gabriela! He supposed that everything had been worth it: who in that place was not momentarily happy to be infected by the happiness of others? You can take whatever gift you want, champ… but don't go take one of those fagots. Here, Tristan, run. You do not want? No he does not want. Do you like the horse? Bye! How old is Diego? I'm going to the balcony to smoke. Daniela. Is your name Daniela? Daniela! And how old are you? Have you been good this year? You have been very good. The best of all. What's your name? George. What team are you? Of Real Madrid. Ole! Well, you can take whatever you want.
He realized that also in his childhood he had been miserable: capital inoculates diseases like this, turns children into ungrateful, transforms poverty into a genetic matter, prepares for hatred and the worst and sadness. At the age of eight, on January 6, his father gave him a book, and a book is not worth the same as a toy, a book is worth nothing, if you buy it at Carrefour it is not even a distinctive sign of class. he turns around and folds over and becomes an embarrassment: he screamed and cried for not having gifts like the other children, for having to go to class out of class to "show off" a ridiculous green notebook. A parent wouldn't have to clean up the cemetery and smell like shit. He thought about whether the smell is also inherited. He watched the show for a while longer; He went out to smoke a cigarette while he waited for the end of the paripe.
"He did then what he would have liked someone to have done for him, when he was a child, and he wanted to take care of others just as he calculated that they should have taken care of him"
Let's point out some nuances. Santiago did not detest his companions so much, not excessively; their discrepancies, even with the bullies, had to do with small ideological disagreements, formal differences, the occasional miscalculation. She knew that he had been detestable, but there and then, seeing in the children little faces of joy, he supposed that that ungrateful spirit that was in his childhood could be redeemed by his present works. He did not identify himself with the most common feeling of misery: the one that leads someone to say that, since they did not possess something, no one else will ever have it, spreading their deficiencies to the entire world; he always remembered that envy was one of the seven deadly sins. Because of her bones rot. He did then what he wished someone had done for him, as a child, and he wanted to take care of others just as he figured they should have taken care of him. His project was not narrow, but extensive: a generalized expansion of the kingdom of heaven, its vast expansion across the entire surface.
It was a long time before the Captain came out onto the balcony. Santiago remembered his endless nights of conspiracy, two years ago; acts above words, ideas in the exact measure of their effects, the radical transformation of the world always ahead of speech and not vice versa. His figures seen from behind: the gauze on her ankle, with its permanent imaginary wound; the shield jackets he wore, the stretched and slender form, the territorial footprint. He thought of blackboards and calendars, of the controlled mathematics of those days, of the coups, the revelations, the narrative construction of the world. That night, as he saw how the Paseo de la Castellana was illuminated by the lights of the parade, while he contemplated the passage of some kings even more false than his own, he knew for the first time that all the script he had written could fail; he contemplated the possibility of someone ripping the baton from his hands.
They did not get to speak, because the Captain did not have time to greet effusively; Santiago threw away the butt, well consumed, and went back into the Castle.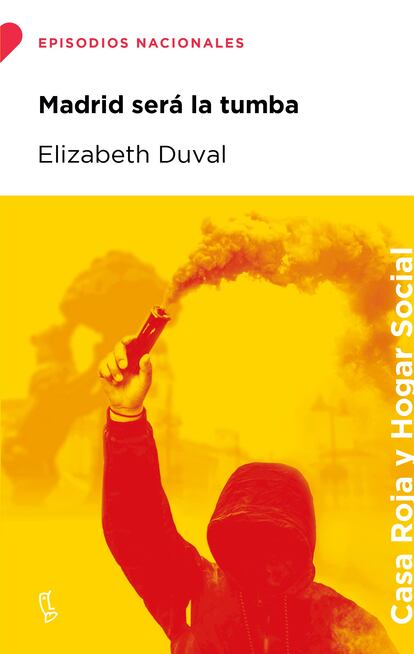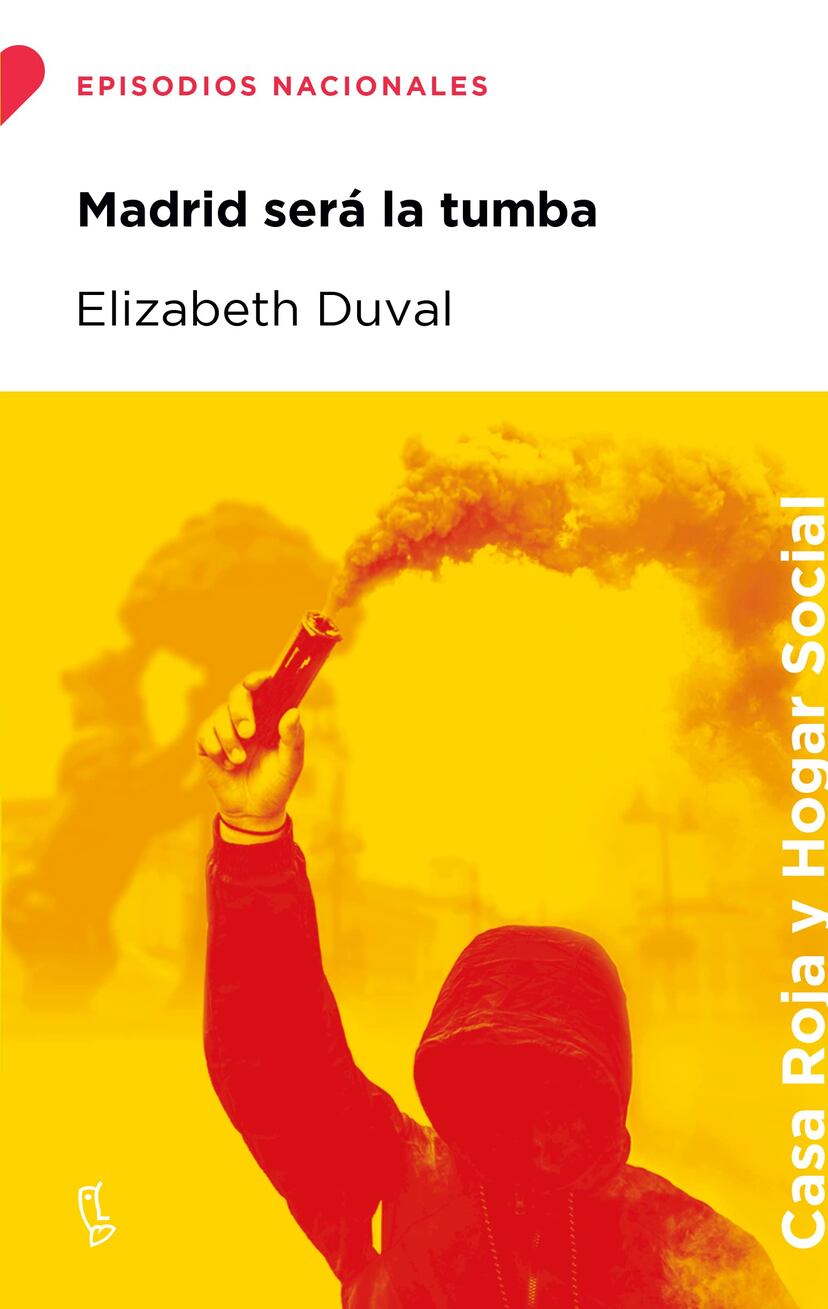 Elizabeth Duval.
Rag Tongue, 2021.
210 pages, 17.50 euros.
You can follow BABELIA in Facebook and Twitter, or sign up here to receive our weekly newsletter.



elpais.com