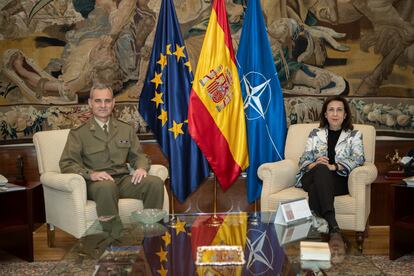 Spanish Major General Aroldo Lázaro Sáez will be the new commander of the United Nations Interim Force for Lebanon (UNIFIL), as announced by the UN Secretary General, António Guterres. Lázaro will succeed Italian General Stefano del Col, who is serving his mandate, at the end of February. The Spanish general will lead a contingent of some 10,300 blue helmets and 800 civilians from fifty countries, deployed in southern Lebanon with the mission of guaranteeing the ceasefire after the 2006 war between the Israeli Army and the Hezbollah Shia militia, facilitate the return of the population and the distribution of humanitarian aid and support the Lebanese Armed Forces. The mandate is for one year, extendable for another year.
This is the second time in 16 years that Spain has assumed command of UNIFIL, which it joined in 2006 and in which 17 Spanish soldiers have lost their lives. Between 2010 and 2012 the leadership fell to General Alberto Asarta, current Vox deputy. Since then, Spain has twice aspired to the command of the blue helmets without success, despite being (after France and Italy), the western country that contributes the most troops, 650 soldiers. Spain presented the candidacy of General Lázaro last summer, but the decision has been delayed, which led to fear of a new setback, but finally Guterres has appointed the Spanish candidate, after consulting with the UN Security Council. The decision is a sign of confidence in the ability of said general and of Spain at a particularly delicate moment in the region, where multiple interests and tensions intersect, according to military experts.
Lázaro is currently an advisor to the Ministry of Defense for defense and security matters and has previously been assigned to the Euroforce headquarters (Florence), the NATO High Availability Headquarters in Bétera (Valencia) and the Gúzman el Bueno Brigade. (Cordova). He has participated on three occasions in the Spanish Army mission in Bosnia-Herzegovina (under the UN, NATO and EU flags) and on three others in Lebanon, the last one leading the eastern sector and the multinational brigade that runs Spain.
The contingent in Lebanon is the largest of those that the Spanish Armed Forces have abroad, with more than 600 troops, but it will have to be reinforced to support General Lázaro with officers from the General Staff, staff from the General Staff and, probably, helicopters in the headquarters of the United Nations mission, located in Naqoura, in the southwest of the country.
UNIFIL is the only UN operation that also has a naval component, which patrols in Mediterranean waters off the Lebanese coast to prevent arms smuggling. Until now, a total of 15 countries, including Spain, have participated in this naval force, with about 850 sailors.
What affects the most is what happens closest. To not miss anything, subscribe.
subscribe

elpais.com
George Holan is chief editor at Plainsmen Post and has articles published in many notable publications in the last decade.