In the heart of Katwekera Village, in the Kenyan suburb of Kibera, between rows and rows of mud houses stands a unique and magnificent structure: the splendidly lit building of the Kibera Hamlets Primary School, founded by the community organization of the same Name. The center, which has cared for more than 2,500 young people between the ages of seven and 26, 60% of whom are orphans and 20% HIV-positive, represents a beacon of hope for many vulnerable children.
In Kenya there is no current data on the number of orphans there are; the closest thing is a 2006 report from the University of Nairobi that estimates about 1,780,000. Given that 56.1% of foster families live below the poverty line, it is evident that they do not have adequate and stable income to meet the needs of children in a constant and sustainable way. With this in mind, in 2004 John Adoli launched the school, fully run by volunteers, to serve orphaned and underprivileged children. But in 2012, the school, originally built from sheet metal, caught fire due to illegal electrical connections. "It was a really difficult period for us. We were studying in full sun and had to send some students to other schools in the surroundings, which meant that we needed money that we did not have to pay for school fees. I knew that you had to get help ", recalls Adoli, director of the center.
By then, Adoli had struck up a good friendship with José Selgas, a Spanish architect who had been introduced to him by Iwan Baan, a Dutch photographer who had visited the school and had seen that there were no drains, toilets, and no adequate roof to protect from the frequent rains. Selgas working for Second Home, a London-based company that tries to help people create new jobs, as well as support non-profit organizations, had made it clear that he needed help to start a new school. "There was a unique connection between the director and our architect. At the time, John was trying to raise funds to help build a school in Kibera, so we decided to get deeply involved in the project, "says Robin, co-director of Second Home.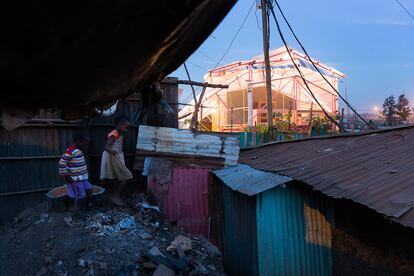 The Kibera project was originally designed and funded by Denmark's Louisiana Museum of Modern Art, which wanted a pavilion for an exhibition of African art. "The pavilion was set up for a couple of months at the Louisiana Museum, and it was used as a gallery for people to understand Africa and connect with it," recalls Robin. But after measuring the plot where the Kenyan suburb school was located, Selgas and his partner Lucía Cano intelligently designed the structure in collaboration with the architecture studio Helloeverything and Abdulfattah Adam, keeping in mind the future Kibera Hamlets school.
After this, Second Home paid for the disassembly of the structure and its transfer for its final installation in Kibera, in Nairobi. The new school arrived in Kenya in 2016 from the hand of the SelgasCano duo and with the incorporation of a team of 14 young people from the suburb who had to be trained first to assemble the building in about three months. Now, the new educational center is two-story and more stable, with running water and electricity from a legal connection. "It is a unique structure. There is enough light, so we do not have to turn on the electric, the children can breathe fresh air, since there is very good ventilation, and it is built with scaffolding material that retards the action of fire. In the event of a fire, the damage would be minimal ", praises Adoli.
The quality of education has improved dramatically thanks to volunteer teachers, experts in different subjects

John Adoli, director of the Kibera school
Currently, the school has more than 150 students, all orphans or from vulnerable families. When the facilities were assembled, they encountered a lot of interference due to the fact that it is very open. The residents of the neighborhood would stand next to her or walk around observing the structure, which made it difficult for the students to concentrate, but now everyone has gotten used to it. "At the beginning, when the pavilion was installed, there was a lot of excitement. It was beautiful to watch, especially at night. It was a landmark in Kibera. It was difficult for the students to sit still and listen to the teacher, "recalls Adoli.
The director believes that the quality of education has improved dramatically thanks to the volunteer teachers, who are experts in different subjects. "This benefits our students in terms of specialization and professional trajectory, and changes the way they see their life. Volunteers choose which activities they want to participate in: teaching primary school in the morning, or as theater or dance teachers in the afternoon. The volunteer period can be a week or a month, depending on the schedule of each one ", he adds.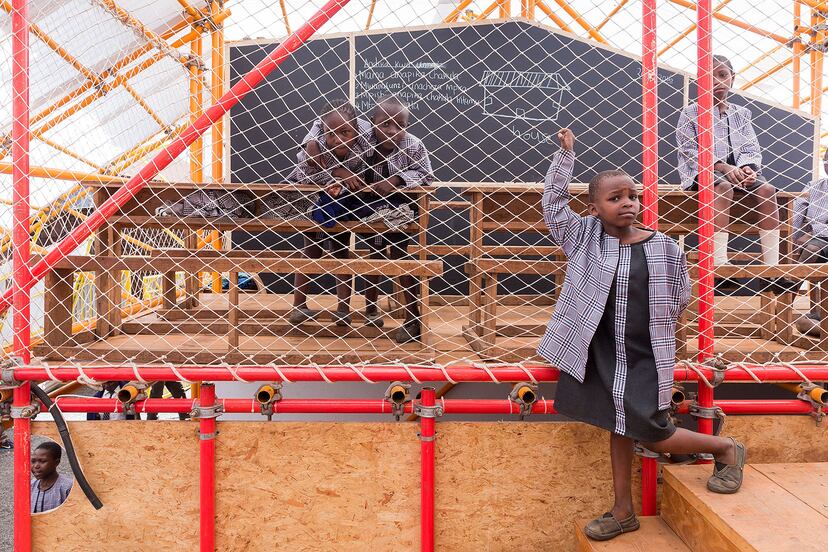 Linah, a student at the University of Nairobi, works every day from two in the afternoon as a volunteer teacher. The young woman considers it very unfair that these children, who barely have material to learn, also lack teachers. "Since I read about college, I knew that I wanted to make a change. I wanted the Hamlet children to have a fair chance to get an education, like all other Kenyan students, "says the volunteer.
According to Robin, they continue to help the school by raising money each year to help pay for books and general maintenance. "It's a very important long-term relationship," he says.
The constant support of the guardians of the underprivileged children and the community has ensured the success of the project. Students also contribute by participating in arts, crafts, and circus activities to earn income for books and other school supplies.
"Actually, I don't do much considering that other people sponsor these children to get the higher education they need. I know what it is like for the community and benefactors to fund someone's education. That is why I supervise this project. I want to transform as many orphans as I can; I want them to know that they have a future. I also want to ensure proper, sustainable and lasting management for this project. Even when I am not there, the school must continue ", concludes Adoli.
You can follow PLANETA FUTURO in Twitter, Facebook e Instagram, and subscribe here a nuestra 'newsletter'.



elpais.com
George Holan is chief editor at Plainsmen Post and has articles published in many notable publications in the last decade.