He did it in life, on multiple occasions, so little (nothing, really) was going to care if it happened again almost three years after his death. Karl Lagerfeld could have everything — and everything, even repeated — but he always understood that what was important was not possession, but the manifestation that he made of his identity through what he possessed. For this reason, with the same carefree attitude and speed with which his guild discards styles and trends, he used to part with what he treasured. "I love to collect, but I don't lose my mind owning anything. I am a person of fashion, I am stimulated by discoveries, discovering things, but in the end this is nothing more than accumulation and I want to get rid of it ", he confirmed when he disposed of his collection of French antiquities from the 18th century, via Christie's, in 2000 Two decades later, what remains of his vast movable property has begun to be awarded to the highest bidder at Sotheby's.
From 10 am on Friday, November 26, it was already possible to bid on the first lots, those numbered between 1,000 and 1,182, on the website of the British auction house. They are the most accessible, but also prosaic: almost twenty drawings by Georges Lepape, one of the artists who illustrated the fashion magazines of the early twentieth century, which, at the time of writing this text, are paid between 800 and 4,200 euros; modular trays by the architect Zaha Hadid for Alessi, from 2009, which now multiply the 100 euros of their estimated price by 12; a letter from Victor Hugo to Alphonse de Lamartine, dated 1848, which goes back to 1800; a 2016 Anthony Vaccarello Saint Laurent velvet tuxedo jacket that could fetch 4,000; a small series of three drawings in which the German designer portrayed his controversial lover in the seventies, Jacques de Bascher, who is around 7,000; and even a white worker's helmet that costs 500 euros. The bids of the first bid online They close at 1:00 p.m. this Monday, just as the second part of this auction type begins (until December 17), with a new selection of personal items – clothing and suitcases, for example – and design originating from the creator's residences in Monaco and Louveciennes.
Sotheby's has cataloged around 4,000 items, a task in which he has spent more than three months. To give them an exit, the auction house has had no choice but to convene up to five sessions: the two referred digital sessions and another three face-to-face. The first of these began on Friday 3 at its headquarters in Monaco and will continue – although it had to be suspended due to certain technical problems for a few hours – until this Sunday, to be repeated later in Paris, on December 14 and 15. The third will be held in Cologne, but already in March 2022. There is much identified as'memorabilia'including those vaunted 400 iPods (each with their own playlists, courtesy of Michel Gaubert, the DJ who put the soundtrack to the Chanel and Fendi shows in Lagerfeld's glory days as creative director of both brands), the Drained Hedi Slimane garments for Dior Homme for which the German lost 42 kilos, a Rolls Royce Phantom and a Cullinan, a set of 50 sheets and another of 270 pillowcases, dolls in his image and likeness and the whims with which he pampered Choupette, his famous Burmese cat. You can even bid on the Château Lafite and Châteu Mouton in the bottle 'magnum'from their cellars. Also for countless pieces of furniture and industrial design with firms such as Le Corbusier, Gio Ponti, Liaigre, André Sornay, Bruno Paul, Erwan and Ronan Bouroullec or his favorite, Marc Newson (his wife, Charlotte Stockdale, worked as a stylist for him at Fendi).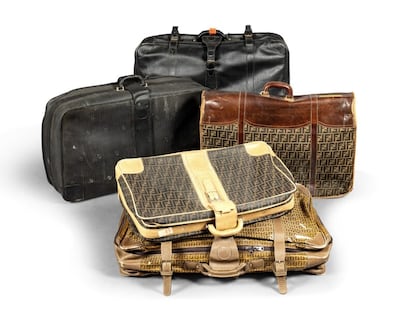 And then there are the works of art, most contemporary, that he acquired in galleries like the Parisian Kreo: sculptures by Jeff Koons, Yayoi Kusama, Konstantin Grcic and Martin Szekely; paintings by John Baldessari, Takashi Murakami, Fauconnet … All from the rooms of the nineteenth-century mansion he had in Louveciennes, a stone's throw from Versailles; his magnificent rooms on the 19th floor of the Monegasque Millefiori Tower and the apartment and work studio he bought in 2008 on the Parisian rue des Saint-Pères where he spent much of his time. They were not their only homes, which also had flats in Rome and Berlin, an attic in Monte Carlo, the castle in Brittany, the town of Biarritz and the neoclassical case of Grand Isle, in Vermont, (United States). What is said to be a genuine Renaissance man – apart from a designer, he was a photographer, illustrator, gallery owner, art curator, bookseller and editor -, Lagerfeld took care of equipping / decorating them, giving free rein to his omnivorous collector drive. He did the same for the Milanese Grupo Memphis as for the Louis XIV style, the 'chic'A la Weimar and the exotics of 1900. "I can imagine all kinds of pasts that I have never known," he said. To jump from one period to another, he auctioned. He started doing it in 1975, when he put his Art Deco collection under Drouot's hammer. He waited until 1991 to get rid of his Memphis obsession in Monaco. And he repeated up to three times in 2000, releasing decorative and pictorial ballast between New York, Paris and again the Monegasque principality. Without sentimentality, it would be missing.

elpais.com