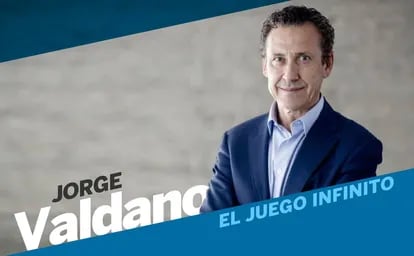 "He's a great guy," he told me. "It you know okay? "I asked. "No," he concluded, to my bewilderment. Thus continued the dialogue with a top-level coach friend of mine, who called another top-level coach a "great guy". We were talking about superstitions in football and I thought we had gotten off the subject, but no. We were going a little further. Reaching a kind of ethical dimension of superstitions.
So far we had said that we all need to hang insecurities somewhere and that superstitions are an effective tool. It does not matter kissing a picture, entering the field with the right foot or respecting any ritual that, by repetition, calms us down before a match. I had a partner who killed an insect before going out into the field. One day he killed a spider before a match, scored two goals and thought he had found the secret. A sacrifice like those made by many ancient civilizations to pay their tribute to the gods. This was the same, but with shoes. There wasn't always a bug on hand, so she brought a substitute bug in a small vial to matches. No player is free from these burdens and there are coaches who go so far as to turn the dressing room into a pagan church before a match.
Superstitions are generally encountered by chance on the road. One day a tremendous triumph arrives and we understand that it was for wearing, for example, a scarf. Thus, the scarf becomes the undisputed holder of the clothing in all matches, even if it is forty degrees. That is the primary mechanism that is set in motion for ridiculousness of all kinds that, believing natures, make the undisputed secret of great successes. Failing that, to scare away misfortunes.
Let's go back to the beginning. One day my coach friend took on the "big guy" team. Before the game started, his colleague walked up to his substitute bench and greeted him warmly, like the "big guys" do. My friend lost the match. They played a second game and the ritual was repeated: the "big guy" approached my friend's bench, greeted him, and won again. There was a third game, but this time my friend, already chastened, rushed to greet him, reversing the ritual and said: "Today I win you." Since I already noticed that repetition makes vice, they both knew what they were talking about. Indeed, my friend won.
Soccer wanted the two teams to reach a final in the same season. As it happens anywhere, a life or death match in which fear is felt. And fear is not just anything. Before the game my friend entertained himself by giving the last instructions. Coaches believe that you have to say it all so that, in the event of losing, they don't have to add guilt to frustration. But the critical thing is that he committed the recklessness of delaying his exit from the locker room. When he stepped onto the field, the magnitude of the tragedy came to his mind. Surely his rival had already beaten him and would be waiting for him on his bench to greet him. By the force of the omen, he was resigned to the scene. But what he found was something unexpected. Unheard of by shrewd football standards. His rival was waiting for him in a place equidistant between the two banks, greeted him with the usual cordiality and said: "In a final it is not good to be an advantage." This story is not interested in the result of the match but the nobility of the episode. Can you believe that when my friend told me about it, I was emotional? I only managed to say: "What a great guy!"
You can follow EL PAÍS DEPORTES in Facebook Y Twitter, or sign up here to receive our weekly newsletter.
Sign in to continue reading
Just by having an account you can read this article, it's free
Thanks for reading EL PAÍS



elpais.com