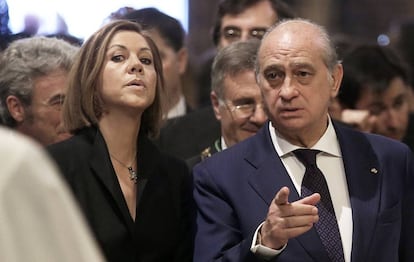 The caso Kitchen He goes into a little paralysis. The Court of Instruction 6 of the National Court has communicated to the parties that a computer failure in the system has prevented the Criminal Chamber from processing the appeals filed against the indictment of those involved, as confirmed by legal sources. The magistrates of said body are waiting to receive the allegations to resolve, among other questions, if they confirm the decision of the magistrate Manuel García-Castellón to seat Jorge Fernández Díaz, former Minister of the Interior; or if they again accuse María Dolores de Cospedal, former secretary general of the PP.
Operation Kitchen was hatched in the Ministry of the Interior in 2013. According to the summary, the Police spied without judicial control on Luis Bárcenas, former treasurer of the PP, after EL PAÍS published the Bárcenas papers and when the person in charge of the finances of the conservative party was preparing to pull the blanket. The instruction emphasizes that the alleged objective of this irregular deployment was to snatch compromising documents from high-ranking members of the formation that he could still keep and thus prevent them from reaching Judge Pablo Ruz, who was then investigating the crime. Gürtel case and box b of the formation.
In a writing, advanced by The newspaper of Spain, the court informs that "a technical problem in the Minerva processing application prevents the computerized execution of the process of initiation of appeals". This incident "is currently pending resolution," continues the document, which records the "serious damage" that this situation can cause "in the course of the proceedings."
The examining magistrate of the caso Kitchen, Manuel García-Castellón, closed the investigations last July and prosecuted the political and police leadership of the Ministry of the Interior of the first Government of Mariano Rajoy (2011-2015). Among them, former minister Jorge Fernández Díaz; Francisco Martínez, former Secretary of State for Security; and six commissioners, including José Manuel Villarejo, and Eugenio Pino, the chief operative of the Corps with the Government of Mariano Rajoy. But both the defenses and the accusations, including the Anti-Corruption Prosecutor's Office, appealed that decision, considering that the investigation had been concluded prematurely or erroneously.
The judge, for example, circumscribed all responsibility for Kitchen to Interior and left out the leadership of the PP, thus dismissing Cospedal. However, the public ministry insists that the former secretary general "intervened" in the operation together with her husband, businessman Ignacio López del Hierro, with whom she participated in the recruitment process as a confidant of Bárcenas' driver, Sergio Ríos. Among the indications used against her are audios, Villarejo's agendas and the communication with the commissioner.
What affects the most is what happens closer. To not miss anything, subscribe.
Subscribe

elpais.com