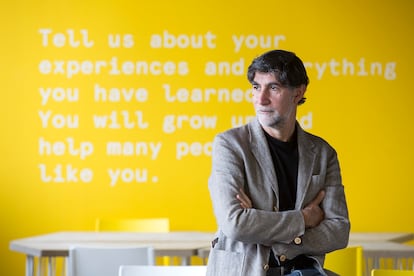 In 2012, BBC journalist Sylvia Smith sent British musicologist Peter Russell a paper score and its performance in audio. I was asking for his opinion. The expert did not know the author, but placed him in the first third of the 20th century, pointed out his French influences and even pointed out that he could be a disciple of the Austrian composer Alban Berg. He also said that it was "artistic and charming", but what Russell did not know is that the music was much more recent: it had been written that same year and by a computer, christened Iamus.
Its ideologist was Francisco Vico (Barcelona, ​​1967), professor of Artificial Intelligence at the University of Malaga (UMA). That job was a bombshell and showed that machines could be creative, but the researcher and teacher ended up exhausted, so in 2014 he distanced himself with an annual stay in Boston (United States). There he understood that he had to add a social and transformational component to his work. The following year he returned to the Costa del Sol to focus his efforts on projects with a common goal: computer literacy, especially among children. "Only 1% of the Spanish population has notions of programming. And it must change: programming is today almost as important as reading and writing ", he points out.
Already become one of the world references of Artificial Intelligence, Vico spent his childhood in Lucena (Córdoba) in love with biology. Living matter was his passion until one day a ZX Spectrum crossed his path. It was in the window of a bank, which gave it away for a fixed-term tax. He spoke with his father and accepted. Days later, he had it at home: he plugged it in, opened the instruction book, and started programming. A friend told him that what he did was taught at the University of Malaga, and there he went to become a computer engineer in what was then a three-year diploma. "There I realized that I was interested in the computational part of biology: extracting the behavior of life in mathematical formulas to simulate it on a computer and make it useful," he says. At the Malaga university he did his thesis on mathematical modeling of the brain and worked on the application of bio-inspired algorithms to the industrial field, such as the initiative developed together by Alcatel for the automatic design of telephones. For his postdoctoral thesis he traveled to the United States, where he carried out a biomimetic vision program with the air forces.
He returned to Malaga to set up the Biomimétic Study Group, where he has worked on numerous projects. The one that led with European funding to rebuild the embryonic development of the zebrafish stands out, although the most recognized was Iamus, whose compositions were recorded by the London Symphony Orchestra and was selected as one of the 100 scientific advances of 2012 by Discover Magazine. attracting the interest of Google. Now this specialist shares his time between the classes of Theory of automata and formal languages ​​of the Higher Technical School of Computer Engineering of the UMA and the programming workshops for children in neighborhoods at risk of social exclusion together with the Naim association. At the same time, it has developed, through the emerging company Digitomica, the Toolbox.Academy platform, a tool to teach minors to program with the support of the Gaia cluster of Basque companies. It will soon launch TX10, a 10-hour programming course that aims to reach six million undergraduate students across the country, for which it will create a chair of patronage at UMA.
Learn to code at school
"I am very aligned with his determination to bring programming to schools," says Bernardo Quintero, founder of VirusTotal, a company acquired by Google. He shares with Vico an early vocation thanks to another Spectrum that marked his life. "I went from being a consumer of technology to a digital creator," he recalls. It is just what the professor insists on. "We cannot deprive children of communicating with a machine. We must give them the opportunity to be creators and not mere consumers of technology ", he says. To facilitate this, in 2015 he created the Toolbox.Academy prototype, which two years later was tested by 1,200 primary, secondary and high school students from 30 Andalusian schools. It worked. And today it has expanded to 550 educational centers throughout Spain, where it is used by almost 25,000 students. The number will grow in January because the schools and institutes of Ermua (Vizcaya) will use the platform in 2022 and because the Malaga City Council has also been interested in facilitating it in the city. In addition, anyone can register on this platform -with versions in Spanish, English and Basque- through its website and teach their children to program. Easy to use, it introduces 15 computational concepts in 15 training modules that are supported by the 30 chapters of the audiovisual series Txac Planet, broadcast on EITB and Canal Sur.
Vico has often wondered about the difficulties of teaching programming in class when children almost spontaneously learn to speak, something much more complex. "The key is that the computers themselves teach their language to children. That, in addition, would solve the lack of specialist teaching staff ", they respond. Adapting technology to minors "improves communication, interest and learning," says the professor, convinced that programming should be a compulsory subject in schools: "A child should leave primary school knowing how to read, write and program "He adds, because – he insists – it is not only useful for future computer scientists: also for journalists who need to classify information, legal professionals who need to analyze jurisprudence in tens of thousands of sentences or biologists who work with genetics.
Under this idea, fifty people residing in municipalities with 20,000 inhabitants of the Malaga province have embarked on the latest project promoted by the professor, in this case, together with the Naim association and the Malaga Provincial Council. It's called the Rural Code and it focuses both on teaching programming and offering digital methodologies and tools. His goal is for anyone to be able to develop a business from his hometown —whether it be computer software creation, graphic design or any other project— for which he has also involved local companies. "It is a complementary training that allows offering alternative professional profiles to the traditional ones of those territories. And it is a great example of the social impact of technology, of how it can help solve social problems ", underlines Elvira Aguilera, a technician from the Naim association. The course is organized in such a way that the participants "learn to learn". "We want them to be in a position to ask anything online, to solve it there. Once they understand how it works, they will be able to learn everything on their own, "concludes Vico, as restless as he is visionary.
You can follow EL PAÍS TECNOLOGÍA at Facebook Y Twitter or sign up here to receive our newsletter semanal.



elpais.com