There are 83 families who have something to celebrate and have decided to tell the press about it and end the story that the media only tell bad news. "We want to say that we have won, well I do not want to say it like that because I do not want there to be winners or losers either. That we have reached an agreement and we have sat down in Blackstone to negotiate with some neighbors that the only thing we asked for was a fair rent and not abusive. I paid 700 euros and they raised me to 1,200 euros, it was a real madness ". The one who speaks like this, with a constant smile, is Jose Moreno, one of the residents of the urbanization that Fidere (Blackstone's Spanish subsidiary) has on Juan Gris street in Torrejón de Ardoz.
In total 83 families from Torrejón (47), Carabanchel (12), Vallecas (16), Tres Cantos (5), Canillejas (1), Móstoles (1) and Colmenar Viejo (1) have reached an agreement with this investment fund , popularly known as vulture funds, so that the increases that were raised two years ago in their rents are finally rises only linked to inflation.
All these homes are public homes that ended up in the hands of Fidere who became the landlord for these tenants. From there, the families denounced in 2019 that they wanted to make "abusive increases" in rent, in some cases even doubling it. They began to organize and with the help of the Union of Tenants and Tenants of Madrid they began to hold protests, to fill the facades of their homes with banners denouncing the situation, they got the support of the Ombudsman and even the Special Rapporteur of Nations. United on Extreme Poverty and Human Rights, Philip Alston, who visited the families of Torrejón.
Eviction letters
All that time it was not easy. The letters with the eviction notice arrived at their homes. David Asenjo leaves the portal of his house in Torrejón and tells what his wife, his eight-year-old son and he went through during the two years that the process has lasted until the agreement. "I have had a very bad time, with a lot of stress and with the fatal family because it changes your mood and you are irascible. It is David against Goliath. We are numbers for them, they care zero about the feelings of each one and the families that you are destroying. They say, number five goes out and, maybe, five is a family with three children and the mother is unemployed and you destroy a home. "
Toñi Penín comes down from his house, because Jose, the neighbor who never loses his smile remembering that they have obtained "fair rents", has asked him to tell his story. "We would go out at night to put up signs to prevent a neighbor from calling the police and the janitor would remove them in the morning. They even bought a special product to remove them earlier. The signs said 'vultures', there were painted vultures and people when he passed by he supported us. We were like that all the time except during confinement. I have sewn thousands of banners so that they are not carried away by the air, "recalls this neighbor.
She and her husband agreed to a home in 2015. Then her rent was 710 and they were going to go up to 1,200 euros. He says that if he had "removed himself from many things" he could pay it but that "I do not have to give away all the hours that my husband has been working, with what it has cost him until his retirement so that these gentlemen take advantage of his work" .
The celebration with wedding request
Mar Triguero and Rada Pozuelo have two little girls who were their biggest concern when Fidere told them that from the 650 euros they paid for rent they were going to go to 1,200. "We entered with conditions and suddenly the rent was doubled. There were moments that were hard and you wanted to throw in the towel," they say almost in unison. But, all that has happened and now all these neighbors smile when asked how they are today.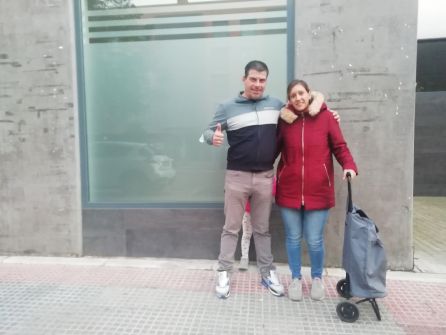 "It was a life without living and now that I have signed I am more relieved. No one is going to come and tell you that you have to leave the apartment," says Patricia Aparicio from the living room of the house of Jose and his girlfriend Eva Cordero. The new contracts, for seven years, have been signed by these families since spring and this summer they even held a celebration. So much was the happiness that Eva confesses what she said to Jose: "I asked him to marry a speaker in front of everyone (laughter), because of the emotion, then I thought, my goodness, what am I doing (keep laughing)". And what did Jose answer? Well, Toñi, who also in the living room of the house, says that he knelt down and said yes. In the end everyone laughs.
The class action lawsuit
From the Tenants Union they believe that the collective lawsuit that was made against Fidere has been what has led to the extra-judicial agreement. "I think we had them very singled out and that lawsuit was an important point because there could be a judicial sentence and it could turn out very badly," explains one of their spokesmen, Fernando Bardera.
As a result of that lawsuit, the courts were paralyzing the eviction orders until it was resolved. "That already meant that Blackstone during all that time was going to have their investment paralyzed because they were not going to be able to kick out the neighbors and make new contracts with others or sell it. In the end, they have lowered their heads and hired a mediator company to negotiate "Adds Bardera who wants a conclusion to be drawn from all this:" When you get people to think collectively and not individually, you can achieve many things. This is doing politics and not just what appears in Congress, it is think collectively and intervene in your life to decide how your city is going to be, your day-to-day life and how your neighbor's going to be ". Fidere has declined to answer questions for this information because it considers it a matter of Data protection policy.



cadenaser.com