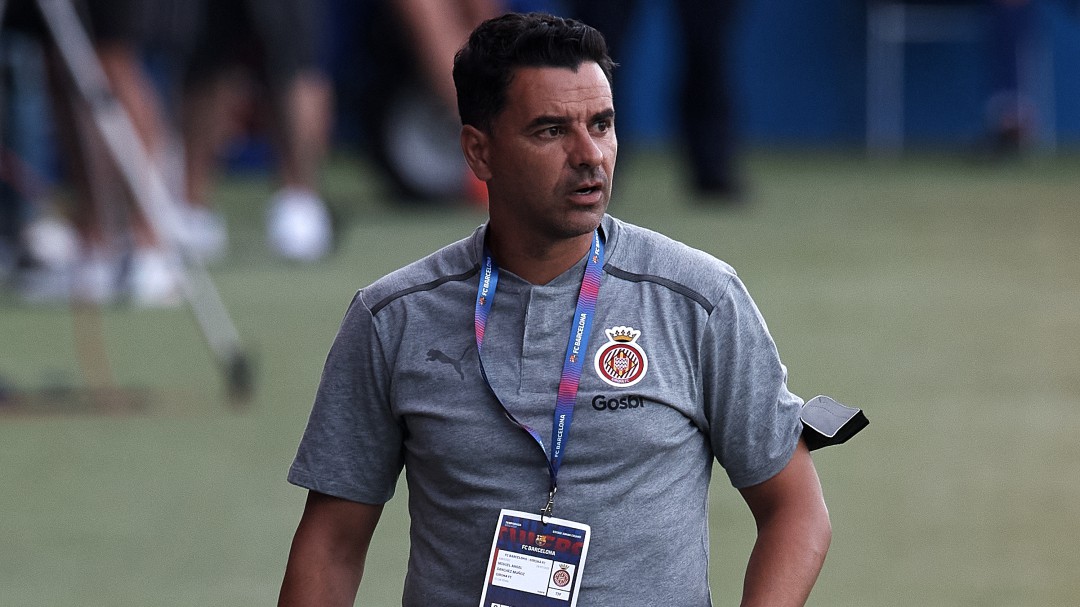 This weekend the Copa del Rey matches are played, and Girona-Rayo Vallecano is played, which will be very special for the Catalan team coach. Michel, former player and coach of the Madrid club, plays this weekend against what has been the club of his life and we have talked about this with him at SER Deportivos, with Francisco José Delgado.
What is it for you to direct the opponent who has to beat the Rayo?
It's special, but hey, we've been leaving Vallecas for a long time and I'm very happy here. For me it is a special match, it is a very attractive Cup match for everyone.
Is this Ray similar to the best that you enjoyed?
He is a revelation team in LaLiga, without a doubt. What they are doing is brutal: not losing any game, drawing only two … They are having a fantastic season and I am very happy for many people there who deserve it. It is the revelation team of LaLiga and I hope they can reach Europe, that I was lucky enough to play in Europe with Rayo. It would be a historic milestone.
The same is the rival that you have to prepare the least because it will be one of the teams that you have seen the most this season …
I've seen them a lot, yes. You have to prepare it, because in the end in the day to day I pay more attention to the second-class teams and the games that you have to face, but I follow them a lot. I had never analyzed them in depth, but yes, well, there are many players that I know and it does not surprise me. I have an idea of ​​what I am going to find and how difficult the game is going to have.
And what is the Lightning going to find?
Well … the players have already absorbed the idea. They are very confident and we have found more than the system the formula that everyone can give their best performance and that means that, if you feel comfortable and see that what is asked goes well and the team gets good results, it is good news. We will be a brave team, without pressure. Winning this game is more of Rayo's obligation. We have to enjoy a tie with our people, a single match … It will be very nice.
I speak with journalists there, with people around Girona, and you have the environment in love. I imagine you are comfortable there too.
Since I arrived. What the club is … you breathe football. And in bad times they also talked about football. That, for me, is key. Then the city … well. I have the affection of everyone, the reception was fantastic and I have tried to integrate as quickly as possible. The city is beautiful, the Costa Brava … I lack family. But with this that the results send you, you cannot travel with the whole family, it is the greatest handicap. But I am very well and very happy in Girona.
Are you starting to speak Catalan yet?
Yes, yes, I already loose some little thing. Necessary. It is part of my education. This is how my parents have taught me in the neighborhood, in Vallecas. It is a neighborhood that attracts many working-class people who feel at home from the first moment. It seems to me that the best way to integrate myself into my environment is to be able to speak Catalan and whoever wants to understand it well and whoever does not … seems short-minded to me.
Tell me the truth. Would winning the Lightning give you a weird feeling?
I am rayista and I will not hide it. It's a weird matchup for me. It already happened to me in Huesca and it surely happens to me now. It is a game to enjoy. In Girona-Rayo a few months ago they were risking their lives, promotion. Now it's a beautiful tie and I want to enjoy it. I always wish Rayo the best, I am part of the neighborhood and the club, I feel like one more there. It will be strange, but here I am enjoying a lot, Girona, its people and the club and our people need a joy and hopefully it will be through the tie.



cadenaser.com
George Holan is chief editor at Plainsmen Post and has articles published in many notable publications in the last decade.