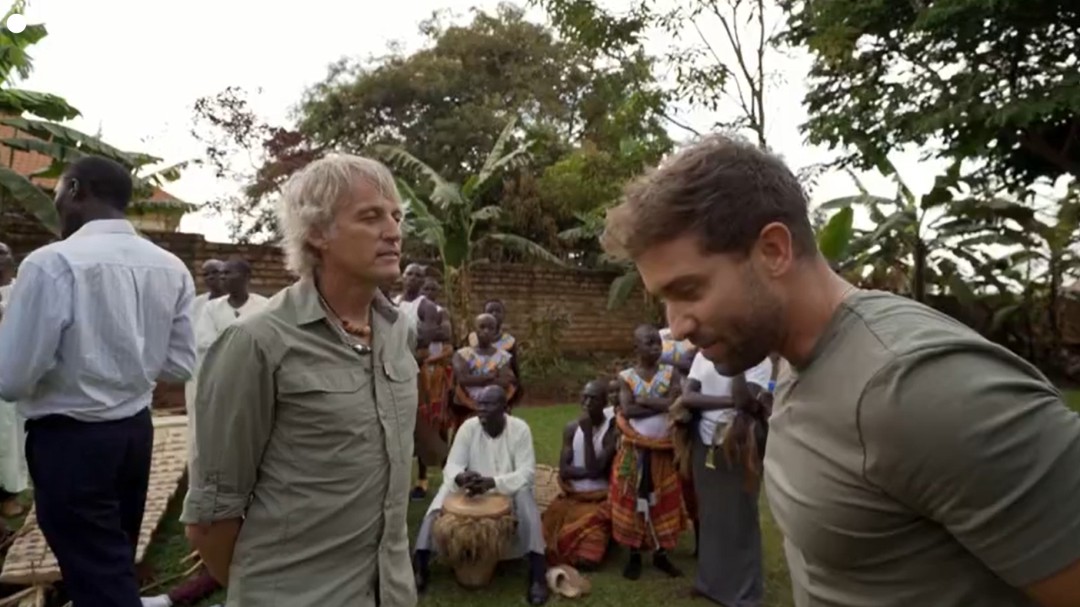 Planet Calleja has premiered its new season this Monday with an exceptional guest. After traveling with personalities like Miguel Ángel Revilla or Marivel Verdú last year, Jesús Calleja has entered the heart of Africa with the Malaga singer Pablo Alborán to discover some of its secrets. A journey in which they have visited Lake Victoria, Queen Elizabeth National Park or Lake Katwe. Also other corners such as the Kibale National Park, where both have been able to see chimpanzees in the wild.
A unique experience in which the singer has once again shown his most human side in front of the cameras. Especially when he has met the members of the Ndote Cultural Troupe, where he has recalled the reasons why he really is into music. After singing with them, the singer has recognized in front of the cameras that it has been a very comforting experience for him: "It was necessary for me and for what we are living today."
"
Sometimes you forget the real reason why you are really making music "
Despite the fact that the trajectory of the African group differs considerably from his, Pablo Alborán wanted to remind the presenter of Planet Calleja that they both feel the music in the same way. Something that has allowed him to remember where he came from and what are the reasons why he really dedicates himself to the world of music: "Sometimes you forget the real reason you are really making music because of the rhythm you get into. "
Something that surprised Jesús Calleja, who asked his guest if this trip to Africa was going well for him. After explaining that he needed something like this in his life, Pablo Alborán claimed to be excited to have been able to live this experience with the adventurer born in Fresno de la Vega. In fact, he recognized that these types of experiences were very useful for him because he was going through a kind of second crisis.
"I needed a real contact": Pablo Alborán is sincere with Jesús Calleja
After a first crisis that kept him out of the music scene for a while, the singer acknowledged that he was going through a second crisis: "I needed a real contact." However, Alboran assured that this time he could not stop and that this trip through Africa has been healing: "Coming here has forced me to stop and it is coming to me that you are dying. It is like a gift from heaven."
Finally, and after being sincere with Jesús Calleja, Pablo Alborán has said goodbye to the African band assuring them that he feels very lucky to have met them: "Thank you very much for everything, it has been an honor to be here. You have helped me a lot to reconnect with my music. "



cadenaser.com
George Holan is chief editor at Plainsmen Post and has articles published in many notable publications in the last decade.