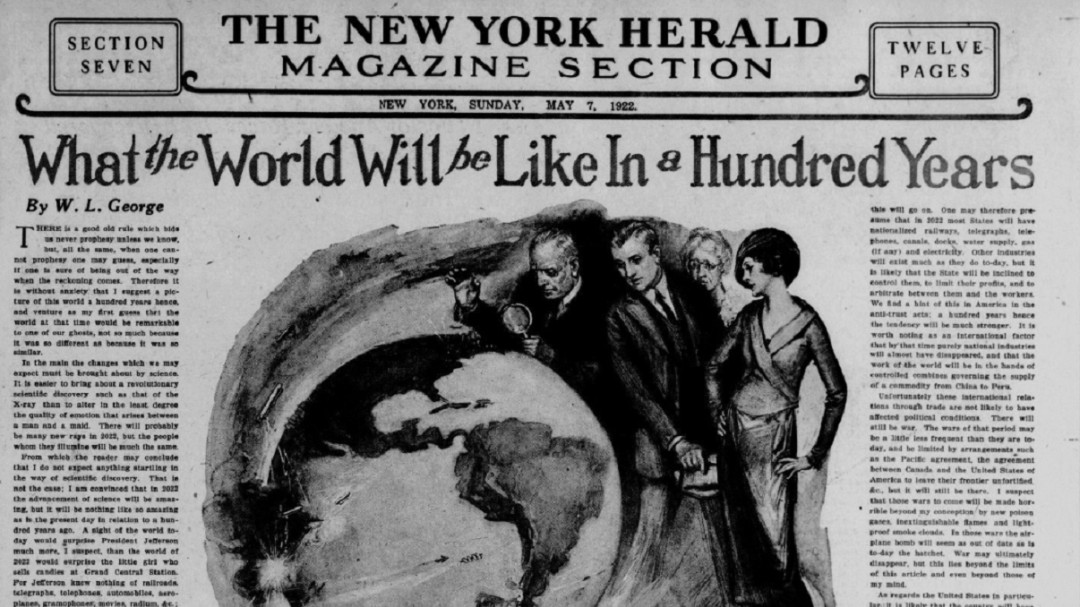 No, we are in 2022 and we still do not have flying cars. Neither have we discovered the pill to make ourselves immortal nor have we become an interplanetary race. However, society has come a long way in the last 100 years. All this thanks, in part, to the digital revolution that we are currently experiencing, which is allowing us to take giant steps both at a technological and social level.
Have we let our ancestors down or are we just as they had thought? Just a few days ago, the United States Library of Congress recovered an article published in 1922 in which WL George predicted what 2022 would be like. An article that surprises a century later due to the number of correct predictions by a writer who could not see pandemics such as COVID-19, but more specific issues such as the arrival of commercial flights or the speeding up of procedures as complex as a divorce.
From women's rights to the regularization of commercial flights
Based on the events that took place throughout his life, specifically in the era of the railroad, landlines or the first cars, WL George predicted that horses would no longer circulate on the roads and that most people would stop driving. travel by train. Instead, the majority of the population would turn to cars and trucks for long-distance trips. A century later, the English writer's prediction has come true.
Also others such as that women could pursue their own careers and access any job. However, WL George predicted at the time that it was still too early to talk about gender parity at work because "eliminating 30,000 years of slavery" was very difficult. On the other hand, the writer claimed in 1922 that commercial flights would be a reality in 2022. At that time, WL George thought that airplanes would replace ships and that they would allow us to travel from London to New York in just 8 hours.
Renewable energies and new systems
In the article published in The New York Herald, the English writer predicted that in 2022 there would hardly be cables in the sky thanks, among other things, to wireless telephony. Regarding the use of our resources, WL George thought that coal and oil would have completely disappeared by 2022 and that we would begin to extract energy from the sun. Despite the fact that he failed to get the first of his predictions right, the commitment to renewable energy is growing.
Regarding the cities of 2022, the writer imagined them as much larger nuclei than there were then in which the oldest buildings converged with others much more modern. Smoke-free cities due to the disappearance of coal (the author also valued the disappearance of tobacco) in which families would live in cooperatives and there would be birth control to avoid overcrowding. Although the families would continue to exist as such, the children would soon go to work for the state and divorcing would be much easier than at that time.
WL George predicted color cinema and spoke about the Spanish monarchy
Regarding other advances at a technological level, WL George predicted that we would discover many more rays than the X-rays and that the cinema films would become in color and with voice. Also that we could digest food into pills and that the walls and floors of the houses would be made of a material that could be peeled off to be cleaned.
Finally, the writer thought that, a century later, there would still be republics and monarchies. Nevertheless, WL George concluded that kingdoms of Spain, Italy, Holland and Norway could fall. On the other hand, the article states that states would nationalize roads and railways, ports, water, electricity and other industries and that warfare would be less common. Ultimately, the writer got many of the predictions he made in 1922 right.



cadenaser.com
George Holan is chief editor at Plainsmen Post and has articles published in many notable publications in the last decade.