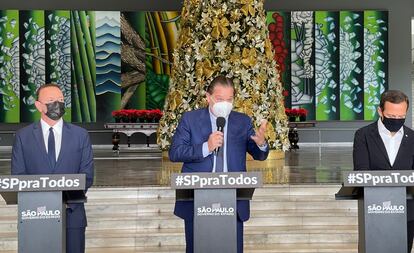 Estrella Galicia has announced the construction of a new brewery in Brazil after some time exploring the territory in search of the best location. The place chosen has been the municipality of Araraquara, in the State of São Paulo, where it takes for granted a supply of excellent quality water for the production of its beers.
The Estrella Galicia brewery in Brazil will be the company's second "beer kitchen" in the world after 115 years of history. The company will invest nearly 300 million euros in two phases of its construction with the aim of installing a medium-term production capacity of 300 million liters of beer per year, to be executed in two phases of 150 million liters each.
Ignacio Rivera, CEO of Corporación Hijos de Rivera, the company that owns Estrella Galicia, presented this project this Wednesday in São Paulo, accompanied by local authorities. The Governor of São Paulo, Joao Doria, has presented in the Palacio dos Bandeirantes, official seat of the State government, the top executive of the Spanish brewery with the aim of supporting the implementation of this industrial project that he has defined as "key for the region ".
Ignacio Rivera has emphasized in his speech the firm commitment of the company with the community, which in this case will materialize in the creation of 400 jobs in the new facilities, which will be technologically cutting-edge in terms of sustainability and respect for the environment. "The start-up of our factory in Brazil is a dream come true and a historic milestone for our company that we hope will decisively drive our future development in America," he said.
For his part, Gustavo Diniz Junqueira, president of the São Paulo Investment Promotion Agency, stated this Thursday that "the choice of Araraquara to host the first Estrella Galicia factory outside of Spain shows the competitiveness of the interior of São Paulo in the attraction of investments ". The new facility will create 400 new jobs at the facilities, having a very positive impact on the region's economy. In addition, another important point is respect for the environment. "We are looking for São Paulo projects that develop their businesses in a sustainable way, which is what will guarantee the future growth of our economy," added the president.
Estrella Galicia will build its factory on a 250,000 square meter plot in Araraquara, 270 kilometers from the capital. This production center, which is scheduled to open in 2023, will be a model of a sustainable factory in the environmental sphere, applying good practices and cutting-edge technologies to achieve the goal of zero emissions through various measures such as the consumption of clean energy or hybrid vehicles, among other.
Estrella Galicia of Brazil is the business unit of Corporación Hijos de Rivera in the country. The company has been selling its products in this market since 2011 and currently has a sales volume of 16 million liters per year.

elpais.com