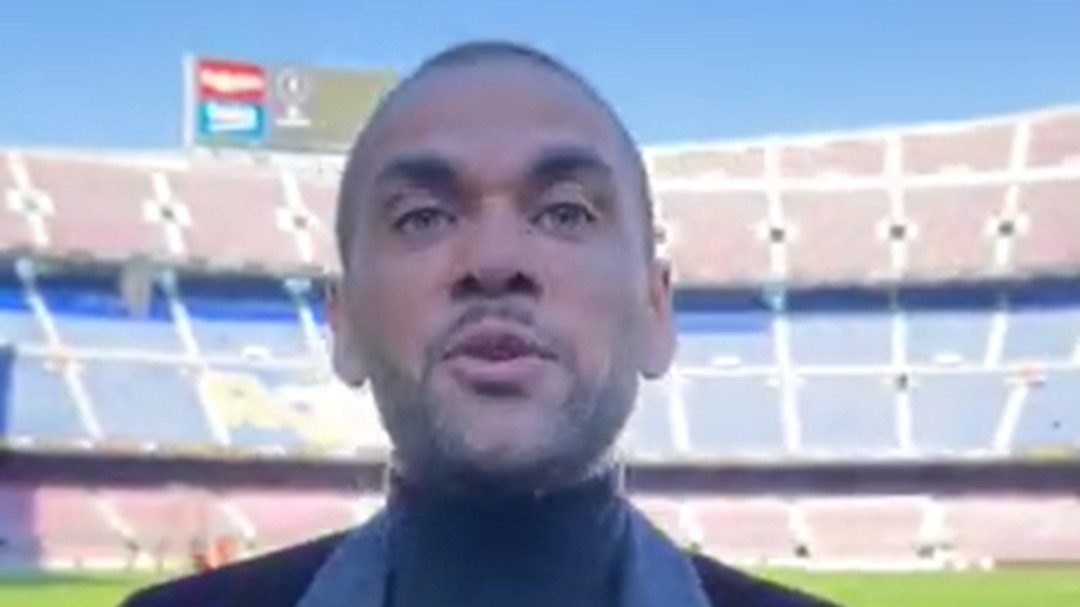 Dani Alves has returned to the Camp Nou in a new stage as a FC Barcelona player, but this time at the end of his sports career, yes, just as excited as the first time he wore the Barça shirt. The Brazilian footballer wanted to make a nod to his past in his new presentation in 2021: and he did it with sandals.
"I come with flip flops because many things can change, but others not," said Dani Alves himself in a video published on the official Twitter of Barcelona. In a suit and flip flops, in November. "In 2008, Dani Alves arrived at the Camp Nou in sandals. Today he has done it again. There are traditions that cannot be broken, right, Dani?", The Catalan club wrote. The 38-year-old defender returns to what was his home, freely and for free, after his last experience in Brazil's Sao Paulo, at the request of Barça's new coach, Xavi Hernández.
A signing that has raised all kinds of criticism and has not left anyone indifferent. "If you talk to any journalist who follows South American football, he tells you that Dani Alves is finished, that he has given a very poor level. I do not know if he is a good, bad or regular signing because I do not know Barça enough to analyze it. You read and questions say that he is an ex-footballer, that he is worse than what Barça has now. In terms of football they say that he is a disaster, that he has dragged himself through the field. In Brazil they do not give credit to the signing, "explained Antón Meana in the ' Open Bar 'of SER Deportivos this past Monday.
However, the great numbers that Dani Alves left in Barcelona continue to weigh. Barça's right-back is a cursed position since the Brazilian side left, and neither Sergi Roberto, Dest, Emerson, Aleix Vidal, Wagué or Douglas have curdled in that demarcation. Now, Xavi will have the opportunity to work with the Brazilian side from the next few days, however, he will not be able to debut with the first team until January, as the club has reported in its official accounts. With four possible right-backs in the squad, the logical thing is to think that Alves will compete for the position with Dest and Mingueza, while Sergi Roberto will fight for a position in the center of the field.
The other profile that Dani Alves comes to cover is that of a strong man in the dressing room and an example for the new generations. For now, the footballer who has won everything with Barça, has already left a harangue to his teammates. "After being away for so long, coming back here is an honor, a great pleasure. To be able to share with you too, I come to learn from you, now the new world. But from the old man, I want to convey one thing: to know what this club and this shirt represent. I've been abroad and this is the best place to do great things, to live. You are here, that you value it because outside there is nothing better. Insist that it is a pleasure to be here with you. We are going to do great things because this club is made of this, of doing great things, "he said.
"Almost 5 years fighting like crazy to get to that moment. I didn't know it would last that long, I didn't know it would be so difficult, but I knew inside my heart and inside my soul that that day would come. I'm coming home from where I never have! leave and as I said before leaving; I AM ONE OF YOU, I DON'T KNOW HOW LONG THAT DREAM WILL LAST, BUT MAY IT BE ETERNAL WHILE IT LASTS !!
See you soon where it fascinates me the most, with the same enthusiasm as the first time and with the same desire to help rebuild THE BEST CLUB IN THE WORLD !!
I go back to my house cullonsssssss !!! "



cadenaser.com