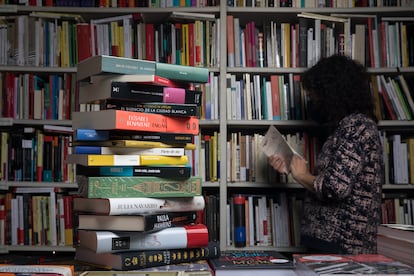 Contemplating in retrospect the readings that one has made throughout the year is a way of revisiting those parallel worlds to which we go so as not to remain defenseless in the face of an incomplete reality, sometimes anodyne, sometimes fierce. When reviewing the titles I realize that in recent years and without meaning to, French authors have dominated. Then I realize that in the past the emphasis has been elsewhere. Involuntary cycles that circumstances or some other design lead us to go through: like many others, the age of boom Latin American to later land on the classic Russians; I have gone through the "North American" stage (Paul Auster, Raymond Carver and Philip Roth are the ones that left the best flavor); that of the English (Ian McEwan, Julian Barnes and Martin Amis the most popular for well-earned reasons); and more recently the French (Michel Houellebecq, Emmanuel Carrere and Pierre Lemaitre). Of course, there are always roundtrip forays to read some Japanese (Murakami's gaze is a haven), some Italian, and the highlights of Spanish literature.
Of course there are many other, lesser-known authors that those of us who dedicate ourselves to writing novels turn to, but if you are an occasional reader who has not abandoned the taste for a tasty book, this column is simply intended to suggest options that guarantee what it must offer good literature: stories well told, quality prose, themes that will not leave us indifferent. Any of the above-mentioned authors more than covers that purpose.
2021 brought some titles that could well add to that list. I "discovered" Delphine de Vigan, a French woman with little work, but highly awarded for justified reasons. Gratitudes (Anagrama) is a novel about old age and losses, two themes that could depress anyone and, nevertheless, the author manages to write beautiful lines that allow us to dignify and see with other eyes such hard transit. Even more endearing a previous novel No and i (also from Anagrama), story of two teenagers; one of them homeless, the other only child. Both wise in their own way, but unable to process the world they live in. "My father gave him a real speech about trust, responsibility, the future and everything, he looked like the head of a political party, but without a microphone"; "Mrs. Constanze wore a bow whose height was undoubtedly the fruit of pure magic"; "I would like to be ten inches taller and know how to get angry"; "Before meeting No, I believed that violence was in the screams, the blows, the war and the blood. Now I know that violence is also in silence, that it is sometimes invisible to the naked eye… violence is that for which there is no explanation, that which will remain hidden forever.
These days in December, I began with the latest novel by Jonathan Frazen, the author of thick volumes that meticulously dismantles the scaffolding through which the daily lives of seemingly normal American families pass. That is, the film American Beauty turned into good literature or the Anglo-Saxon Balzac, if you like. Crossroads, your most recent text is to my taste the best. A story told with four hands: the father, the mother and the adolescent daughter and son. The author's ability to get under the skin of each one of them is prodigious, many times in the opposite version to the one we had "bought" a chapter ago. 735 pages that together constitute a scrupulous and implacable map of the abysses that fit in the small fractures of "normality"; a crash course in psychology written in delightful prose.
This year I also took advantage of social distancing to catch up on some of the work of another Roth, Joseph, that I had once left behind. The Austrian novelist and journalist (1984-1939) left memorable works of fiction (Endless escape Y The legend of the holy drinker my favorites), but also some of the best travel chronicles ever written. Here a sample taken from the volume Years of hotel. Postcards from interwar Europe (Cliff): "The day before yesterday it rained. The asphalt of the Kurfurstendamm was slippery and a woman ran across the street with an open umbrella, tripped, a car passed and hit her. His umbrella was left on the pavement; people ran to the accident site to help her. That nothing had happened to her only became known once they were able to take her to the cafe. But before she knew it, while she was still lying on the ground, bloody in the imagination of all the passersby who had witnessed the accident, and perhaps amputated, a man had enough presence of mind to pick up the injured woman's umbrella and steal it from her. He had never believed that the goodness of people could overcome his selfishness. But the incident with the umbrella convinced me that baseness is even greater than curiosity, and that it is not difficult to remove the pillow from a dying person and sell the feathers at the first corner. In any case, the woman, who had escaped unharmed, mourned the loss of the umbrella without rejoicing that she had been lucky enough to keep her limbs. As can be seen, there are two types of people: evil or stupid ".
They can tell me what I'm doing wrong by not mentioning a work written in Spanish. It seems to me that I amply vaccinate against this claim recommending once again Fernanda Melchor, author of Hurricane season and, more recently, of paradais, of which I had already made a review on these pages. For my taste the best of Mexican letters in recent years. With the hope that the arrival of 2022 will take you with a good book in hand. We will need it.
@jorgezepedap
Subscribe here to newsletter of EL PAÍS México and receive all the informative keys of the news of this country
Sign in to continue reading
Just by having an account you can read this article, it's free
Thanks for reading EL PAÍS

elpais.com
George Holan is chief editor at Plainsmen Post and has articles published in many notable publications in the last decade.